Ann's career devoted to caring
Ann Buchan has dedicated her life to working with patients presenting with some of the most debilitating and challenging conditions. Now her extensive knowledge will help someone much closer to home after her husband John was recently diagnosed with Parkinson's disease. Melissa Mitchell reports.
Fifty years of helping patients in and out of wheelchairs is starting to take a physical toll on the indefatigable Ann Buchan. It's her knees and fingers that are, as she describes it, 'starting to react a bit' and giving her some trouble while indulging in one of her many passions—gardening. Blue flowers are her favourite, as much as growing potatoes is the favourite of her Scottish-born husband John.
The nurturing nature of this close-knit husband and wife team may manifest in different ways—hers in neurological physiotherapy, his in teaching garden design—but it's a driver that has seen them through 46 years of marriage, raising a family of two children and each pursuing their respective careers in South Australia.
Now the couple, who met at a youth hostel in Canada in the '60s, are facing a new challenge as Ann helps her husband navigate his recent Parkinson's diagnosis. And if anyone is up to that challenge it is Ann.
While she still maintains a small private patient caseload, the number of voluntary commitments Ann now undertakes are staggering, and are testament to her commitment to the profession she loves and the patient cohort she has devoted her life to. She's a consultant (and life member) of Parkinson's SA and travels the state, sometimes to the country, delivering workshops with a social worker. She has been, or remains, in top positions in a vast number of associations and groups including the Muscular Dystrophy Association, the Motor Neurone Disease Association of South Australia, St Andrew's Hospital Allied Health committee, the Independent Living Centre Board and she's on the clinical advisory groups of Polio Australia, to name just a few. When she's not dashing off for some community education program or workshop she's running occasional Parkinson's classes or attending Probus meetings, where she's just been voted vice president. And then there's the music; Ann is a keen flautist and singer, and with a Music Maker group and a concert band from Mount Barker she visits nursing homes and community events to perform old show tunes.
Early last month Ann and John and their two adult children attended an official ceremony at Government House, Adelaide, that saw Ann presented with her Order of Australia medal, having been named in this year's Australia Day Honour's List for her significant service to medicine as a neurological physiotherapist. The honour, says Ann, had special meaning because it reminded her of a similar award bestowed on her late father, Dr William Radford. Bill was awarded an MBE for his work in education research. He had also been awarded an MBE during the war. Tragically her father took his own life when Ann was 30 after he and the family nursed Ann's mother after her early onset Alzheimer's diagnosis. For 20 years Ann's mother lived with Alzheimer's during which she was hospitalised because she had several psychotic episodes.
Being exposed to such debilitating illness in her mother at such a young age had a huge impact on Ann, as did growing up through the poliomyelitis (polio) epidemic when there was no vaccination available. Polio was something Ann initially feared; her mother had once scolded a young Ann for walking through a creek during the polio epidemic, something that instilled an early fear of the virus. Her mother had been concerned that Ann would contract the virus—it is estimated that between 20,000 and 40,000 Australians were affected by the paralytic form of polio from the 1930s to the late 1950s.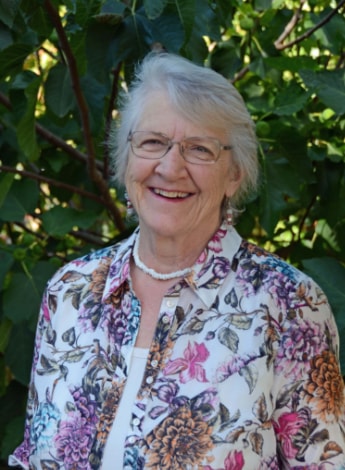 Ann Buchan maintains a hectic volunteering workload and loves it.
When Ann joined the Girl Guides as a young girl (then going on to be a Queen's Guide), the meetings were held at in a room at Yooralla Balwyn, a support service for children with disability in Melbourne.
Scattered around the room were various disability aids and standing frames. Being exposed to some of the crippling impacts of disease and disability in the young and the elderly had a lasting impact on Ann; during her first year of training in clinical practice she was aware of a polio patient on a ventilator at her first posting at Fairfield Hospital in Melbourne. Then she began working with patients impacted by stroke and spinal injuries in her next two hospital postings, at the Austin and in the private wards at St Andrews respectively.
Setting off overseas with a friend (who is still working in Scotland as a neuroscientist), Ann hitchhiked around New Zealand for six weeks, and then went on Greyhound buses around the US, up to Alaska then back to Canada. Settling in Canada for a year, Ann worked in a rehabilitation clinic for industrial injuries at the Workman's Compensation Board in Edmonton, Alberta, and recalls her passion for neurological physiotherapy coming to the fore around that time. 'I can remember a fellow with cerebellar ataxia who got an electric shock working on some sort of powerlines,' Ann says. 'I was always trying to get the neuro patients even then.'
During her travels Ann also visited various district hospitals and rehabilitation centres in the UK and Scotland as well as being appointed the senior therapist and running spinal injuries rehabilitation courses at the Stoke Mandeville Spinal Injuries Hospital in Buckinghamshire, in the UK. Her experiences internationally helped Ann focus her career in the direction of her passion—she engaged in teaching, supervising clinical placements and undertaking courses as well as began attending workshops and conferences and authoring and co-authoring on several manuals, papers and educational tools.
After meeting and marrying John (the newlywed couple lived in Aylesbury, north west of London, England, for some time before deciding to move to Australia), Ann set about opening the first private neurological clinic in Adelaide with her friend and colleague Jan Poulos. Both women had young families—Ann had her two children Jenny and Andrew—and both had been working together at the then-Northfield Rehabilitation Ward (now Hampstead Rehabilitation Centre) before deciding to open up their own practice, the Neurophysiotherapy Clinic, in North Adelaide, in 1980.
The two women shared the workload, splitting their time between clinical and family obligations to build up the practice. Here Ann began working with patients diagnosed with motor neurone disease, muscular dystrophy, those with head injuries and with Parkinson's disease, among many other conditions. The practice was a contractor for Disability SA for hydrotherapy provision at Flinders and Woodville pools, and a relationship was developed with the Mary Potter Hospice at Calvary Hospital with an interest in lymphoedema management for terminally ill patients.
Ann also undertook consultancy work with the MS Centre, the Muscular Dystrophy Association, the Motor Neurone Disease Association and the Post-Polio Association and Clinic.
Ann also become the country's first practicing APA titled Neurological Physiotherapist in 2004 ('There's another guy in northern New South Wales who got the titling process at the same time as me, but he wasn't working in neuro physio, he was an academic.'). Three years later, Ann began working as a consultant neurophysiotherapist at Unley Physiotherapy, where she remained until 2017. She has also maintained several voluntary community roles including as a consultant for Parkinson's SA, she was a member of the steering committee (and remains a consultant for) the Post-Polio Clinic, she was the chair of the Motor Neurone Disease Association of South Australia for five years and she has headed up or represented on several boards and committees.
Ann says she has met and helped many patients that she has found inspiring during the course of her career and in her ongoing voluntary roles. The challenges and the triumphs arrive in equal measure, Ann says, and have afforded her the opportunity to grow as a clinician and as a person. The committed Christian says she believes a rounded approach is needed to help patients cope and find the strength to overcome their obstacles. Where her patients are not able to overcome their challenges, Ann says her role becomes one of caring and supporting the patient and family.
'With some of the motor neurone patients, the courage they have has been exceptional,' Ann says. 'The Parkinson's patients are really encouraging because they become so positive about what they've got, particularly what they can achieve with exercise component of treatment. Many of them take it all on board and really go with it—and it's very exciting to help them learn that. I've been trained and enjoy promoting the LSVT method. It's a good combination of teaching, encouragement, support and activity.
'With the more complex cases such as head injuries, PSP and MS, you've really got to dig to find out exactly what's going on. There's a bit more support and education needed for the family of patients with those conditions– you need to have that good relationship with family members as well,' Ann says.
Looking back on her career, Ann says she is most proud of being able to get to the bottom of issues for individual patients, of being able to work with them and, in some cases, forge friendships. Ann finds her volunteer work with the many associations and groups committed to caring for people with disabilities and life-limiting illnesses extremely rewarding, and would encourage physiotherapists who have the time to help out to do so.
The need for more support for physiotherapists working in rural settings remains a passion of Ann's, and is something she continues to push behind the scenes. She is also an advocate of having private health funds acknowledge the need for neurology physiotherapists to have longer appointments with patients due to the complexities often involved in their treatment. 'The current publicity about aged and disabled care facilities is long overdue, I stopped going to some 20 years ago because of the neglect,' Ann says.
'I'm concerned about rural physios not getting enough support, we're able to do webinars now but it's just not quite the same as being able to demonstrate hands on practice as well,' Ann says. 'That's why I like to go out to the country to talk to them sometimes, voluntarily, but it's only ever for an hour and a half. It's not really long enough—people need you there for two or three weeks to fully explain something, and I'm not sure how you can effectively fund that (Parkinson's SA cannot afford overnight trips at present).
'Also the health funds are not recognising the need for longer treatments, even now. Neuro and some of the other complex conditions need longer treatment, and therefore people need more back from their health fund. It's never been enough,' Ann says.
© Copyright 2018 by Australian Physiotherapy Association. All rights reserved.