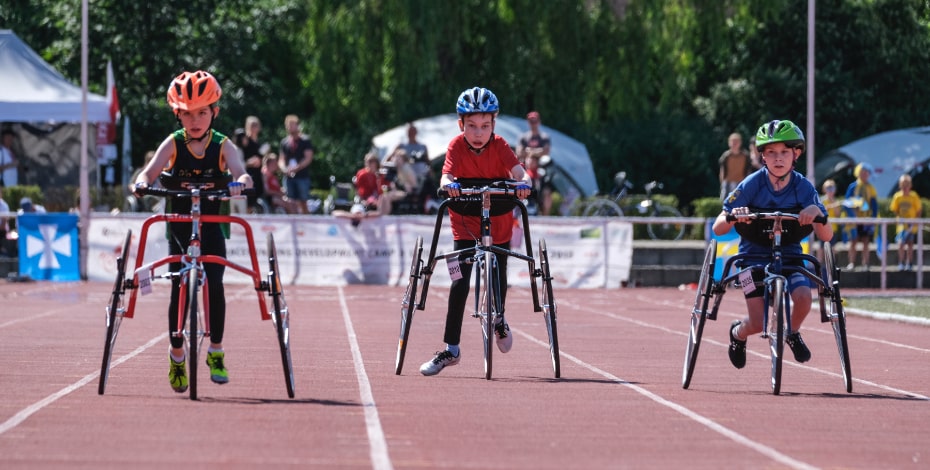 Race running to promote good health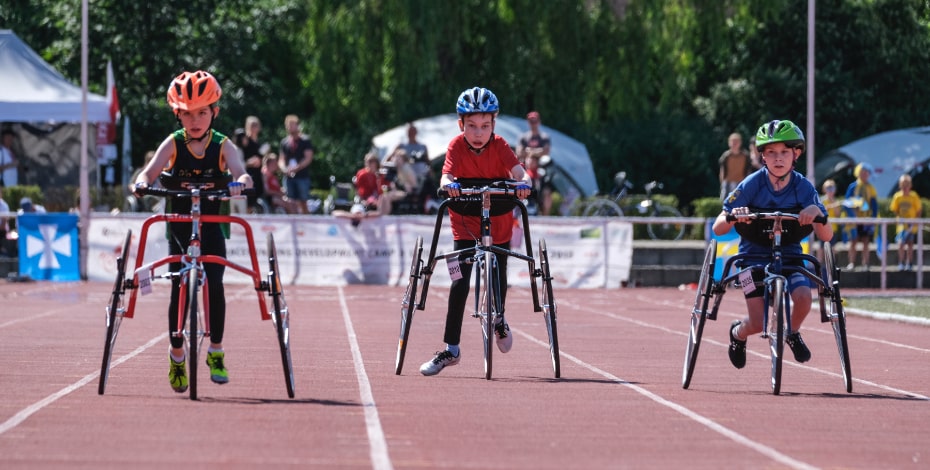 A Queensland physiotherapist is the driving force behind the emerging popularity in Australia of an international sport for people with disabilities. Marina Williams speaks with Dr Sarah Reedman about RaceRunning.
At an international conference two years ago, Dr Sarah Reedman, APAM, first learned about RaceRunning, a sport designed specifically for people not able to functionally run because of severe motor and coordination impairment. Popular in Europe, RaceRunning was invented in Denmark in 1991, and an annual RaceRunners Camp and Cup has been held in Copenhagen each July since 1997.
Despite RaceRunning being relatively unknown in Australia, the researcher from The University of Queensland's Cerebral Palsy and Rehabilitation Research Centre liked what she saw and heard, and returned home determined to get her patients involved. However, after failing to find any operator, an unperturbed Sarah set about introducing the sport to Australia by reaching out to likeminded individuals across the country and becoming a part of the RaceRunning Australia working group.
RaceRunning participants use a trike, a custom-built three- wheeled frame with no pedals and low rolling resistance, to achieve greater mobility. Popularly known as a racerunner, the trike has a seat and chest pad to support the user's upper body and bodyweight, so they can propel themselves forward using their feet (one or both), while using hands and/ or arms to steer. Its design encourages stepping and weight bearing and was first made in 1990 to challenge stereotypes of what people having cerebral palsy could and should do. Its adaptive to many activities—sport, general physical fitness, play and family bike rides—and surfaces, including those used for conventional running-related events.
Research, while limited, recognises positive benefits in the bone density and muscle bulk growth of RaceRunning participants, leading to better posture, general endurance and control of trunk and limbs. Since starting in Australia in early 2018, interest in the sport is gathering momentum, with many potential athletes participating in come-and-try events each week in New South Wales, South Australia, Queensland, Victoria and the ACT. It's an achievement of which Sarah is most proud.
'The demand has been incredible, yet the most challenging thing has been sourcing the equipment in a timely fashion because most individuals have to access NDIS funding…so we are now determined to get as much equipment as possible to begin training people in the sport.'
With the support of her colleague Dr Emma Beckman, an exercise physiologist, Sarah is establishing training facilities for athletes in conjunction with University of Queensland Athletics Club, BLK Performance Centre and Disability Sports Australia. They are seeking sponsorship from sporting manufacturers, philanthropists and research grants with the goal to give as many people as possible access to equipment and the sport. The approach will also help them gather much- needed research evidence to support funding applications to the NDIS to purchase a racerunner. They also have an eye on developing athletes into Paralympic competitors.
'Now is the right time to be developing athletes who could be Paralympic hopefuls. If we could expand this rapidly, we could increase the chance of getting these athletes ready to compete at the next Paralympic Games.'
Thirty countries have registered RaceRunning participants, and last year the 22nd annual RaceRunners Camp and Cup was incorporated into the World Para Athletics European Championships, with Arran Keith, 10, featuring as Australia's first international racerunner. Arran achieved three world records for his age group and classification at the event. Participation in the sport is having a positive impact on the young athlete's physical and cognitive growth, says his dad Richard, who is also acting chairperson for RaceRunning Australia.
'To have Arran running across the park on his own for the first time at the age of seven was pretty incredible—you couldn't wipe the smile off his face. He loves the sport; it gives him much joy.'
Arran has mixed spastic dystonic cerebral palsy, affecting all four limbs. He was officially diagnosed at 18 months. 'He has gone from being in a walking frame to being supported to RaceRunning 400 metres in 90 seconds in his own fitted racerunner frame. Confidence-wise it is an amazing transformation, physically he is much stronger in his limbs, he has arches forming now and he is training twice a week.'
More importantly, adds Richard, the sport enables Arran to compete alongside his peers locally in RaceRunning events at Little Athletics carnivals. He gains inspiration from Paralympians Dylan Alcott, Kurt Fearnley and Louise Sauvage. 'They are some of his heroes, and Arran has trained with Louise. He is hoping to compete as a Paralympian, and has his eye on 2024 Paris when he will be 16.'
Goals such as these, says Sarah, are possible with the involvement of physiotherapists guiding patient training and fitness. 'Physiotherapists are key to the sport, as we are connected to people with disability and our primary role is to promote physical activity and movement for health and wellbeing and goal setting. RaceRunning is good for strength training and gets people into the moderate to vigorous intensity for exercise, and has the potential to reduce cardiovascular disease risk, which is massive in individuals who are sedentary because of mobility limitations. It is a gateway to health for many people.'
The 'experience of exercise' is another benefit, she says. 'As Arran found, there is often a joy and a thrill from the first time when people get to try the racerunner. The low rolling resistance means almost any movement of the user is able to propel the bike forward, which is a great sensation.'
Equally, there can be discomfort as the athletes get to experience saddle soreness or use an incorrectly fitted racerunner. 'Riding a bike is uncomfortable for the first time, even with the right kit and setup,' says Sarah. 'So getting access to the sensations of exercise, both positive and some discomfort, is what everybody has a right to access.'
With his three-wheel racerunner, Arran Keith, 10, is able to physically keep pace with peers on the athletics track. Dad Richard says Arran's opportunity to live an active life was initiated when just months old through the Cerebral Palsy Alliance (CPA), a driver of the expansion of RaceRunning. Ongoing physical therapy to improve hand and gross motor function enables Arran to understand his ability and set life goals.
'Arran doesn't let cerebral palsy slow him down and, as a family, we are grateful for the therapists at CPA. Arran is very aware of how the team is helping him achieve his goals. He is community-minded and, in a way, has become a poster child for what people with disability can achieve, so any chance he can get to help fundraise or promote CPA, he will do it.'
Parents of children with cerebral palsy founded CPA in 1945. It was the first of its kind in the world. In addition to supporting people living with disabilities, CPA conducts ongoing research to finding the cause and prevention of cerebral palsy, and also treatments that improve life for those who are already living with the physical disability.
Arran's fundraising activities include participating in fun runs and climbing 18.4km to the summit of Mount Kosciusko. He was part of the Little Warriors group 4x100m relay at the 2018 Invictus Games, and an ambassador for Steptember, CPA's annual activity that encourages people to walk 10,000 steps a day for 28 days.
Arran was acknowledged as a co-Young Citizen of the Year at Inner West Council's (Sydney) 2019 Australia Day event. 'I am very proud of him,' says Richard, 'he is a very positive and impressive young boy who won't say "no" and prefers to do as he understands the power of helping others.
Click here to learn more about RaceRunning.
© Copyright 2018 by Australian Physiotherapy Association. All rights reserved.