Physiotherapy management of Down syndrome
The life expectancy of people born with Down syndrome has dramatically increased in the last century from nine to 60 years, primarily as a result of earlier surgical correction of heart defects, improved treatment of infections and advancements in healthcare. Despite these positive outcomes, there remains continued risk of early onset of chronic health conditions in adults with Down syndrome, most notably cognitive decline commencing in their early 40s.
In her Journal of Physiotherapy Invited Topical Review, Dr Nora Shields explores the evidence about which interventions will allow physiotherapists to be most effective in assisting people with Down syndrome. This review of the evidence appraises many interventions, including those targeting chronic health conditions and facilitating exercise and physical activity in the lifetime care of people with Down syndrome.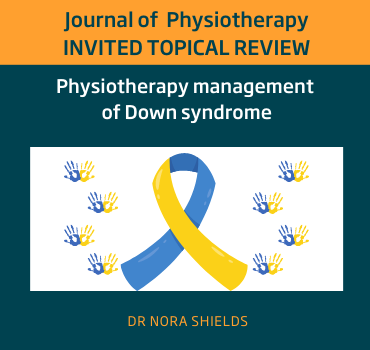 In addition to evaluating the evidence about current interventions of physiotherapy practice, this comprehensive review also considers the future opportunities for physiotherapists to improve the lives of people with Down syndrome.
For more information and to read the entire Invited Topical Review article, click here.
Dr Nora Shields is a research physiotherapist who aims to improve the health and wellbeing of people with disability by increasing their participation in exercise and physical activity. She established the innovative, evidence-based FitSkills program in Melbourne in 2014 that facilitates young people with disability to exercise with a student mentor at their local gym. She currently leads a research translation project funded by a National Health and Medical Research Council Partnership grant to further develop FitSkills in collaboration with seven community partner organisations. Nora has considerable experience in managing clinical trials. She has led randomised controlled trials investigating the effects of a community based strength training program for youth with Down syndrome and the effects of providing an extra day of allied health therapy for people receiving inpatient rehabilitation. 
This blog is a Physiotherapy Research Foundation (PRF) initiative supported by Pain Away Australia, Australia's No. 1 joint & muscle spray, and cream topical pain relief brand containing arnica and naturally derived active ingredients, and partner of the PRF.