Work with us
The Australian Physiotherapy Association (APA) is the peak national body representing the interests of more than 31,000 members, including 6,000 physiotherapy students and 2,000 overseas-qualified physiotherapists undertaking skills assessments to practice in Australia. The APA provides a broad range of member services that are continuously improving based on member feedback and the changing needs of the profession. Services include advocacy, education, events, research, communications, publications, insurance, exclusive member discounts, and resources to support physiotherapists across various sectors and career stages.
As an equal opportunity employer and offices across Australia, the APA is committed to excellence in our workforce, and is proud to have a great working culture and is underpinned by our values:
Accountability | Excellence | Collaboration | Courage | Respect
The APA provides a variety of employee benefits:
3 extra days of leave at the end of the year
a mental health day
hybrid working environment
savings on a range of corporate partner products
access professional development opportunities
service awards at 5, 10, and 15 years of service
... and lots more.
Recognition of excellence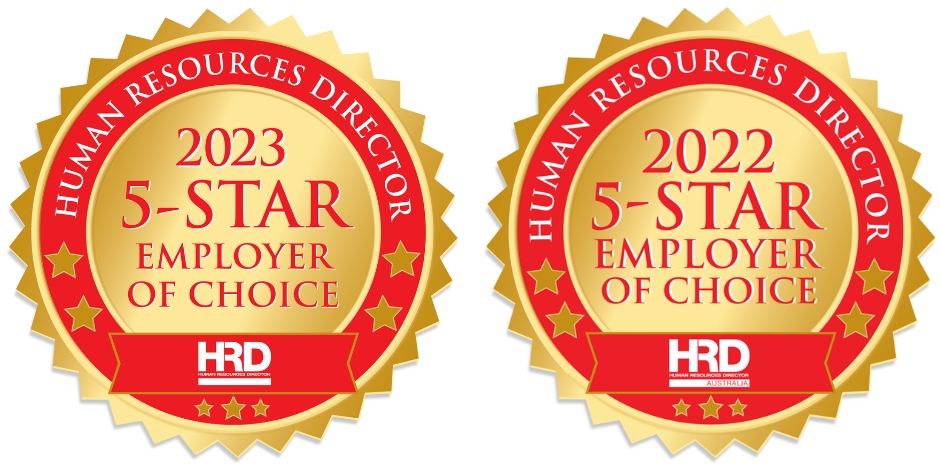 Human Resources Director (HRD) 5-Star Employer of Choice award
Representing the integral areas of human resources, the HRD evaluated an array of results from surveys, average employee tenure and turnover rate, settling on 50 companies to award the Employer of Choice accolade to. The APA was selected by HRD on each of their achievements and initiatives across a range of areas, including leadership, learning and development, wellbeing, flexibility, diversity and inclusion, work-life balance, and recruitment.
A full explanation and list of all winners can be found on HRD's website.
2022 Association of the Year Award
The Association Awards recognise excellence and accomplishment by associations and outstanding individuals.
The award is a testament to the quality and scope of services the APA provides its members, and reflects the daily work activities to ensure the APA are serving members to the highest standard. The recognition brings great pride to staff, board, members and external partners.
Current vacancies
Due to expansion and internal promotions we have a number of vacancies.
How to apply
Download the position description for more information. If you're interested in the role, email your resume and cover letter, addressing how you meet the selection criteria, to APA Recruitment.
Position Title
Description
Position Description
The objective of this role is to coordinate and manage a range of marketing and communication programs that support the achievement of KPIs across key portfolios as required, as well as brand and consumer awareness KPIs.

College Committee Coordinator, Part time
To coordinate and provide administrative and committee support to College Council, Committees, working parties and the College.