Physiotherapy management of urinary incontinence in females
Understanding the pelvic floor and its extraordinary intricate network of structures is critical in ensuring women of all ages are empowered to prevent or treat pelvic floor dysfunction.
Urinary incontinence (UI) is the most prevalent pelvic floor dysfunction in women and has a significant impact on their quality of life, as well as substantial economic impacts on the individual and society as a whole.
In her Journal of Physiotherapy Invited Topical Review, Professor Kari Bø provides a clear path to understanding the causes and personal and healthcare implications of UI, treatment options, and the evidence-based confirmation that pelvic floor muscle training (PFMT) should be used as the first-line treatment for UI in females. With a special focus on the effectiveness of group PFMT, this review provides a roadmap for the future direction for research and clinical practice.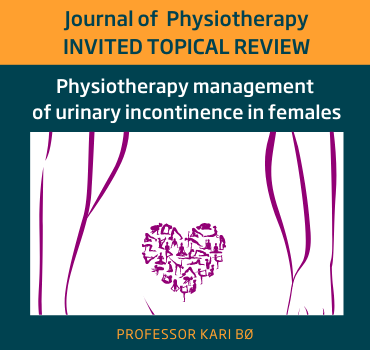 For more information and to read the entire Invited Topical Review article, click here.
Kari Bø is a physiotherapist and exercise scientist and a professor in the Norwegian School of Sport Sciences in Oslo, Norway. She has published more than 280 scientific papers on pelvic floor dysfunction, treatment of incontinence, low back pain and pelvic girdle pain, exercise during pregnancy and after childbirth, fitness and women's health.