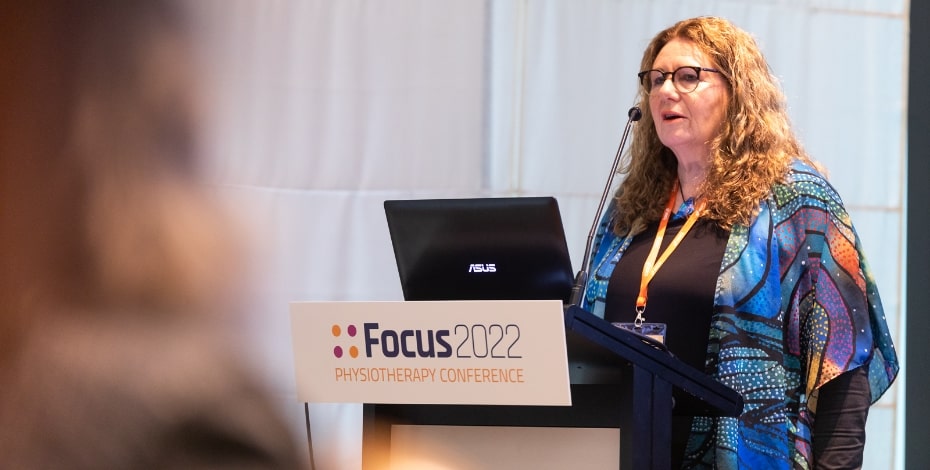 Allyship and cultural safety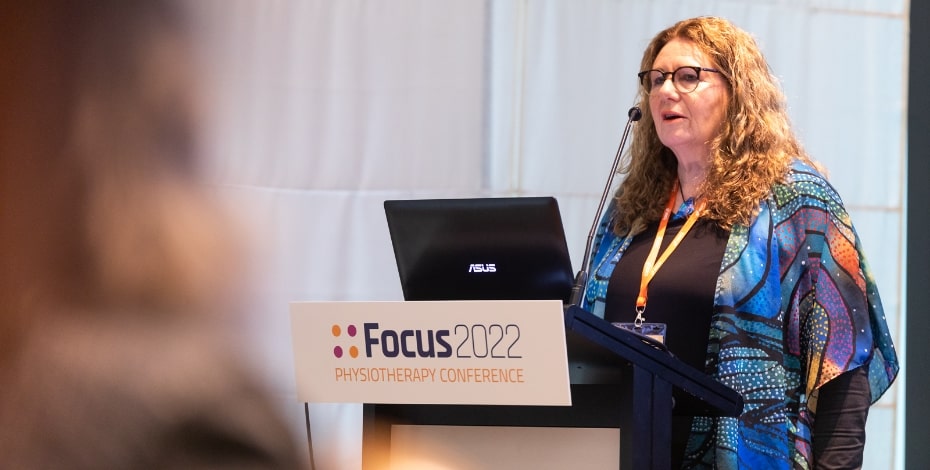 FOCUS 2022 A strong theme running through this year's conference was allyship, not just for Aboriginal and Torres Strait Islander Peoples and communities but for other diverse groups including LGBTQIA+ people.
Leading the theme was Aboriginal academic and activist Professor Marcia Langton, drawing parallels between the Aboriginal astronomers who created star maps to assist their people in navigating across Country and professional practice.
'We are creating star maps too, but we do so in our practice as professionals; we create maps for our family members, colleagues and friends and, in my case, for generations of students to find their way to their goals, to be stars,' Marcia said.
She talked about her own pathway through the education system to her current position as a Redmond Barry Distinguished Professor at the University of Melbourne and her desire to ready Australia's youth, including Aboriginal and Torres Strait Islander youth, for the future.
Marcia also talked about the Uluru Statement from the Heart and the work that is being done to establish the Voice to Parliament.
'It is my hope that a successful referendum on the Voice will create a more united, fairer and more inclusive Australia.
'There are many more steps to come but what matters is that we take them carefully, take them together and make the next generation proud,' Marcia said, urging attendees to read the Statement.
Following Marcia's plenary, a session on Indigenous allyship with the theme 'Get up, stand up, show up', chaired by current Aboriginal and Torres Strait Islander Health Committee chair Kathryn Potter and former chair Michael Reynolds, was well attended.
It opened with a confronting presentation by Marilyn Morgan, another former Health Committee chair, who talked about—and showed videos demonstrating— the racism and painful stereotypes experienced by Aboriginal and Torres Strait Islander Peoples and the need for us all to get up, stand up and show up in support.
'Truth-telling is painful,' Marilyn said.
Marilyn's presentation was followed by a panel discussion between Marilyn and two non-Indigenous physiotherapy educators—Alison Francis-Cracknell from Monash University and Joanne Bolton from the University of Melbourne—who reflected on their experiences as allies.
Alison said that from her perspective, there wasn't any choice to make about being an ally.
'It's about improving cultural safety in healthcare—it's not just a nice thing to do, it's about people's lives,' she said.
'As a non-Indigenous person, this is about us as well. We have to be brave and step into that space.'
Joanne pointed out that everyone should be responsible for learning about the impacts of colonisation on Aboriginal and Torres Strait Islander people.
'I wasn't taught about racism in healthcare during my training,' she said. 'First you need to educate yourself. Then look around you and see what you can do.'
Echoing Marilyn's call for movement from equality to equity to liberation, or system change, Jenny Setchell from the University of Queensland, Sally Mastwyk from La Trobe University and Michael Reynolds, who lectures at Australian Catholic University, talked about improving equity, understanding the attitudes and beliefs of students towards transgender individuals and cultural reflection.
Their session provided opportunities and exercises for attendees to come up with strategies to move from equality to equity and beyond and to reflect on their own cultural biases and attitudes.
Jenny said that people were often aware of inequities but being aware wasn't enough—action is needed.
They led some exercises which prompted audience members to plan how they might work towards greater equity and inclusivity.
Some examples raised included ensuring interview panels are culturally diverse, and implementing diversity and inclusion policies in physiotherapy workplaces including a Reconciliation Action Plan.
Sally presented the results of a study that looked at the beliefs and attitudes of students towards transgender individuals.
She noted that while students mostly had positive attitudes towards transgender people, they were worried that they might not be equipped to provide culturally competent care, suggesting that cultural competency training should be included in physiotherapy education.
Michael Reynolds challenged the audience with a series of cultural reflection exercises.
He pointed out that cultural reflection takes time and requires a safe place and noted that it also requires becoming comfortable with being uncomfortable.
'Do not underestimate the power your curiosity, your cultural bravery and your stories have in inspiring others to do the same,' he said.
Bursary students lifted by conference
For several Aboriginal and Torres Strait Islander physiotherapists, a bursary supporting their attendance at the FOCUS 2022 conference meant they could make the most of the sessions and networking.
Brooke Conley, a physiotherapist and PhD student based in Melbourne, says she was surprised at how much she got out of the conference at a professional level.
'I knew it would be a great opportunity to network, but I didn't really think that I would like a lot of the talks—I don't own a business; I'm more on the clinical research side of things,' says Brooke, a Ngiyampaa woman from Cobar, New South Wales.
She says the highlight for her was getting to meet some of the other Aboriginal and Torres Strait Islander physiotherapists from the Aboriginal and Torres Strait Islander Health Committee face to face.
North West Tasmania-based physiotherapist Adam Doyle, a Gamillaroi man originally from New South Wales, agrees, saying that attending the conference on the bursary opened doors.
The mentors assigned to the bursary students (Curtley Nelson and Troy Eady, both members of the Health Committee) organised meetings and networking opportunities with other committee members, associates and affiliates of the committee.
Adam says he was pleased to see the interest in Reconciliation and allyship for First Nations people at the conference.
'A lot of people were so interested in how they could engage and they were almost waiting for those sessions to ask questions.
'It made me feel like I had a bit more purpose and I could actually talk to someone about engagement.
'It was quite empowering,' he says.
© Copyright 2018 by Australian Physiotherapy Association. All rights reserved.