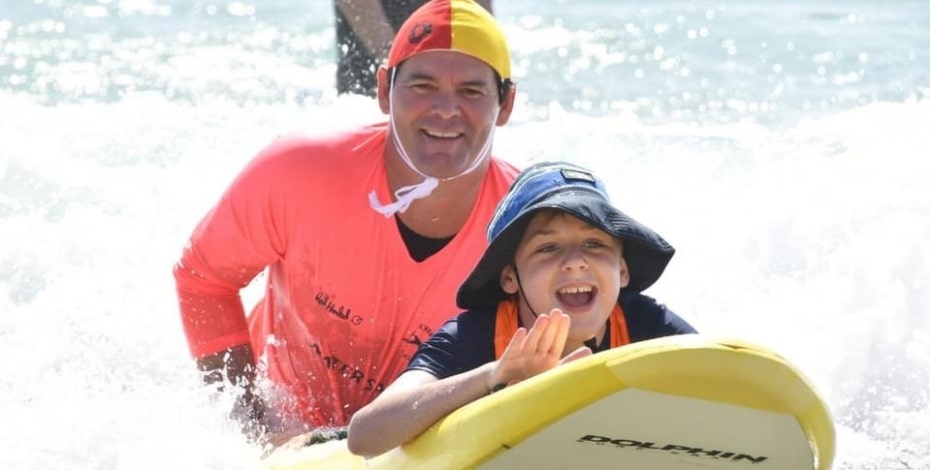 APA members receive recognition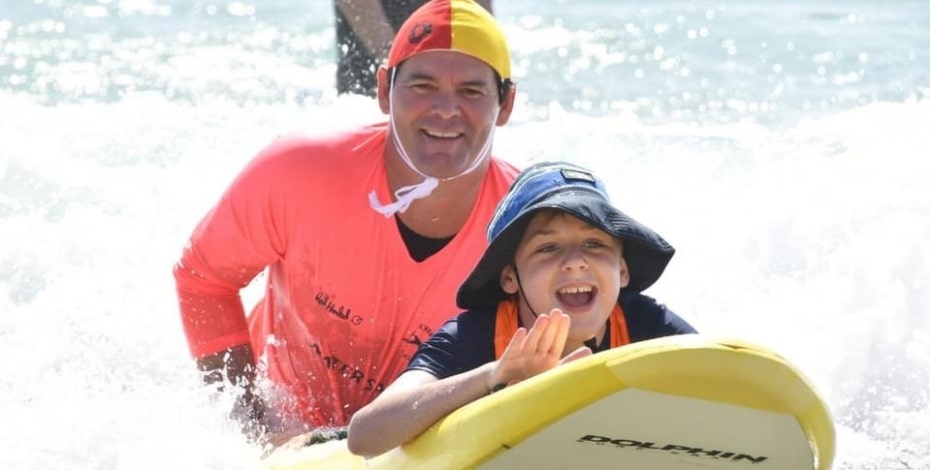 Congratulations to APA members Nick Marshall and Claire Eardley, who have both been awarded Medals of the Order of Australia for services to their communities in the 2022 Australia Day Honours. We talk to them here about their achievements and inspirations.
Surf lifesaving for all abilities
As a former surf lifesaver and Ironman competitor and more recently as a coach, Gold Coast physiotherapist Nick Marshall has been around surf clubs for most of his life.
In fact, as an APA Sports and Exercise Physiotherapist and an APA Musculoskeletal Physiotherapist, Nick has worked with Surf Life Saving Queensland and the Australian national teams and squads as well as for the Australian Swim Team, rugby teams (he's currently on the match day medical team for the NRL games held in Queensland) and more.
Nick is also an adjunct assistant professor teaching physiotherapy at Bond University in Queensland.
'I've been really, really fortunate in my professional life to just be at the right place at the right time,' he says of his involvement in elite sports.
'I love being able to be a part of somebody's journey and to help them achieve what it is they want to achieve.
'I really like getting to know someone, getting to know how I could make an impact or help them to achieve their goals.'
Nick's drive to help people achieve their goals is a large part of why he started the Albatross Nippers program at Nobby's Beach Surf Club, an all-inclusive Nippers program helping children with special needs to experience Nippers with other children of similar ages.
As a Nippers coach, he had noticed that some children in his group had siblings with disabilities that meant they couldn't join in with the other kids.
It started Nick thinking about how to create a surf community that everyone could join, regardless of ability.
'We've never capped anything in terms of ability, so anyone with any ability can come along,' he says, noting that the club has made sure there is accessible parking as well as equipment such as beach matting so that people with compromised mobility can access the sand.
Crucially, the Albatross Nippers program is essentially the same as any other Nippers program around the country—it doesn't single out the participants as having special needs and it's not a standalone program; it works alongside the regular Nippers program throughout the season.
'I've been really particular on this aspect—we just want to run a standard Nippers program, albeit with modified activities.
'We want to do exactly the same things as every other Nipper does.
'We don't do specific things to meet specific requirements; we just rotate through the Nippers program like every other age group.
'Look, there are activities that certain kids can and can't do or that we have to modify depending on people's ability but we don't shy away from any of those activities.
'There are activities that some kids just thrive on in our group but they might come to another sort of activity and then they struggle.
'Rather than trying to change anything, we just try to keep it standard.
'We have a number of beach wheelchairs, we have some modified surfboard equipment so we can catch waves with two people on board and things like that, but really the activities remain the same,' Nick explains.
Since 2015, when the Albatross Nippers was established, around 500 kids have participated in Nick's program at Nobby's Beach.
The Albatross program has now spread to other surf clubs around the country and to New Zealand.
In 2019, Nick's Albatross Nippers participated for the first time in the Queensland Youth Surf Life Saving Championships.
He's also written a book about the Albatross Nippers, called Included: the Albatross Nippers Story, which he hopes will help other clubs to set up their own inclusive programs.
'My long-term vision is that there's not going to be Albatross Nippers or inclusive or special needs or disabled programs.
'There's just going to be Nippers for all kids,' he says.
Nick says receiving the Order of Australia Medal for his work with the Albatross Nippers is a huge honour.
'I'm incredibly humbled and I'm so thankful but I'm also conscious of the fact that really it's only because of so many people who volunteer and help out with the program that I get to receive an honour like this,' he says.
'I'm not doing anything groundbreaking.
'I've just taken what we do in every other aspect of the community and brought it to the surf club.'
Giving a voice to youth
When Fremantle physiotherapist Claire Eardley's 20-year-old son Kai took his own life in 2016, she swung into action as a way of managing her grief, raising almost $70,000 in just a few months with the support of her local community.
However, when Claire realised that she would have no say in how the money was spent if she gave it to a larger charity, she decided to set up her own foundation, the Kai Eardley Foundation, also known as the Kai Fella Foundation.
Her efforts and success in fundraising were recently recognised with a Medal of the Order of Australia for her services to youth and the community in the 2022 Australia Day Honours.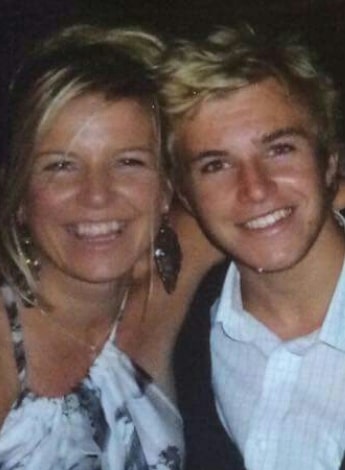 Claire with her son Kai in 2013. Photo supplied by Claire Eardley.
'I knew that I wanted to honour the presence that Kai had had and I also wanted just to be an example to my other two boys to show them that unfortunately disasters do happen, but you can get through them,' Claire says.
'We wanted to be able to support a particular workshop—Tomorrow Man—in schools because I recognised that the one thing that Kai was lacking was a voice.'
Claire says that in 2020, more than 450 boys and young men aged between 15 and 24 died by suicide in Australia.
Through Kai Fella, she hopes to save the lives of young men by changing the stigma around men expressing their emotions.
'It's about giving boys an emotional muscle and I suppose that analogy of muscles and brains resonated with me as a physio,' Claire says.
With the money it raises, Kai Fella supports the delivery of Tomorrow Man and Tomorrow Woman workshops to schools across Western Australia.
These workshops give young men and women a voice, teaching them emotional resilience and challenging traditional male and female stereotypes.
In the past three years, since it became an official registered charity, the Kai Eardley Foundation has raised more than $100,000 a year, allowing it to support 270 workshops at schools in Western Australia.
'My goal is to be bigger and to deliver 500 workshops so I've just got to keep pushing,' Claire says.
A large part of Claire's early fundraising efforts have been supported by her physiotherapy business and the surrounding community in East Fremantle.
She says that they have given the foundation the support needed to maintain its momentum as it grows, participating in foundation events such as the 24-hour Pilates for a Purpose marathon and choosing Kai Fella as a designated charity when doing events such as the Rottnest Channel Swim.
Claire's physiotherapy practice—Silas Street Physio and Pilates—is focused on spinal rehabilitation and musculoskeletal physiotherapy.
She says Kai's death has made her more mindful of the association between pain and depression.
'I'm more in touch with physical and emotional health and things that people can do that can benefit their mental health,' Claire says.
Receiving the Medal of the Order of Australia has been a surreal experience and a huge honour, says Claire, adding that she doesn't really recognise the enormity of it yet.
It's also bittersweet.
'I'd give the award up tomorrow to have Kai back but I can't do that.
'So the recognition is great, it's great for our purpose and great to try to reduce stigma around youth suicide, but, yes, I'd give the award away tomorrow if I could.'
At the end of the day, Claire just wants to make Kai proud.
'I don't want to see him and for him to say to me, "Oh, you did quite well at the beginning, Mum, but the wheels fell off."
'So I see it as my thing to keep pushing… that kind of pushes me forward most days, just to try and do it for him.'
Main image: Nick Marshall coaching one of the Albatross Nippers. Photo supplied by Nick Marshall.
© Copyright 2018 by Australian Physiotherapy Association. All rights reserved.