Award recognises work from fracture to function
Queensland-based Princess Alexandra Hospital is the recipient of the inaugural Golden Hip Award. A conversation with Brett Baxter about what the award means for the hospital and the profession more broadly.
For some time the Australian and New Zealand Hip Fracture Registry (ANZHFR) steering committee had been looking for a way to acknowledge services providing exemplary care to patients with a fractured neck of femur (NOF).
So when its equivalent body in Scotland created an award, it set in place a precedent that found its way to Australian shores in the form of the Golden Hip Award.
Brisbane's Princess Alexandra Hospital (PAH) has recently been named as the award's inaugural winner.
The Golden Hip Award was presented to the best performing facility across the two countries, based on the 2020 clinical care standards and quality statements data.
The PAH was one of 10 finalist facilities to be considered for the new award, with Queensland hospitals making up five of the top 10.
The APA's representative on the ANZHFR's steering committee, Physiotherapist Clinical Team Leader and statewide Musculoskeletal Physiotherapy Leader at PAH Brett Baxter, APAM, says being named the winner has been inspirational for the hospital and staff.
'There's an annual report published by ANZHFR that is very good at helping us to track how we're going against the clinical care standards and how we compare to other facilities,' Brett says.
'And there are always opportunities for improving what we do.
'Obviously the people working in this area will know that the care of patients with a fractured NOF is important, but this is just another way to recognise that.
'And to encourage people to aspire to continually do better.'
The ANZHFR collects data related to seven clinical care standards, including pain management, time to surgery, mobilisation, minimising risk of another fracture and transition from hospital care.
Guidelines state that patients with a hip fracture should be mobilised on the day after surgery and at least once a day thereafter.
Health professionals consider hip fractures the most serious and costly fall-related injury suffered by older people.
For its part, the ANZHFR reports that more than 25,000 people break their hips each year, with the cost to the economy about $1 billion annually.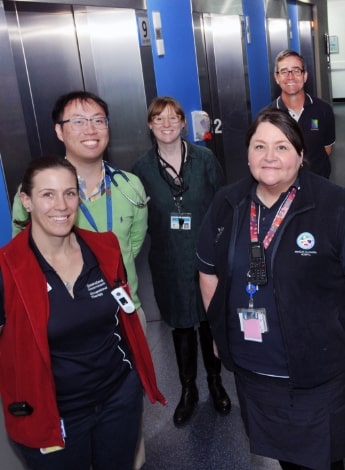 (Left to right) Susan Wilton, Dr Aaron Sia, Dr Emily Gordon, Naomi O'Rourke and Brett Baxter from the PAH celebrate winning the Golden Hip Award. 
As life expectancy increases and the population ages, the number of people admitted to hospital with a hip fracture continues to rise, placing a greater burden on physiotherapists, who are instrumental in ensuring that patients are mobilised to maintain independence with functional tasks.
'Physiotherapists are an integral part of the care as well as the service delivery for patients with a fractured hip,' says Brett.
'At PAH we see patients after orthopaedic trauma and those who have undergone orthopaedic elective surgery.
'Our case load is predominantly trauma-based, around 65 per cent, with 35 per cent elective surgery.
'At PAH there are a lot of incidents such as multi-trauma patients and people with spinal cord injury and brain injury.
'It's a field that is interesting and exciting.
'But all too often people look at the care of someone who's fallen over and broken their hip as not those things.
'One of the biggest issues that we've faced in our facility is trying to get these patients to surgery.
'Because PAH is a trauma hospital, there are a lot of big car accidents that come in and these patients tend to go to the top of the emergency theatre list,' says Brett.
'And your poor patient with the NOF fracture continues getting cancelled day after day and doesn't get to surgery.
'I think what a lot of facilities have recognised, and certainly that's what the Hip Fracture Registry is all about, is that those patients do poorly if they're cancelled day after day after day.'
PAH runs a multidisciplinary hip fracture service—including orthopaedics, endocrinology, nursing, allied health and geriatrics—that offers support during hospital admission and on discharge.
Part of the service includes a hip fracture clinic, which is run once a week.
A number of years ago the PAH began running an early morning NOF list, a designated theatre list that starts at 7.30 am, for patients with a broken hip who did not make it onto the previous day's surgical list.
The surgery is performed by an experienced surgeon, which is also important for maximising patient outcomes.
'If you're an older patient and you're lying in bed and you've got lots of medical problems, you deteriorate very quickly.
'All the evidence tells us that if we can operate on these people within a 24-to-48-hour period, the outcomes will be better for them,' says Brett.
'In health we see a lot of projects that come and go; we see a lot of fads.
'But with this group of patients it comes back to getting the basics right and having a real focus on those basics.
'It's so important to provide the right care for these people in a timely fashion.'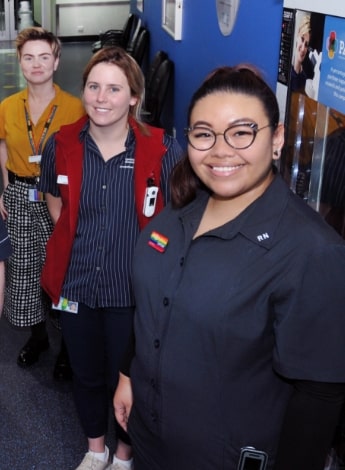 (Left to right) Abigail Wilmont, Caitlin Page and Larissa Fong from the PAH.
PAH was also noted for its weekly meeting of the multidisciplinary Orthopaedic Geriatric Team, which discusses older patients on the orthopaedic ward and the NOF patient subgroup within that group.
'Over the years we have developed an excellent working relationship with the rehabilitation team and a strong trust in each other and the work that we do.
'This has resulted in less inappropriate referrals being made to the rehabilitation unit.
'We've become very good at identifying those patients who are going to get the best bang for their buck from a rehabilitation stay.
'And the other thing is, we've got some other options available for those patients who aren't appropriate for rehab,' Brett says.
'We have a couple of step-down facilities available to us to access as an alternative.
'Queensland Health has purchased some beds with St Vincent's, a private hospital.
'We're able to access some of those beds for interim care patients who might be on the waiting list for nursing home placement or they might be someone who has fallen over, broken their hip and isn't able to return to their previous level of function in a community setting.'
Another key attribute at PAH is the day-to-day work being done with nursing staff as part of the hospital's shared care model.
Brett, who has worked at the hospital since 1995, says it is important that physiotherapists are not seen as one of the only health professionals who can mobilise patients.
'If I'm able to combine mobilising the patient with getting them to the toilet or to the shower, it's achieving some of the goals that the nursing staff have.
'So if the nurse is there helping me, they can see how the patient's performing.
'They can see the amount of assistance the patient requires,' says Brett.
'And from a confidence perspective, the nurse is more confident to be able to carry that out by themselves or with the help of one of their colleagues.
'I think that teamwork means that it isn't just physio that's responsible for mobility and it isn't just nursing that is responsible for hygiene—the shared model means we're achieving the goals we're both after.
'And we're working together to achieve them.'
© Copyright 2018 by Australian Physiotherapy Association. All rights reserved.