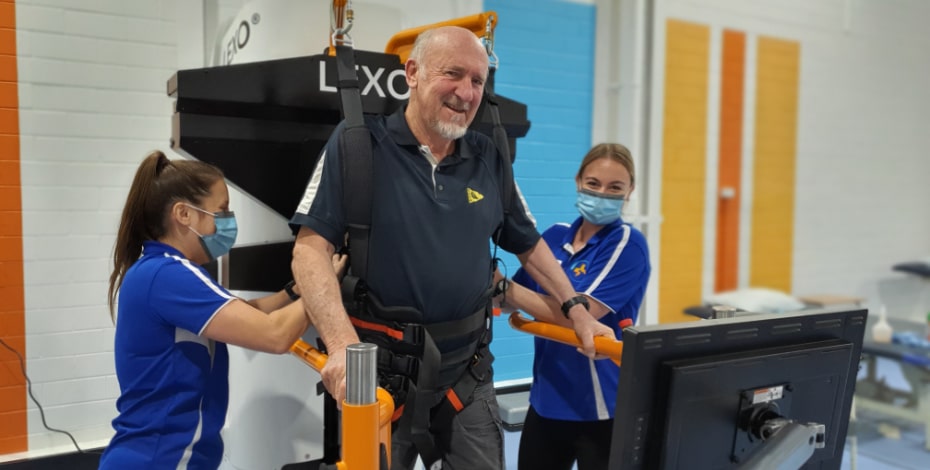 Benefits of high-ticket item outweigh costs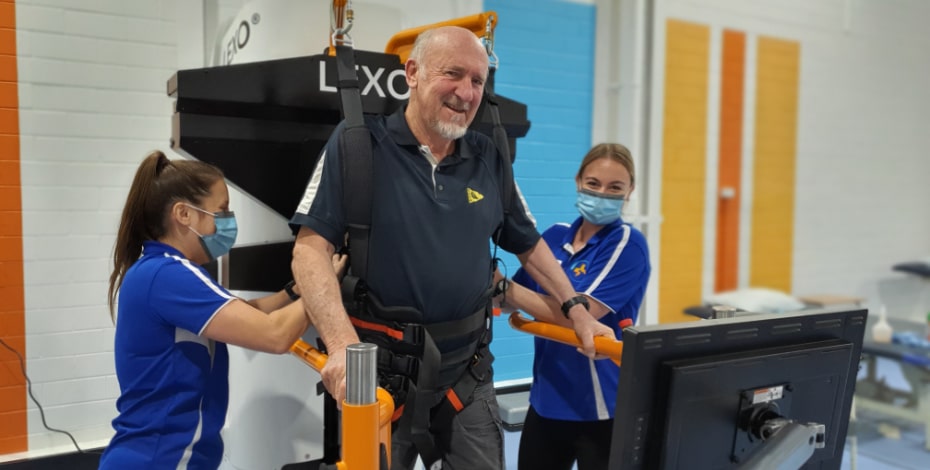 A private neurological rehabilitation clinic has invested big time in a state-of-the-art device, aiming to improve independent walking in patients after a stroke and to build on the existing literature on robotic gait trainers.
In an effort to improve patients' ability to walk independently following a stroke, Sydney clinic Advance Rehab Centre (ARC) has invested more than $330,000 in a world-first purchase of a new robotic gait training device.
The purchase, made off the back of the 2017 Cochrane Review of robotic gait trainers, has the potential to increase a patient's chance of walking independently, faster and further post the intervention phase compared with traditional gait rehabilitation in neuro populations and other robotic devices, such as exoskeletons.
ARC is building on existing literature with two further studies, one in partnership with Macquarie University, using the Tyromotion Lexo to support rehabilitation.
CEO Melissa McConaghy, FACP, an APA Specialist Neurological Physiotherapist (as awarded by the College of Physiotherapists in 2010), describes the Lexo as a 'game changer' in physiotherapy treatment, with potential benefits of helping more than 60,000 Australians who suffer from a stroke every year far outweighing its cost.
'It can increase a patient's chance of walking independently at the end of the intervention phase,' she says.



'It facilitates a natural walking pattern, provides sensory feedback and dynamic bodyweight support to assist with re-training the gait, which provides a more effective return to walking and at a higher quality. Intensity can be increased, so the patient is constantly challenged as they progress.'
The device has an individually adjustable dynamic bodyweight support system that assists people to improve their walking capacity, speed and distance.
It is different to more well-known exoskeleton devices in that it is an end-effector, which allows for more flexibility in driving physiological gait patterns and higher levels of intensity and step dosage.
Benefits can extend to people living with myriad conditions, Melissa says, including other neurological disabilities, such as brain or spinal cord injury, multiple sclerosis, Parkinson's, hereditary spastic paraplegia, cerebral palsy and functional neurological disorder.
She says the Lexo will enable ARC to build on the existing research on robotic gait trainers. 
'The Cochrane Review is the highest level evidence you can get supporting this style of device, and an end-effector is much more effective at achieving independent gait in non-ambulatory post- stroke patients than any other device, exoskeleton or conventional therapy, including bodyweight support treadmill training,' Melissa says.
'Our observational study is capturing baseline parameters during our current gait training sessions compared with sessions conducted using the Lexo.'



The patient group has been stratified for ability level with three primary measures captured: amount of time spent in a cardiovascular training zone, number of steps achieved and gait speed.
'We hope to show that it offers better results in training across all three parameters and across all the different ability levels; and hypothesise that the gain is from the higher levels of cardiovascular intensity patients can achieve, the higher step number achievable per session—almost five-times higher than in a traditional gait-training session—and the nature of the repetitive task practice of an ideal physiological gait pattern.'
The preliminary clinical research with Macquarie University is focusing on the feasibility and acceptance clients and physiotherapists have with using the device in a private neurological rehabilitation setting.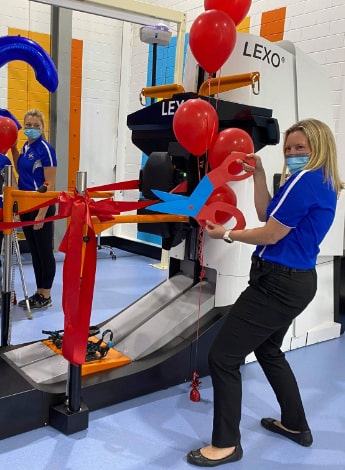 'Given this device is new to market, and the adoption of any new technology can require a culture shift, both from the patient and therapist, we are interested in exploring perceptions of use and feasibility in our setting, and of course, learning.
'In the clinic we have observed the expected benefit in that it reduces the labour cost of gait training down to just one person.
'This reduces the risk of injury to patient and clinician, and has the added benefit of providing a greater sense of security to patients who are wary of falling during gait training in the very dependent stages.'
Melissa says this allows therapists to focus on the patient and the actual quality of the therapy, which enhances staff efficiency and safety, leading to higher training intensity, more treatments per therapist and consistent, superior patient care.
'The gamification is exciting, too, and shouldn't be underestimated as an engagement tool when high-volume stepping is required for functional change.
'There are multiple sensors for each leg that capture real-time biofeedback, which enables the clinician to optimise the gait set-up with greater precision.
'Patients are motivated to reach their goals with various game-like exercises and can achieve up to five-times more practice in the device than traditional over-ground training.
'Their increased level of activity influences the performance of the task, the gait quality and the speed.'



She anticipates two groups of patients for use. 'The patient who wants to achieve a functional outcome from their rehab and has walking goals, and the other cohort is those who just want the experience of walking.
'They're probably not going to become functional walkers, but they want to have the experience of being upright, simulating walking. I'm thinking of your complete paraplegics, the dense stroke patients like your pushers and those with significant neglect.
'Those who are unlikely to become independent walkers, but really want to have a crack at just being up and experiencing that.'
Installing the device has not been without challenges, with the COVID-19 pandemic causing an eight-month delay in delivery and set-up.
First, final production was delayed in Austria, which flowed through to shipping.
Then, Australia's border shutdown meant engineers and trainers were unable to visit to install the device.
Even a special approval from the Australian Consulate to admit one engineer, with quarantine parameters in place, failed to eventuate after flights were cancelled.
Eventually the device arrived in three containers weighing 900 kilograms each.
'We then explored plan B, which involved the Tyromotion team in Austria dismantling their showroom device and putting it back together while we put ours together at the same time, via Zoom, with a locally sourced biomechanical engineering team,' Melissa says.
'This process took about a month and enormous amounts of time in preparation.'



Then followed 2am training sessions, with the Austrian team leading ARC's physiotherapists through online learning modules and patient demonstration sessions.
'I cannot say enough about the commitment of the manufacturer, Tyromotion, and the Australian distributor, Cantley Medical, to pull off this achievement and have the device installed 8000 miles away from HQ during COVID-19,' says Melissa.
'We've already had really positive feedback from patients and therapists so it's been worth the wait.'
© Copyright 2023 by Australian Physiotherapy Association. All rights reserved.