Celebrating the life and career of Miss McPhail
Patricia Evans recounts the work and influence of a straight-down-the-line physiotherapist whose greatest gift was what she gave to her patients.
Margaret Jean McPhail, known as Jean, was born in Rangiora, New Zealand on 1 November 1933.
Her father was appointed as the Queen's Surgeon in New Zealand and he was responsible for bringing the first gastroscope into New Zealand.
Her older brother Ian became a doctor who learned the Maori language and was very involved in public health, and her younger brother Ron worked in agriculture, the environment and outdoor pursuits—all close to Jean's heart.
She was educated in Rangiora until her father joined the Volunteer Naval Reserve when the Second World War broke out, and the family moved to Auckland.
She excelled at hockey and was a champion swimmer at high school in Auckland before attending the University of Otago in Dunedin, graduating in 1955 with a Diploma in Physiotherapy.
Jean's first job as a physiotherapist was with the Auckland Hospital Board from 1955 to 1959 working at Auckland General Hospital where her experience included work in the acute poliomyelitis wards as well as the Wilson Home for Crippled Children and Middlemore Orthopaedic Hospital.
This may have been the grounding for her incredible expertise in muscle testing, which became legendary.
In 1959, Jean worked as a tutor for final-year students at the New Zealand School of Physiotherapy then travelled to England in 1960 where she was a staff physiotherapist at St George's Hospital in London until 1962.
During this time she did a three-month postgraduate course in the Bobath treatment of cerebral palsy and other forms of spastic paralysis. 
She returned to New Zealand in 1962 and was Physiotherapist-in-Charge at the North Shore Hospital in Auckland and during this time she was appointed to the Examination Board of the New Zealand School of Physiotherapy.
Later in 1963, Jean went to the United States of America where she did a six-month postgraduate course on proprioceptive neuromuscular facilitation (PNF) techniques at the Kaiser Foundation Rehabilitation Center at Vallejo, California, run by the internationally famous Maggie Knott and Dorothy Voss.
Physiotherapists came from across the world to train in PNF, which was considered a more active exercise regime than previous muscle re-education that used powdered and tilted boards.
Jean's PNF course was followed by a postgraduate course in sensory integration and facilitation techniques at the University of Southern California in Los Angeles, and from 1965 to 1966 she became a tutor, teaching PNF at Vallejo, which is a testament to her ability as she went from student to tutor.
Here she met many physiotherapists who became life-long colleagues and friends such as Sue Adler, Ann 'Bugsy' Grant, Fran Dunsford and Margaret De Jersey.
Jean loved her time in the US, especially the national parks including Yosemite and Sierra Nevada, and was a great fan of the photography of Ansel Adams.
Moving from the US to Sydney at the end of 1966, she worked at the Multiple Sclerosis Centre in Artarmon and became the Physiotherapist-in-Charge the next year, a position she held until she began working at the Royal North Shore Hospital (RNSH) in 1969.
Jean worked in the spinal unit with Jan Benn and became Physiotherapist-in-Charge of the Spinal Injuries Unit in 1970 when Jan became the Head of the RNSH Physiotherapy Department.
Jean held this position until 1985 and it was during this time that she made her mark on the world of spinal injuries, the patients in the unit and the constantly rotating multidisciplinary staff.
For her first six years the Spinal Injuries Unit was located in the 'cottages', which had been built to house a maternity unit in 1921 and were well past their prime in the 1970s.
Although it was easy to wheel the patients out into the sun, everyone was crammed in together and it leaked when it rained.
Maggie Beven arrived from England in the 1970s and, as she had a little experience in spinal injuries, she was thrilled to obtain a six month rotation to work in the unit with Jean; her 'rotation' continued until the mid-1980s.
Maggie described Jean as very generous with her time and expertise in many different types of exercise therapy—PNF was predominately used in the unit, with a small amount of Bobath theory.
Miss McPhail, as she was called by all, was very respectful of the knowledge of the medical staff, but also expected respect in her area of expertise in return.
During this time Jean, with Maggie's assistance, was responsible for the organisation and running of the Annual Royal North Shore Paraplegic and Quadriplegic Games, which had been started by Jan Benn after her experience at the Stoke Mandeville Spinal Unit in the UK.
The Games were spread over a week and included past and present patients from the Mt Wilga Rehabilitation Unit, RNSH and Prince Henry spinal units.
The field events were held on the oval over the week and swimming and table tennis events held in the evenings.
It was a great reunion for past patients, an inspiration to the newer patients and the training ground for the wheelchair athletes of the future.
Sport was held on Monday afternoons each week, and included archery and throwing events as well as team sports such as basketball and tennis, with  the physiotherapy staff hopping into wheelchairs to make up the numbers as required.
Table tennis was reserved for the wet afternoons and evenings in the physiotherapy gym.
Jean was on the Paraplegic and Quadriplegic Sports Committee from 1971 to 1984, she was Programme Organiser and Results Coordinator for the Far East and South Pacific Games for the Disabled held in Sydney in 1977, and Programme Organiser and Results Coordinator for the National Paraplegic and Quadriplegic Games and Olympic Selection Trials in 1984.
All this work culminated in her receiving the Medal of the Order of Australia for Services to the Disabled and Sport for the Disabled in 1989, a well-deserved honour.
If you worked in the spinal unit as a physiotherapist, Miss McPhail insisted you needed to know what it was like to be in a wheelchair.
You needed to be able to do wheel stands, get into a wheelchair from the floor without using your legs, and get up and down kerbs.
When the unit moved into a purpose-built spinal unit in the new hospital in 1976, I was the first-year graduate working in the unit.
I had the job of moving all the wheelchairs into the new building but I wasn't allowed to walk behind and push the chairs—I had to sit in each chair and push up the ramp and along the tunnel to the new hospital, one at a time. It was a great lesson.
Jean was a teacher across the professions of physiotherapy, nursing and medicine at the student and postgraduate levels in spinal injury management as well as muscle weakness and motor function testing.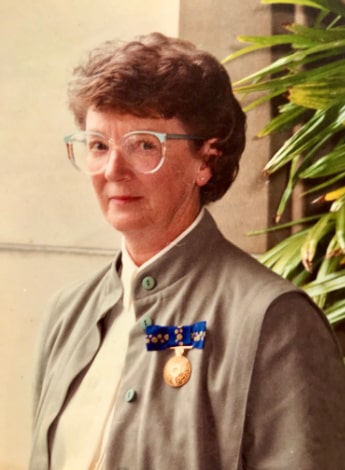 Professor TKF Taylor, who was head of the Department of Orthopaedic and Traumatic Surgery at RNSH, said that 'no one can do a muscle test as well as Miss McPhail', which was praise indeed.
From 1977 to 1985 she was appointed by the Higher Education Board to the Committees of Review for the Bachelor of Applied Sciences in Physiotherapy program and subsequently the master's program in Physiotherapy for Cumberland College of Health Sciences, Sydney University.
Throughout the '70s and '80s she collaborated to make educational video tapes demonstrating muscle weakness and 'physiotherapy treatment of a quadriplegic patient'.
Involvement in research was not as readily available as it is today but Jean took opportunities when she could and published 'Central cord lesions in traumatic spinal injuries' in collaboration with Dr W Merriam in 1984 and 'Functional Electrical Stimulation (FES) in paraplegic patients' with Robert Bosshard, biomedical engineer, 1985–7.
'Physiotherapy Management of the Spinal Cord Injured Patient' was published in the journal Physiotherapy Practise, compiled by Physiotherapy Research, Kings College, University of London in 1986.
Jean McPhail's greatest gift as a physiotherapist was what she gave to her patients, the majority whom had suffered a sudden and usually permanent change to their life's trajectory.
The majority of her patients were young adults with no established career to fall back on or, if older, had a career they may no longer be able to pursue. Spinal cord injury is a life-changing event.
Although quite reserved in her nature, she was also warm and personable and was loved by many of her patients.
One patient from the 1970s said, 'You always knew where you stood with her, she would tell you this is what you are here for and this is what you need to do, she didn't stand any bullsh*t'.
Another, who defied the rules restricting those with a disability and became the first quadriplegic taxi driver, said, 'I am here today doing all that I do because of Jean, she was always straight down the line with you'.
Jean supported not only her patients but their families, offering quiet comfort, empathy and understanding; she was a remarkable and dedicated woman.
With the team in the spinal unit, she encouraged patients to challenge the current status quo and achieve their best possible outcomes.
A shining example of this is John Walsh who had a football accident in 1971, fracturing his neck and life as he knew it.
As a quadriplegic he quickly became aware of the lack of adequate disability support systems in New South Wales and Australia. 
He became an actuary, toured internationally to study support systems and statistics in Canada, the US and the UK, returning to challenge the Actuarial Institute to improve the evidence base and data around disability and outcomes.
He said, 'Once you get good data about the causes of disability, then you can put in place measures to prevent them', and established the Australian Registry of Spinal Cord Injuries.
He was instrumental in the establishment of the National Disability Insurance Scheme and until recently sat on the Board.
John always enjoyed Jean's company and regarded her as the absolute pinnacle in physiotherapy.
Jean had become Deputy of the Physiotherapy Department of RNSH in 1973 and became in charge in 1985, continuing in this role until September 1997 when she retired.
With her dignified leadership and professional manner, she fought hard for the Physiotherapy Department and played a large role in shaping the strong work ethic and ethos at RNSH and the wider public hospital community.
Jean was a staunch friend with a great sense of humour, she loved her garden, poetry, her cat, to entertain at home and she hated being the centre of attention.
She passed away after a brief illness on 10 March 2020 and is greatly missed by all who knew her.
© Copyright 2018 by Australian Physiotherapy Association. All rights reserved.