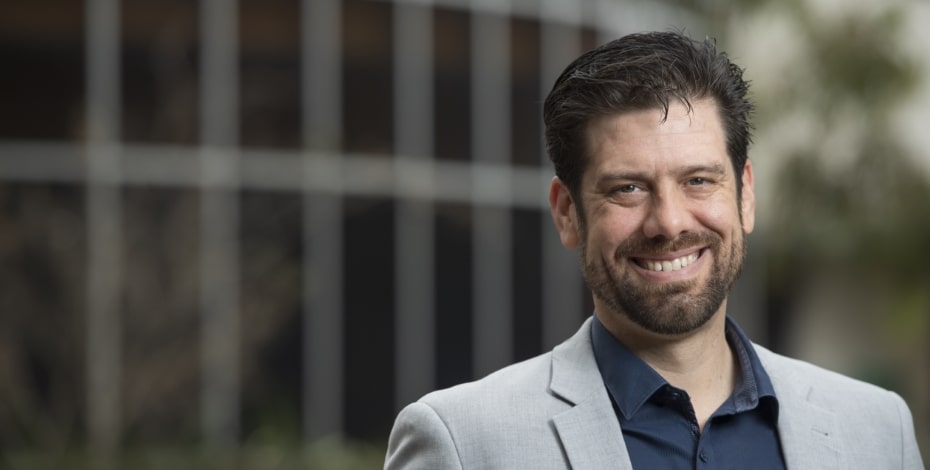 Coveted award for champion of falls prevention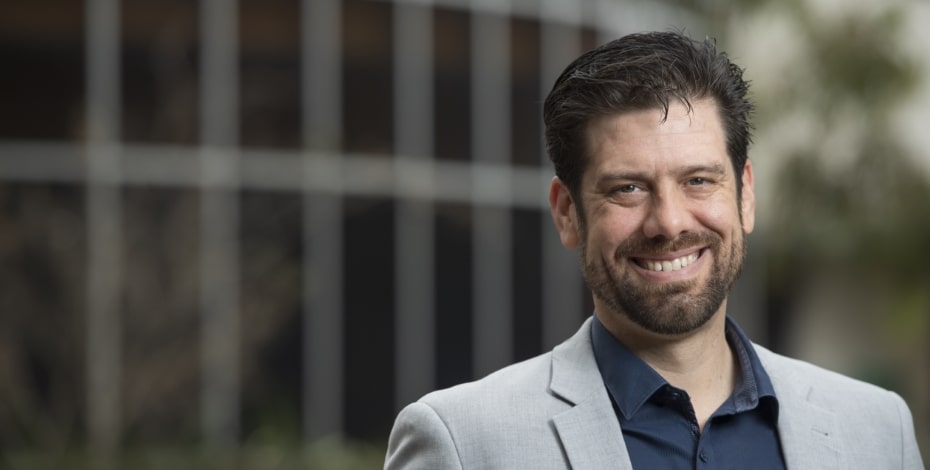 As a new graduate, Terry Haines stumbled onto a research career in falls prevention that has brought him many awards and accolades. He recently added another award to that cache, becoming a Member of the Order of Australia.
Professor Terry Haines APAM never intended to work in the aged care sector as a new graduate physiotherapist, but fate had other ideas.
He was in his fourth year of studies at the University of Melbourne when his wife Emma became pregnant with their first child. In order to support his young family, Terry needed a job. Any job.
'I went for the first job I could get hold of and that was at the Peter James Centre in aged care and rehabilitation. I absolutely loved it; it was fantastic,' Terry says.
'I did a new graduate position there for 12 months and then they kept me around for a bit longer and it was during that time that I really got interested in falls prevention.
'It was a fantastic experience, being able to spend time with patients and to understand their journeys and the impact that a successful rehabilitation can have on their lives.
'Trying to help them to do it safely—so that they don't fall over, go back to square one or go back even further than where they were—is something that became very important to me.
'It was an area where I could make a contribution because not much had been done in that space before.'
Terry's interest in falls prevention snowballed into a passion that has seen him lead research projects and teams making tremendous strides in falls prevention.
Terry has been recognised and awarded by the profession and his peers and recently added another feather to his cap—he was named a Member of the Order of Australia (AM) in this year's King's Birthday Honours List.
While quick to point out that much of his work is a collaborative team effort, Terry says he has been delighted to play a role in the work the award highlights—education and research into falls prevention and mobility. It is a passion that has continued.
'I feel very much that I am only partially responsible for the wins we have had in these areas [falls prevention and mobility].
'There is a much broader group of people who have been responsible for the achievements in this space and the award is a recognition of that broader group rather than just of myself,' he says.
'For me personally, this award recognises perseverance. It has taken a long time to be able to effect change and to demonstrate things that work.
'I've been doing research in falls prevention in hospitals for two decades now and it seems like things have only recently actually started to happen.
'That old saying that it takes 17 years for research to get translated into practice— well, that feels about right.
'It's nice to have some sort of recognition of that perseverance and to be able to stick with a problem, where you see that there are gains to be made for society, and to keep pushing the narrative, to keep pushing the programs and to keep doing more research to try to gather even more evidence for it.'
For the father of four young adults, ranging in age from 17 to 23, the award was also an opportunity to share his success with his family, whom he credits with supporting him throughout his career.
'My family was very excited about the award. My wife was excited; she thought it was wonderful. My parents were excited. My kids were sort of like, mmm, Dad, do your thing. I guess that's normal for teenagers and kids in their early 20s; that's kids these days,' he adds.
It was as a teenager himself that Terry first became interested in physiotherapy as a career.
His older brother was at basketball tryouts when he rolled his ankle and was taken to a physiotherapist for care. Terry tagged along to that appointment and marvelled at the skill of the clinician and how respected the work was.
'I saw my dad and my brother paying attention and listening quite intently to what the physio was saying. I thought, "This doesn't seem too bad. People listen to you; people come to you for advice and you can help them get better. That looks like a decent sort of job to have a crack at." And the idea grew from there,' he says.
Like many first-year physiotherapy students, Terry expected that he would delve into the world of sports physiotherapy once he graduated. Finding out he was going to be a father in his final year of studies put paid to that—quite fortuitously, as he sees it.
His first job at the Peter James Centre in Burwood opened up a world of learning that shaped his career immeasurably.
'It was during that time that I really got interested in the falls prevention side of things.
'Initially, it was because of my patients. I'd work with a patient for a couple of weeks, we'd be making progress and then I'd ring up to the ward and ask, "Why is my patient not coming down today?" and they'd say it was because they'd had a fall and had gone back to the acute hospital or broken their hip or those sorts of things.
'I saw that there was a real need for falls prevention. Looking around, I also saw that no one was doing anything in this space.
'I realised it was time to have a crack at it— and if someone's going to have a crack, it may as well be me.'
In just his second year out, Terry sent respected researcher Professor Keith Hill APAM a project idea in the mail ('I don't know what he thought of me sending him a random project'). It was one of many ideas the young physiotherapist had about falls prevention and how it could significantly improve patient care.
'I had an idea for how to do falls prevention really well. I knew there were no successful randomised controlled trials on preventing falls in hospitals at that point, which was around 2001.
'The first and only time that the Victorian Department of Health decided to invest some money in hospital-based falls prevention, my hospital was given a $50,000 grant to try to prevent falls. So I marched into the medical director's office with my idea and he said, "That sounds great, Terry. Let's do it."
'Then I gave Professor Kim Bennell a call and she set up a meeting with Keith Hill and herself to see whether—if I was going to do this randomised controlled trial—I could get a degree out of it.
'They both agreed that it sounded like a PhD idea and they encouraged me down the research enrolment pathway. The rest is history.
'We finished the project with the world's first randomised trial to prevent falls in hospitals; I got my first paper in the British Medical Journal, which was nice, and it got me up and running for a career in research.'
In 2004, Terry and his family packed up and moved to Queensland, where he worked with the University of Queensland and the Princess Alexandra Hospital, cementing his research work in physiotherapy and health economics.
It was in the Sunshine State that Terry met mentors Emeritus Professor Gwen Jull FACP, Professor Sandy Brauer APAM, Kathy Grudzinskas, APA Sports and Exercise Physiotherapist Bill Vicenzino FACP and Professor Paul Hodges FACP, who helped shape and guide the research roles that drive his passion.
The family returned to Victoria in 2008 and Terry took up positions with Monash Health and Monash University, where he went on to become head of school at the School of Primary and Allied Health Care in 2017, a position he holds today.
An APA member since 1999, Terry served as the chair of the Physiotherapy Research Foundation Grants Review Committee from 2012 to 2015, was a committee member in 2011 and 2016 and was a member of Journal of Physiotherapy's editorial board.
He was also president of the Australia and New Zealand Falls Prevention Society from 2012 to 2014.
Terry currently leads multiple National Health and Medical Research Council and Medical Research Future Fund-funded projects, many of which focus on identifying the most effective ways of translating evidence into practice. He also invests in the future of physiotherapy research by mentoring PhD students.
'From a research perspective, I started working with people such as Samantha Sevenhuysen, who is now at Peninsula Health.
'She was looking at peer-assisted learning in clinical placements for her PhD and trying to figure out ways we could make clinical education placements a better experience for students.
'I worked with Stephen Maloney looking at online versus face-to-face education of health professionals, considering whether one approach was more cost-effective than the other. This was 10 years ago, before the recent COVID-19-induced transformation of education. We were interested in that a long time ago.
'From an administration perspective, I've been responsible for guiding programs in physiotherapy but also in occupational therapy, social work, paramedicine, medical imaging and podiatry.
'Innovations in the education space really help to foster the wonderful teams of people we have educating the next generation, empowering them to pursue their ideas and to take risks.
'It is important to encourage people to ask questions and to have a good look at how we do education to maximise the benefits we can get for our students.
'I always hope that the achievements of my PhD students will outdo my own achievements. That's the way it should be. It's something I look forward to and really relish— seeing their great achievements.
'For me, it's about continuing to grow, at an exponential rate, the number of people out there trying to make a difference through research.'
Terry is a family man and an active member of his local church. He has been a basketball coach for 30 years, coaching first his own children and now other people's. It's a sport he has a fondness for, having played it as a youth.
'I enjoy the ability to mentor people. It's not just about sport; it's about life more broadly. I've always enjoyed that. I do some church activities as well.
'Running around with my kids as a glorified chauffeur is certainly something I've done a lot of. As soon as your kids turn about eight years old, your afternoons after school are completely blocked out with running here, there and everywhere for them. But it's just fabulous and I miss it now because they grow up pretty quickly.'
Terry received a letter notifying him that he had been named a Member of the Order of Australia (AM) in the King's Birthday Honours List in June, and he will be attending an official presentation ceremony on 14 September.
He says the many achievements throughout his career would not have been possible without the support of his wife Emma. 'I often feel, with awards and recognitions like this, that it's the people who volunteer their time and the unsung heroes who are actually the most deserving.
'Emma is one of those people who has worked in the background and done a whole bunch of things. I'm in awe of her.'
© Copyright 2023 by Australian Physiotherapy Association. All rights reserved.