COVID-19 waves bring lessons to the fore
Sarah Miller was on the frontline of two COVID waves, one overseas and one in Australia, and work is underway for whatever comes next.
Like many people, Sarah Miller has had a tumultuous year with a global pandemic turning career and personal ambitions upside down.
But, from the unexpected comes some lessons learned. Through two waves of the deadly COVID-19 virus, Sarah has led projects and delivered clinical work at major hospitals in Australia and the UK.
She was on the frontline of the coronavirus outbreak in London in early 2020, working in ICU in Kings College Hospital, one of the largest and most complex NHS COVID ICU units (the Health Service Journal (HSJ) reported 18 per cent mortality, compared with a national average of 28 per cent).
Following the first wave Sarah returned home to Melbourne and signed on to The Alfred as the city went into lockdown to halt the spread of the invisible intruder.
'When I was in London I was talking to friends here who were prepping during the first wave. They said they were preparing for World War Three.
'It was so obvious how much groundwork was being and had been done—from care that was given, the way the work was done, Victoria offered one of, if not the strongest, health service in the country.
'Hospitals were working collaboratively, and they were able to control the situation because the numbers meant we had COVID wards, rather than hospitals.
'It highlighted the incredible quality of healthcare here in Australia. I believe this is a significant reason as to why our mortality rates are low.'
While the pandemic cut short Sarah's plans to further her career in the UK, it hasn't dampened her spirit or drive to make a difference in healthcare.
As a physiotherapist she has undertaken roles across disability, mental health, homelessness, family violence and aged care.
She has completed doctoral studies with Melbourne University and is drawing on her evidence-based experience and community-minded approach in her fifth COVID-19 job, to support the Department of Health and Human Services as a principal consultant in its ongoing response to the pandemic.
'I'm looking to transition into health strategy, with the objective to create efficiency and accessibility in healthcare for all  Australians, particularly with a focus on digital transformation and value-based care.'
The career direction was consolidated during a self-imposed timeout from clinical work to 'personally debrief' about her UK experiences, as well as focus on her mental and physical health, despite remaining physically active during her time abroad.
On returning to Melbourne, Sarah quarantined at the Stamford Plaza, which was the focus of an infection control breach in the lead up to Melbourne's marathon lockdown. She then started working with an Australian start-up that makes eco-friendly laundry products.
'It was a friend's business and it was an interesting experience to see what businesses were going through, how hard they were working and better understand the many layers to fighting a pandemic,' she says.
'I was tired when I came home, and I needed time to work through the experience. The first wave for me was very hands-on in an exclusive capacity.
'And the second wave was quite reflective and observational … I helped Alfred Health on their suspected COVID-19 (sCOVID) ward, and it gave me time to rest but also time to reflect on the experience.'
In London, the NHS hospital's COVID-19 team comprised three disciplines—medical, nursing and physiotherapy—with the focus on management within wards.
As a team leader, Sarah was responsible for physiotherapy management, which involved access pathways, the prone team, life support recommendations and starting early rehabilitation. She also took a lead in patient–staff communications and clinical education.
During the second wave, in Australia at The Alfred, staff safety and support was prominent.
Systems and procedures included having PPE spotters, ward locking that also promoted more senior consults, a buddy system to support staff and various operational checks, capacity signs for communal rooms, phone apps for pre-screening health checks before arriving to work, easy access to bidaily scrubs, and the use of Microsoft Teams to coordinate clinical care and access to iPads for interpreters.
She says hospitals across Melbourne practised transdisciplinary leadership that showcased 'brilliant care models that could be adopted and extended onto other challenges we face in healthcare'. 
'These models allowed for safe and timely discharge, and also helped provide the right care, time and place, particularly with the use of telehealth,' Sarah says.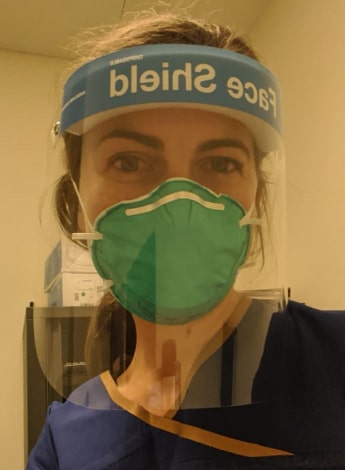 'I worked with a fantastic team in the UK and we delivered some strong outcomes.
'These were recently acknowledged in the latest HSJ report, but everything happened so quickly and plans evolved over time so it was a different experience compared with Melbourne.
'Here, the healthcare system and hospital leaders really thought about the different layers and prepared for how we could minimise the risk and make sure that staff felt supported and safe.'
In the rehabilitation journey in the UK, her team fast-tracked a trial with iPad therapy delivery that 'enhanced the recovery process'.
'We had to think more broadly about high-level physical treatments. The target cohort was 50-to-60-year-old men, a lot of who were still working and highly functioning before contracting the virus.
'We also discovered that providing consumer information helped with the rehabilitation journey as there was no formal discharge pathway for many of these patients, who were going home with an unknown virus and uncertainty of what lay ahead.
'Prior to rehabilitation, when patients were still on or for consideration of a life support machine, we were involved on  the prone positioning team.
'We have learnt a lot about acute respiratory distress syndrome, or ARDS, and I am looking forward to the exciting research advancements that has come from these clinical practice learnings around timing and effect of prone positioning.'
Sarah's work with the Department of Health and Human Services is building on the lessons learned from 2020 in readiness for the next wave of COVID-19 and, no doubt, future pandemics. 
'There are still a lot of unknowns and lots of questions to be answered. For the broader health landscape, how do we deliver integrated healthcare, particularly our exposed gaps with mental health and domestic violence?
'We need to consider future chronic respiratory disease, long-term neurological conditions and an emerging frailty risk from physical and emotional isolation for the older members of our community. 
'One thing is certain, and that is physiotherapists will continue to make an impact to Australian healthcare.'
Check out Sarah's experiences of working in London during the first wave of COVID, published in the September 2020 issue of InMotion, at australian.physio/inmotion.
© Copyright 2018 by Australian Physiotherapy Association. All rights reserved.