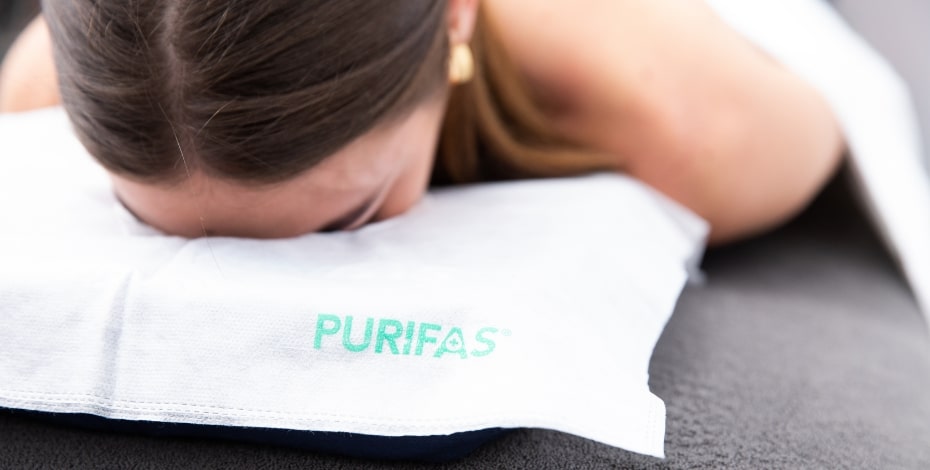 In the face of opportunity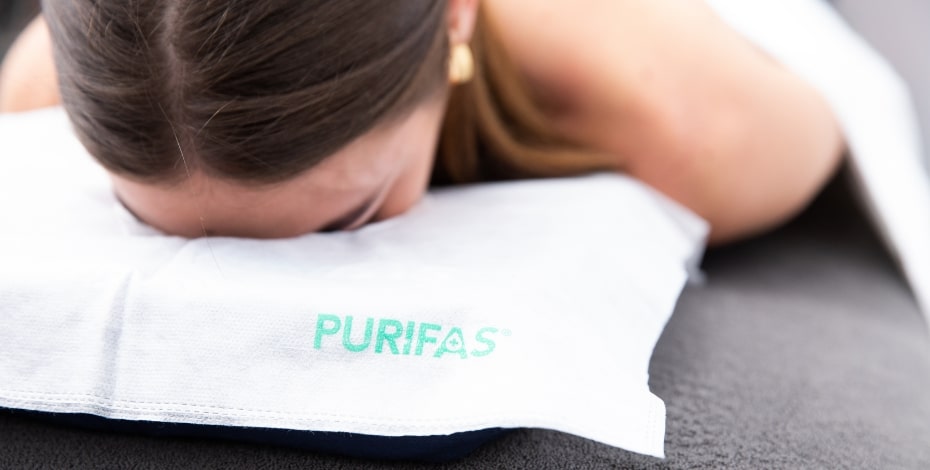 Antony Hirst, the current chair of the Victorian APA Business group committee, chats with Purifas founder Ibrahim Samaan, who developed FaceShield to fill a gap in the hygiene market.
Did you ever envisage that one day you would go into product development?
When you enter the physiotherapy workforce after four years of study, you realise very quickly how little you actually know about the field, so you spend at least the first few years of your career working on professional development to be the best at your job.
After working in the private sector, my goal was to run my own clinic, where I could make decisions purely to help people.
Product development, let alone founding a hygiene products company, was definitely not on my radar—it came out of a slight obsession with cleanliness.
If you had told me that I would be developing products 15 years later, I probably would have laughed at you.
At what stage did you think there was a gap in the market and a need for the Purifas FaceShield?
When I joined the workforce I immediately noticed poor levels of hygiene in the physiotherapy sector, especially compared with the medical and dental sectors.
After I opened my own clinic, I became bothered by the uncomfortable two-dimensional paper products that had, for some reason, become standard practice in the industry, despite them having no specific hygiene features.
After developing some prototypes for my clinic, I found that client feedback reinforced the demand in the market and provided motivation for the commercialisation of these prototypes.
How did you get the necessary skill set and with which professionals did you engage during the process from idea to design to final product?
When I started my product development journey, I would say I had the same skill set in this field as most other physiotherapists—none.
Your skills develop through experience, through failures and successes.
With FaceShield, the first step was to get legal advice.
From there, it was about developing a working prototype with an industrial engineer who understood my vision.
Working with an engineer to constantly change and perfect your prototype for your target market leads you down the research rabbit hole.
It is only through constant research-based product improvements and back-and-forth testing that you end up with a product that is finally ready for production.
Then the fun begins.
Has it all been smooth sailing or frustrating beyond belief?
I think any sailor will tell you it's never constant smooth sailing.
As with any learning curve or worthwhile risk, there are going to be troughs and crests that, quite frankly, keep it interesting.
The complications and roadblocks that you come up against can often be unforeseeable and extremely frustrating, especially with your first product.
The only way to get past these roadblocks is with perseverance, focus and dedication.
Product development is not for the easily disheartened.
I needed to completely change my mindset—there are no problems, only solutions—in order to achieve what Purifas has achieved to date.
For example, when you spend over two years of your life constantly improving a prototype to the point that you are finally happy with it, only for your manufacturer to tell you that the technology does not currently exist to cost-effectively mass-produce your product with its key features, you are essentially left with two choices—compromise your product and vision or invest in developing custom technology to suit your manufacturing needs.
Being a perfectionist, I chose the latter.
I still compare the first cotton prototype to our current product and think, 'Wow, we did all this.'
It makes it worth all the trouble.
What motivated you to move to product development?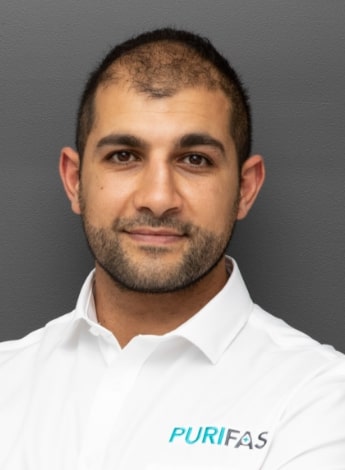 Purifas founder Ibrahim Samaan developed FaceShield to improve hygiene standards in physiotherapy.
There were a number of key factors that motivated the change in my career direction.
The most valuable asset that I could give my young family was my time.
By working in the service industry, I was essentially selling this time.
Naturally, scalability was a word that I kept repeating in my head.
The physiotherapy industry is not easily scalable, but a product could be sold all over the world—while I am giving my family my time.
The physiotherapy industry is a young and growing sector in which there is still plenty of room for product development.
Product development does not come without its sacrifices but there is a definite sense of achievement when you make positive change on a large scale.
What's the feedback been like from practitioners and patients?
The feedback that we have received from practitioners and patients has been completely overwhelming.
Following the launch of Purifas in October 2019, we now have 20 distributors selling in five countries.
We also have thousands of therapists globally who have adopted the Purifas FaceShield as standard practice in their clinics at a cost of less than 40 cents per patient—a no-brainer for business owners.
This growth helped us win the 2021 Gold Stevie Award for Most Innovative Startup of the Year—Business Product Industries.
The clients' response was immediate—the softer feel, the reduction in noise and an increased hygiene perception were constant themes in our market research.
What has been your greatest challenge in getting your product out to the market and how did you overcome this?
When you have worked to develop a product for over three years and your market research shows that over half of all clients are willing to change their practitioner for it, you have the potential to truly disrupt a market and make a positive impact on an entire industry.
Your biggest challenge is making people aware that it exists.
How do you start?
Where do you start?
What can you do?
It didn't take me long to realise that I needed to allocate this task to the professionals.
Under their guidance, we launched our company at the national APA conference in Adelaide in 2019 and have since developed relationships not only with all key industry bodies but also with government policymakers to work towards achieving our mission to improve hygiene standards and reduce healthcare-acquired infections.
Creating awareness still remains one of our greater challenges.
Do you plan to do more product development? If so, what can we look forward to?
We are committed to ensuring that our products are of the highest standard in all aspects of design, testing, research and development, so that any Purifas product used by therapists worldwide provides real value to the business and an unrivalled experience to the consumer.
To date we have increased our product range to eight products, one of which spent over two years in research and development and was launched earlier this year, with many more at different stages of their development.
Has this process cost you more than you thought it would in terms of dollars and at any stage did you think the investment was not worthwhile?
To be honest, the initial budget allocated for this project may have been exceeded by a couple of additional digits.
There was a point where a decision had to be made whether or not to go all in—when you're responsible for three children, this is not a decision you can take lightly.
In saying that, the complete faith I had in the prototype I had developed, the feedback and investment offers that I received from those involved in its development and, most importantly, the continuous support I had from my wife made this decision quite easy.
The alternative was to spend the rest of my time on this planet wondering, 'What if?'
Do you miss being a clinician?
I loved every minute of working as a physiotherapist and it never felt like work.
Purifas definitely has its perks but no achievement to date has ever resulted in the feeling you get when a client walks in and tells you how your treatment has changed their life.
I definitely miss working as a clinician, which is why I still jump at the opportunity to treat family and friends as well as personally test our new products… two birds!
The APA has recently signed an endorsement agreement with Purifas (FaceShield and Best Practice Guidelines only).
>> Ahpra-registered physiotherapist Ibrahim Samaan is the founder of Purifas, a multi-award-winning healthcare company committed to reducing the risk of infection and improving comfort during therapy treatments. Ibrahim is the winner of two Gold 2021 Asia-Pacific Stevie Awards and is a 2020–2021 Physiotherapist of the Year Finalist in the Allied Health Awards for his efforts to improve hygiene standards in the physiotherapy sector.
© Copyright 2023 by Australian Physiotherapy Association. All rights reserved.