Fitness for the frail
Rik Dawson's Top Up program provides older people with a series of exercise videos designed to improve their strength and mobility. A conversation with him about two videos he has created to help frail older people exercise in their chairs.
Two new video-based seated exercise programs created by physiotherapist and APA Vice President Rik Dawson offer frail older people the opportunity to gently increase their fitness levels.
The seated physiotherapy Top Up video and the Top Up Zumba video both offer exercise programs focused on gentle stretching and movement.
The videos are designed to be done entirely seated and with minimal assistance and are suitable for use by both aged care facilities and for people at home.
The idea for the seated videos grew out of Rik's PhD research project, the Top Up study, which is focused on creating video-based exercise programs for aged care that aims to improve mobility, strength, balance and reduce the risk of falling.
'My study is focused on those people who can weight bear, but we know, in residential care, that there's at least 50 per cent of people who can't walk.
'These seated programs will enable those who are unable to walk to begin an exercise program as part of their tailored physio program.
'Like all aged care physios we hope we can get as many people as possible on their feet involved in a supervised standing strengthening and balance program.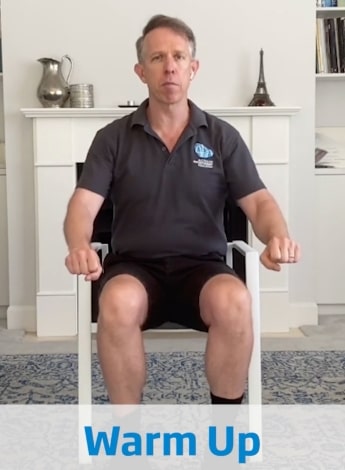 Rik's seated exercise videos are suitable for older people with limited mobility. Image taken from video.
'Weight-bearing exercise is key to reducing their risk of falls and improve their walking,' he says.
Rik says the seated videos were developed in response to requests he received from the aged care centres he worked with during the COVID-19 lockdowns in 2021.
'During lockdown some of my aged care partners rang me and said, "Look, everybody is stuck in their rooms.
"There's nothing they can do.
"Can you create some videos that very frail older people who are chair-bound could do safely, videos that aim to improve their general fitness, joint range of movement and upper and lower limb strength?"'
Rik says that in older people who sit for long periods of time, their posture declines and their muscles shorten, increasing the risk of arthritic pain and other musculoskeletal problems.
'This program opens up their posture, gets them seated upright so that they are balanced on their hips while doing some active movements,' he says.
Rik plans to add a couple more videos to the seated program, adding ankle weights and resistance bands to assist with developing leg and arm strength.
Fortuitously, Rik started the Top Up study just as COVID-19 took off.
Telehealth was always going to be a component of the study, because of Australia's geographical limitations, but COVID-19 has brought it to the forefront.
The impact of the lockdowns on the study has been substantial, he says, and has emphasised the importance of physical activity in the older population.
'I had one facility that had nine weeks of lockdown.
'Most of them have had four to five weeks in lockdown.
'But when people are that frail, they're literally stuck in their rooms doing no physical activity.
'A lot of my participants see their physical performance decline due to the lockdowns' he says.
'I didn't realise how important doing this sort of research was going to be,' Rik says.
Rik's new videos are available on YouTube and through the Safe Exercise at Home website.
The APA is launching its 2022 consumer campaign in April with a focus on falls, dementia and continence in ageing populations. Keep your eye on APA social media channels for more information and resources.
© Copyright 2018 by Australian Physiotherapy Association. All rights reserved.