Fond memories of an international trailblazer
The physiotherapy community in Australia and overseas has united to pay tribute to Dr Sandra Mercer Moore, former APA and WCPT president and a doyen of the profession.
Described as a superb ambassador for her country and for Australian physiotherapy, Sandra recently passed away in Melbourne.
From the many voices to speak at the memorial service for APA Honoured Member Dr Sandra Mercer Moore came unified memories and recollections about her.
Sandra was exceptionally supportive of those around her, she empowered people to achieve their best and she was a passionate lifelong advocate for physiotherapy in Australia and on the global stage.
Remembered fondly for her great sense of humour and a determined spirit, Sandra took pleasure in the success of others, never lost interest in those with whom she had worked and was an inspiration to many who worked alongside her, say those who delivered eulogies at her memorial service in Melbourne at the end of January.
Among those to speak was Brenda Myers, Sandra's former colleague during her time at the WCPT (as chair of the Asia Western Pacific Region 1995–99 and twice as president 1999–2003 and 2003–07).
'I met Sandra at the General Meeting and Congress of the WCPT in Washington in 1995, and not long after that first meeting she hosted me on a visit to Australia.
'Her stature immediately stood out in my mind—she had presence and authority, and in a room, you couldn't miss her,' says Brenda, who was WCPT secretary general from 1995 to 2016.
'Sandra also had warmth, and I learned very quickly of her love for family and of her love for Australia. They were never far from her mind wherever the work of WCPT took us.
'She also loved physiotherapy and was ambitious on its behalf. She wanted to see the profession internationally recognised and functioning to its full potential around the world.'
Brenda says Sandra travelled widely on behalf of the WCPT and represented the profession to the World Health Organization, helped to consolidate relationships with other international professional organisations and lent WCPT's voice to international initiatives on disaster preparedness, healthy ageing, strengthening rehabilitation services and human health resource planning.
'She attended meetings of physiotherapists around the world in places where the profession was well established and also where a visit from the WCPT president could inspire the profession to establish a PT education program, form an association, apply for membership of WCPT and work toward achieving independent professional  practice,' Brenda says.
Sandra became a member of the APA in 1964 and in the 1970s she was an integral part of the united push to form a national group for private practitioners.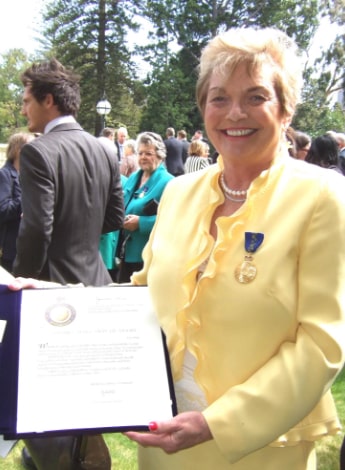 She was passionate about the profession and had been dedicated to ensuring the recognition of physiotherapy both in Australia and worldwide since the early 1970s.
Sandra served the APA as national president in 1991–92, and prior to becoming WCPT president she was chair of the International Private Practitioners Group (IPPA), becoming its first president and guiding it to recognition as a WCPT subgroup.
In 2009, Sandra was made a Member of the Order of Australia (AM) for her services to physiotherapy through leadership roles with professional organisations, as a clinician, and to the Victorian Division of the Liberal Party of Australia.
Current World Physiotherapy (formerly WCPT) president Emma Stokes says: 'Sandra was a remarkable woman and a great leader in physiotherapy. I had the pleasure of meeting her on many occasions while she was President.
'Sandra was the first woman to serve two consecutive terms as our president (1999–2007) which clearly demonstrates not only her passion for the profession but also the esteem in which  she was held by her colleagues from around the world.
'This was just one of the many 'firsts' that she achieved in our community; she was also the first chair of our Asia Western Pacific region as well as the inaugural chair of the International Private Practitioners Association, one of our official subgroups,' Emma says.
Sandra was a woman who had a big presence but never in an overbearing way, says Wendy Cross, who was the editor of Australian Journal of Physiotherapy (now Journal of Physiotherapy) during Sandra's time as WCPT president.
The two women had many shared interests and became lifelong friends, with Wendy often looking after Sandra's beloved dog Chloe when Sandra and her husband John had to travel away from home.
'Sandra was someone you just could not ignore and yet, at the same time, she didn't have a loud voice,' Wendy says. 'For someone who spoke publicly as often as she did, she had quite a small, sweet voice, so it wasn't her being pushy, she simply had presence.'
'She set extremely high standards for herself and she expected other people to display equally high standards. If they failed her in that regard she would quietly remove them from any sort of ability to influence things that she thought were important.
'But she'd do it in such a diplomatic way that there was no dissention, no harsh words were said,' Wendy says.
Sandra passed away on her 78th birthday after a long illness. A memorial service was held online in late January.
Sandra is survived by her sister Debra, her husband John, whom she married in 1990, and John's three children Joanne, Kristen and Philippa.
© Copyright 2018 by Australian Physiotherapy Association. All rights reserved.