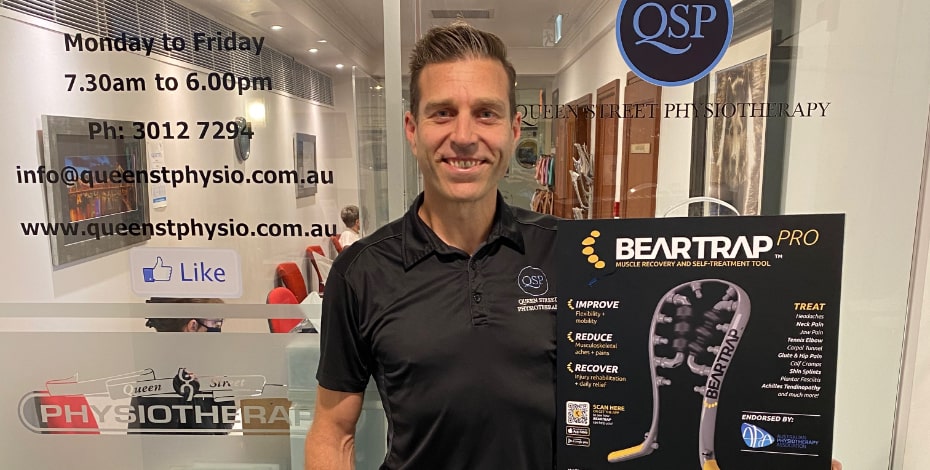 Getting a helping hand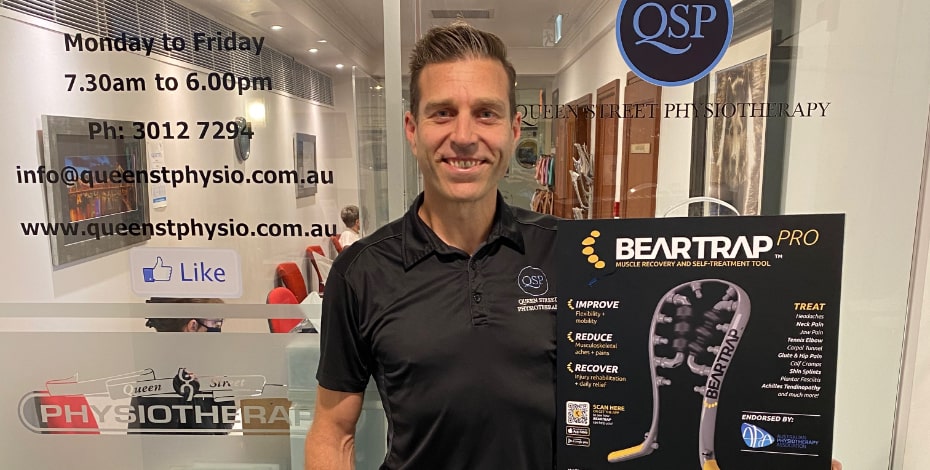 Applying for grants can be a daunting process. APA member and Beartrap inventor Phill Forostenko discusses how he did it.
Phill Forostenko has been running Queen Street Physiotherapy in Brisbane for about 15 years. Becoming an inventor was never on his to-do list.
Phill is a former elite sportsman, playing hockey at national and international level.
About nine years ago, he had just finished a CrossFit competition and was looking for a way to ease his sore legs that didn't involve foam rolling on the floor.
'I was heavily into self-treatment and I had every trigger ball, back balls, body spanners, and my wife said, "surely there's got to be something you can roll out your legs with while you're sitting down?".'
Phill realised there wasn't, and the idea for Beartrap was born.
Six years of development followed.
'I went down the path of two industrial designers, and I didn't feel like I was going to get anywhere. I didn't know what I was doing,' says Phill.



While watching a documentary about artificial honeycomb, he saw industrial designer Mayer Jung, 'and I went, that's the sort of guy I need. That was on a Tuesday and by the Friday I had a meeting with him'.
Fast forward to today, and the musculoskeletal massage tool Beartrap has been on the market for two years.
Phill has been fortunate to receive grants that have helped him build the business further.
At the end of last year, Phill received funding from the Australian Government through the Export Marketing Development Grant.
This is a financial assistance program to help Australian businesses market their product overseas.
The government covers 50 per cent of costs incurred in promoting a product in other countries as well as international patent costs.
In Phill's case, this helps towards flights, accommodation and exhibition fees from trips to China, Germany and the US.
'Just before COVID-19 hit we had a really successful exhibition [in America], and it helps massively knowing that the government is going to pay for half of our booth space and patents.'
Phill recommends getting an international patent if you plan to market overseas. 'It's risky if you don't,' he says.
'It means someone can take your product and you're not protected. The more protection you can have, obviously, on the international field is going to be better.



'So we have a trademark, not only on the Beartrap name, but we also have a trademark on the shape of the Beartrap so no one can infringe on that as well.'
Since then Phill has applied for, and received, another grant from the Ignite Ideas Fund (IIF). This is a Queensland Government innovation initiative that provides funding for small to medium local businesses.
This was third time lucky for Phill, who says he learnt a lot during the process of applying each time.
'We paid our accountants the first time about $10,000 to help us do this. And in the process of doing it you realise they don't know anything about our product.
'It's only us who know everything about our product. So in effect, you end up doing all the work, and you pay someone effectively for checking it off. And we weren't successful.
'In relation to our past two applications, I realised that this [third] application was next-level standard. But what I also realised is, even though they market these for start-ups, that's incorrect. We're well beyond start-up.
'We're a fully functioning business, and we've sold thousands of Beartraps. And we're two years out. [But] it's great that they're providing assistance.'
And it's not just the financial benefits either. Phill is now a member of the Advancing Champion Entrepreneurs network, which gives him access to business coaches and seminars to help him grow his business (and his business skills).
'It's amazing,' he says. 'I now have access to all this information and some high-level individuals within the government and private sector who have been there and have done that.'



Now Phill does all the grant applications himself, with the help of his wife.
So what are Phill's top tips for someone who isn't sure where to start? Don't be put off if you aren't successful the first time It can be upsetting to put in all that effort and not get through.
Phill says he didn't try for the Ignite Ideas Fund for a couple of years after his first attempt, and in some ways that helped him be better prepared the next time.
Also, there are a lot of businesses applying for the same thing. Phill was one of 730 applicants for the Ignite Ideas Fund. Of those, 130 were selected to proceed to the second round, and from there just 30 grants were awarded.
Be prepared to fill in a lot of paperwork
Get letters of support from people who have bought your product, your patent attorney, anyone who can vouch for your business.
There are grant assistance businesses that will help with your application for a fee (usually 10 per cent of whatever you get).
However, a preliminary enquiry about whether there are any grants that would be applicable for you could be a good starting point to find the information and do it yourself.
Go local
Each state has its own grant system, so check your local government website. And when it comes to finding the people to work with, go local, says Phill.
'If you're in Victoria don't use someone from WA. Use someone local because you're supporting your community, and then your community is going to support you.'



Don't give up
Don't worry if it takes a while to get your product exactly right. Phill went through more than 500 prototypes before he got the right result. Hang in there and keep trying!
>> Beartrap is an APA Endorsed Product Partner. Email Phill at phill@beartrap.com if you have any questions about applying for a grant.
© Copyright 2018 by Australian Physiotherapy Association. All rights reserved.