Global honour is evidence of excellence
When Mildred Elson became the inaugural recipient of a World Confederation for Physical Therapy (WCPT) award named in her honour in 1987, an enthusiastic young student was sitting in the audience. That student was Anne Moseley, who was recently bestowed with WCPT's highest honour. Melissa Mitchell reports.
In her final year of study as an undergraduate student, Anne Moseley was full of inspiration as she attended the WCPT 10th Congress in Sydney in 1987. Listening to the achievements of Mildred Elson being read out on stage, a bright-eyed Anne found Mildred truly inspiring but never considered that she, too, would find herself in the same league.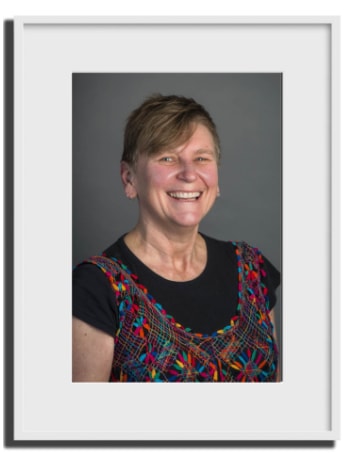 WCPT award winner Anne Moseley
'Looking at the list of people who have won this award—and I personally know several of them— I think how amazing they are as ambassadors for the profession, but also how they helped change how physiotherapy is practised, which ultimately improves patient care and patient outcomes. So I suppose I feel very humbled, joining that list of great people,' Anne says after being named the 2019 recipient of the Mildred Elson Award at the WCPT Congress in Geneva early last month.
'I'm still coming to terms with it, and I still think that maybe I'm going to wake up and discover it was a dream. I've been a physiotherapist for a long time, and I was at the WCPT Congress when the first award was made, back in 1987,' Anne says.
'I feel incredibly humbled, and also incredibly honoured by this. It's quite a spectrum of feelings I've gone through.'
The Mildred Elson Award is conferred by the WCPT for outstanding leadership contributing significantly to the development of physical therapy internationally. The award was established in 1987 and is only presented to one recipient at each WCPT Congress, now held every two years.
'Looking at the list of people who have won this award—and I personally know several of them—I think how amazing they are as ambassadors  for the profession, but also how they helped changed how physiotherapy is practised.'
Anne Mosely has become only the second Australian to receive the prestigious award. Among other recipients are some well-respected and pioneering names including fellow Australian and physiotherapy visionary and innovator, Geoffrey Maitland, the author of the American Physical Therapy Association's Book of Body Maintenance and a past WCPT president Marilyn Moffatt, the one-time editor of the Journal for the American Physical Therapy Association, Jules Rothstein, and, of course, Mildred Elson herself.
Mildred was the founding president of WCPT from 1953–56 and was a driving force in establishing the Confederation. She believed strongly in the benefits of physiotherapists working together both nationally and globally.
Anne graduated more than 30 years ago and spent a third of her career as a clinician-researcher, spending the remaining two thirds as a researcher focusing on clinical practice. Her passion for research and her advocacy of evidence- based physiotherapy have been drivers for her these past three decades.
Anne is an associate professor and principal research fellow at the Institute for Musculoskeletal Health in the Sydney School of Public Health at the University of Sydney and she investigates evidence-based practice and the effects of rehabilitation interventions for people with neurotrauma or orthopaedic trauma (hip or ankle fracture).
Admitting that she's more inclined to be out of the spotlight than in it, Anne says that accepting the Mildred Elson Award—presented to her at an awards dinner at the WCPT Congress in Geneva on 9 May—nonetheless affords her the opportunity to acknowledge those who have worked with her, particularly a special group of physiotherapists with whom she co-founded the Physiotherapy Evidence Database, known as PEDro, in 1999.
The idea for PEDro came about, Anne says, with the realisation that access to physiotherapy research by clinicians was, at the time, prohibitive and often led to clinicians falling back on learned skills rather than on research. With her close colleagues Rob Herbert, Cathie Sherrington, Mark Elkins and Chris Maher, the team was determined to create a platform to promote evidence-based practices to the broader physiotherapy community.
Mildred Elson
---
Mildred Elson Award recipients
1987: Mildred Elson—inaugural President, WCPT 1953–1956
1991: Elizabeth McKay—Secretary General of WCPT 1970–1986
1995: Geoffrey Maitland—clinician, teacher and author
1999: Joan Walker—educator, researcher
2003: Marilyn Moffat—educator, clinician, author, WCPT President 2007–2015
2007: Jules Rothstein—researcher, writer, educator
2011: Stanley Paris—author, clinician, teacher
2015: Kari Bø—clinician, researcher, teacher
2019: Anne Moseley—researcher, clinician, educator
---
'We came up with this idea to solve a problem that we were having at the time … in the mid-1990s, when the internet wasn't anywhere near as sophisticated as it is now, it was really quite hard to find physiotherapy research. By physiotherapy research, I'm really focusing on high-quality trials and reviews that evaluate physiotherapy intervention,' Anne says.
'The common catchphrase at that time was "there's no research on that". Physiotherapists would base their treatment on what they learnt at university or on a good theory. So we thought we'll just create a little database and put it on the internet so that physiotherapy clinicians can find this research, and help change practice. Then that snowballed. Never did we know that the database was going to be used globally to such an extent, or that it was going to be so big—PEDro is doubling in size every six years,' Anne says.
Seeking seed funding from several stakeholders, including the APA and the compulsory third-party insurance regulator in New South Wales then known as the Motor Accidents Authority, the PEDro team used their strong relationships with key industry partners to establish PEDro as a free database that could be accessed worldwide. The costs of maintaining and growing the website have been met with financial support from 70 groups and organisations. PEDro is produced by the Institute for Musculoskeletal Health, School of Public Health at the University of Sydney and is hosted by Neuroscience Research Australia.
PEDro now features 43,000 randomised trials, systematic reviews and clinical practice guidelines in physiotherapy. In 2018, PEDro was used to answer more than 2.6 million questions posed by people from 213 countries and territories.
A new search is being initiated in the time it takes to read this sentence. 'I'm always amazed about PEDro because it started off with very humble beginnings and it has really taken on a life of its own,' Anne says. 'So I suppose I feel a little bit like a shepherd in that PEDro has really captured the imagination of the global physiotherapy community—I'm really just shaping where that goes, rather than being the creator, if you know what I mean.'
PEDro has always been about collaboration for Anne—a neat segue to talk about the Mildred Elson Award as it, too, acknowledges the spirit of cooperation more broadly, to the profession as a whole. 'PEDro is a fantastic example of collaboration on lots of different levels,' Anne says. 'Individuals and organisations have translated the PEDro website into 12 languages and over 200 volunteers have rated trials using the PEDro scale.'
'So we've got this amazingly productive collaboration and it's allowing us to use PEDro for something that we weren't expecting to use it for in the beginning, which is to do meta-research—research on the research. That's allowed us to ask important questions about how well physiotherapy research is being reported and try and work out strategies to improve that. Because if the research the profession is conducting is answering important questions and is communicated really well, that puts us in a good place for making practice the best possible.'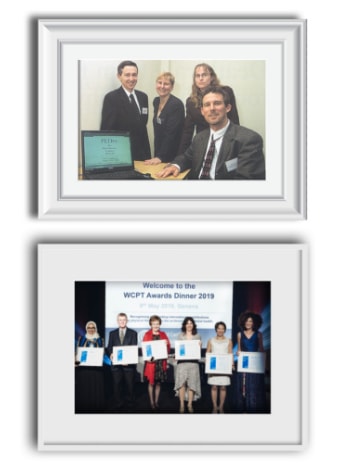 Top: The PEDro team, 1999.
Bottom: WCPT award winners, 2019.
To say that Anne's work has fundamentally changed the way physiotherapy is practised and positively influenced the health of millions of people across the globe is an understatement. But Anne is humbled by the acknowledgement as much as she is inspired to do more. 'One thing I want is for physiotherapy researchers to produce rigorous research that answers important clinical questions, and to report it really well. In 2011 we published a paper looking at the rate of change of the quality of physiotherapy trials, and it is improving, but it's very, very slow,' Anne says. 'At the current rate of improvement, all new physiotherapy trials will score eight out of 10 on the PEDro scale in … 2056. This is too long to wait.
'And clinicians need to engage in this high-quality clinical research so that they can provide the best care, so that they use effective and proven treatments and remove unnecessary, ineffective or harmful treatments,' Anne says. 'Clinicians are really busy and the thing that commonly drops off the list is reading research. They fall back on what they learnt and what they hear in very short communications, but we all need to be research-literate. Hopefully PEDro can help streamline some of those systems as we go forward.'
It has been a landmark year for Anne, who not only won the Mildred Elson Award but also recently collected the inaugural achievement award from the Faculty of Medicine and Health at the University of Sydney. And this year also celebrates the 20th anniversary of PEDro, which will be marked in October with the announcement of the five best trials in physiotherapy published in 2014–19, adding to the 15 best trials published that were announced when PEDro turned 15.
In naming Anne as the 2019 recipient of the Mildred Elson Award, the WCPT acknowledged her 'outstanding contribution to the physical therapy profession as a clinician, teacher, and researcher', noting that 'her most significant contribution has been her leadership and commitment to the promotion of evidence- based physiotherapy through … PEDro'.
---
Alice Jones honoured at WCPT Congress
While Anne Moseley collected the Mildred Elson Award, another Australian physiotherapist was also recognised by the WCPT at the Congress in Geneva. APA member Professor Alice Jones, FACP, (pictured second from right) was awarded a WCPT International Service Award, which honours individual physiotherapists who have made a great contribution towards physical therapy internationally or within their region.
Among other recipients of the prestigious international service awards were practitioners and researchers from Saudi Arabia, South Africa, the UK, Belgium, the US, Sweden, Japan and Canada.
The WCPT also announced the three winners of the Humanitarian Service Award; president of the Ecuadorian Society of Physiotherapy, Daniel Wappenstein Deller, Christina H Opava for her advancement of the profession, and, posthumously, Lorena Enebral Perez for her humanitarian work  in Ethiopia, Malawi, Tanzania, and the Sahara. Lorena was fatally shot in 2017 while working in Afghanistan.
---
© Copyright 2018 by Australian Physiotherapy Association. All rights reserved.