Guiding new graduates
Elizabeth Santos believes that it is essential to teach new physiotherapists about how to minimise risks and provide tools to take care of themselves. Here, she speaks to Skye Mitchell about her new book.
Curious about the pervasive burnout she saw in the profession, Elizabeth Santos, APAM, spent seven years reading literature on the subjects of injury, attrition and burnout in physiotherapy . She has written an academic style of book designed to be a supplementary text for final-year physiotherapists and new and recent graduates. Elizabeth is a physiotherapist and naturopath with 15 years' experience across a range of clinical areas, and currently practises at Vital Core Physiotherapy in Adelaide.
Elizabeth says 'a study of new graduates from Curtin University found that up to 65 per cent of participants anticipated leaving the profession within 10 years. I wanted to find out why the attrition rate is so high and what we could do about it, and have created a helpful and easy-to- digest resource, that promotes practitioner wellbeing and longevity.'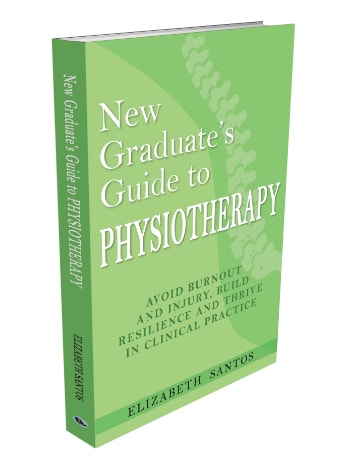 New Graduate's Guide to Physiotherapy: Avoid Burnout and Injury, Build Resilience and Thrive in Clinical Practice covers key areas of clinical interest for new graduates, including how to successfully gain employment, finding a mentor, understanding insurance and medico-legal requirements, building relationships with clients and colleagues,
Although the book is for new and recent graduates, more experienced clinicians will also find some insight or inspiration within the pages, which they can incorporate into their practice, or teach to their employees or mentees. Elizabeth says 'learning from mentors can help to reassure new graduates and minimise their risk of making some mistakes themselves. And I say "some mistakes" because we ultimately learn by making mistakes.
'New physiotherapists step out into the world feeling excited and almost invincible, but it doesn't take long to realise just how steep the learning curve is going to be, regardless of the clinical area. This is the kind of resource new graduates can come back to for guidance when challenges arise and the answers, or how to find them, will be there.'
The book launch will be held Friday 25 October at 7.00 pm at Vital Core Physiotherapy in Adelaide, contact Elizabeth if you wish to attend (RSVP essential) via email info@elizabeth santos.com.au. Visit elizabethsantos.com.au to purchase copies of the book for your own reading, your workplace or institution.
© Copyright 2018 by Australian Physiotherapy Association. All rights reserved.