Helping patients to manage their pain
APA member Chris Swinburne reviews an empowering app for people with chronic pain.
CURABLE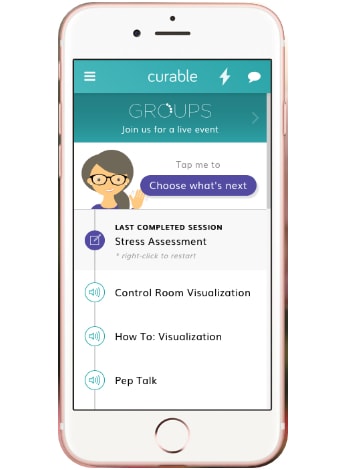 Developer: Curable
Get it: Google Play or App Store
Price: Free introduction then US$9.99 a month (US$7.49 a month with discount code from a healthcare professional).
Curable was developed by a group of recovered chronic pain sufferers, in association with a team of medical and allied health experts. It consists of audio lessons on pain science, meditation, cognitive-behavioural exercises, and stories of successful recoveries. The program can be used as a smartphone app or a desktop/laptop website. It is presented as a back-and-forth 'chat' conversation, which will be familiar for most internet users, and transcripts of audio lessons are available for the hearing impaired.
The free introduction alone is worth recommending to some patients. It includes lessons such as 'pain is more than just tissue damage', 'medical imaging mythbusters' and 'what does the pain mean to you?'
During my time using the app (role-playing a chronic back pain sufferer), I learned more about pain science as well as how my language, personality traits and stressors may be relevant to my pain. Exercises included meditation, visualisation, writing and thought exercises. The content presented seemed to be adapting based on responses I gave, which helped the app to feel relevant to my fictional self.
What Curable did not do in the hours I used it was address specific types of pain. Nor does it provide any specific physical activity advice such as pacing or graded exposure. This may actually be a good thing for physiotherapists and their clients as it won't run the risk of conflicting with rehabilitation programs.
Curable is an easy-to-use program that may be a useful adjunct to rehabilitation for chronic pain clients. It would be interesting to see it included in clinical trials in future.
Pros:
reinforces physiotherapists' pain education and provides practice applying the lessons
provides hope and helps address psychosocial issues for clients
interface will be approachable for almost all smartphone users
healthcare provider referral discount (curablehealth.com).
Cons:
no outcome measures to quantify clients' engagement or progress
technology-averse clients may prefer an alternative method of pain education
subscribing currently needs to be done through the website rather than the smartphone app.
---
ATTENTION ALL APP AFICIONADOS. Interested in reviewing an app for InMotion? Or do you have a suggestion for an app to be reviewed? Either way, we want to hear from you. Email barry.nguyen@australian.physio to indicate your interest or to share your suggestions.
© Copyright 2018 by Australian Physiotherapy Association. All rights reserved.