It's a wrap
A glimpse into the future of physiotherapy, the technology shaping the profession and the leadership opportunities to help drive how you practise emerged from the NEXT – APA Conference in Hobart in October. Here are highlights from the three-day program.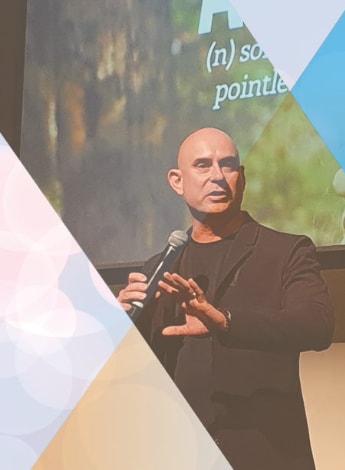 Matt Church delivers service to crowd.
THE NEXT – APA Conference officially started with an opening plenary by motivational speaker Matt Church, who struck a clever balance between entertainment and thought provocation. 
When Matt attends his local massage therapist for his aching back, he is served a soothing beverage that makes him feel like he has just been to a wellness retreat. It's ginger tea, and this simple gesture could mean all the difference for physiotherapists looking for that panacea to grow their business in a competitive marketplace.
What the ginger tea does, argues Matt, is deliver an extension beyond normal service offerings to patients. And for the patient, the treatment evolves into an experience that leaves lasting feelings of wellbeing and good health—and could mean the difference between return patronage or not in the highly competitive space that physiotherapy occupies.
This is the challenge to physiotherapists, Matt says, to examine their current practice and think about extending their offerings to complement their growth strategies. Matt says there are many practical tools available to help differentiate physiotherapists' brand in the marketplace, but none quite as important as the possession of an optimistic outlook. 'An optimist can have the worst day in the world and go "This day sucked. But you know what? I'm going to go to sleep and tomorrow I'm going to have another crack at it".
'The single most important asset that you hold is the ability to transform the state of what's going on in someone's mind and the energy in a room,' Matt says. 'The simple fact is the world is changing at an ever-increasing rate. Technological advances are creating shift paradigms in every industry across the globe, and it's a trend which we need to stand up and take notice of. What works today will not necessarily work tomorrow, so it's important to understand the imperative to implement change and to move from change management to change leadership.'
Empowering excellence through motivational leadership was at the core of Matt's opening plenary, which urged conference attendees to really think about what sets the profession apart from comparative services, and to deliver on that difference. He says the technological age affords opportunities for physiotherapists to disrupt their own work deliberately, to explore frameworks for managing the complexity it presents.   
'Slow-moving industries and businesses will become extinct. The successful players will be the ones with the greatest agility, creativity and foresight.' Touching on examples of where digital disruption has had direct impact on our lives, such as the emergence of the learning portal Udacity and how Kenyan athlete Julius Yego went on to become a world champion after he taught himself how to throw javelin by watching clips on YouTube, Matt says it is imperative that leaders also continue to learn and embrace change.
Minister puts physio on agenda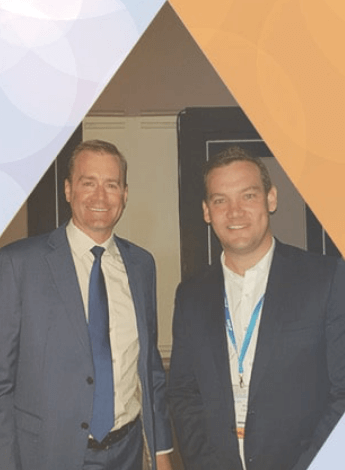 Tasmanian Health Minister, Michael Ferguson with Phil Calvert
While officially opening the conference in Hobart, the Tasmanian Minister for Health, Michael Ferguson, seized the opportunity to highlight some of the important and valued work of physiotherapists in the state.
Quick to point out that Tasmania had the legislation 'ready to go' to advance the scope of physiotherapy, Minister Ferguson said he was a big believer that every health professional, and every clinical group, should be encouraged to push to the top of their scope of practice to not only feel more fulfilled professionally but to also know they're making meaningful difference to their patients.
'When physios are ready to be enabled to prescribe, we've already made the law ready for that. We're very proud of that, and I want to encourage the Physio Board and the APA to continue to work on building that scope of practice where it can be safely proven that prescribing rights, for example, will support improved patient care and save patients getting the run-around. So let's keep working on that,' he said.
The Minister said the government had opened an additional 120 hospital beds across the state, and had done so while making sure to resource those beds to cater for allied health professionals, and not just doctors and nurses. He also said physiotherapy-led research and quality improvements activities were delivering important efficiencies in Tasmania, in terms of cost savings and also in delivering better health outcomes for patients.
'It's my honour to be the health minister for Tasmania. It's a tough job but it's made easier by physiotherapists.'
Complaints under the microscope
Valuable insights into complaints about physiotherapists, how to avoid or mitigate the likelihood of complaints, and strategic ways to navigate the complaints process were incorporated in three early sessions on day one.
Invited speaker Catherine Miedecke, the Tasmanian state manager with the Australian Health Practitioner Regulation Agency (AHRPA), spoke on the best practice for reducing, identifying and managing vexatious complaints, which she says numbered less than one per cent of all complaints received, according to available research.
'There's a difference between those complaints that are vexing and those that are genuinely vexatious … the term vexatious is widely used, and it varies greatly in the intended and apparent intended meaning. The complaints are often defined by their outcome, in that they cause an unpleasant experience, or that there is no regulatory action taken,' Catherine says. 'Truly vexatious complaints are groundless and they're based on the motivation of the complainant to cause harm or distress to the subject of the complaint.'
APA Musculoskeletal Physiotherapist Alison Bell, who is also a practitioner member of the Physiotherapy Board of Australia (PBA) but was not representing the Board, presented on the paper 'Complaints about physiotherapists—balancing public safety with the notifier/practitioner experience' she co-authored with Dr Charles Flynn, the former chair of the Board.
Alison says the objective of the presentation was to help support understanding of the complaints management process and outline some of the recent work undertaken to optimise the experience of complaints for both the notifier and for practitioners. 'The process can be quite distressing or have negative connotations for both parties,' Catherine says.
Once a complaint has been received, Catherine says AHPRA works in partnership with the PBA, and the PBA delegates the investigation of a complaint to a committee known as the Registration and Notifications Committee.
'When AHPRA and PBA work in partnership and receive a complaint, there's a process of consideration and information gathering and that's to determine whether or not standards have been maintained, and if the practitioner has a health or performance or a conduct issue that poses some sort of risk to the public,' she says. 'The information gathering … is to say that practitioners have an opportunity, as they must, to reflect on the complaint and what might have brought the complaint in.'
Cherie Hearn, APAM, who is also the Queensland practitioner member on the PBA, spoke on preventing harm before it happens—using data to inform risk-based regulations of physiotherapists.
Cherie says physiotherapists make up about four per cent of the total health practitioners regulated by AHPRA and receive around 100 complaints per year, which is about one per cent of the total of all complaints AHPRA receives about health practitioners. She says that puts physiotherapy as the second lowest profession that complaints are made against.
'We have, in Australian, proven that we are mostly safe practitioners and so we are looking to expand our understanding, to improve our understanding of the information we can glean about the types of complaints we receive.'
Indigenous education in focus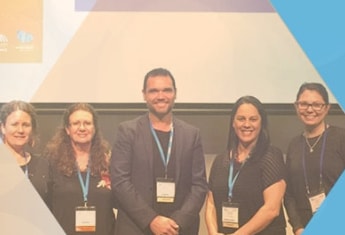 Joanne Bolton, Marilyn Morgan, Michael Reynolds, Shawana Andrews and Lowana Williams.
Embedding Indigenous ways of knowing in the physiotherapy curriculum was the first of six Aboriginal and Torres Strait Islander presentations woven into the Conference program. Shawana Andrews, a lecturer in Aboriginal health at the Melbourne School of Health Sciences at Melbourne University, began her presentation by talking about her work in helping develop an Indigenous framework for the school. From ad hoc lectures on Indigenous health delivered in first semester in year one and a follow-up in year three,
Shawana says the decision was made to create a framework that was tailored to the school rather than using a generic framework, to create a sense of purpose for the school around Indigenous health. Engaging academics in the process and identifying champions were also a key part of the process, she says.
'For me thinking about how we approach Indigenous health, I really wanted to step away from this idea of talking to students about health status, life expectancy and all for those stats that don't paint a very good picture,' Shawana says. 'What I wanted to do was really start thinking about how we get students to become better practitioners, starting with the context of Indigenous health. And that meant shifting the gaze and asking students to look at themselves, engage with who they were, what their values were, what their stance and perspective was, and what their position was in relation to Indigenous health.'
Shawana told delegates several key frameworks from many different disciplines were drawn on to glean information to create the six pillars of the Indigenous curriculum, standards and graduate attributes among them. 'We conceptualised Indigenous health as process of transformative learning and one that is organic, one that is always in a state of growth and movement, that we're not engaging in the idea of cultural competence, we're engaging in this ongoing, transformative educational journey. One that will impact on our students professionally but one that we hope is also a personal journey.
Shawana's presentation was followed by that of Joanne Bolton, a researcher who examined using Indigenous place and voice to guide physiotherapy students towards culturally safe practice. Joanne, also from the University of Melbourne, discussed a session that she and Shawana have implemented in the Doctor of Physiotherapy program that involves students participating in an excursion to the Bunjilaka gallery space at Melbourne Museum.
Joanna says physiotherapists were, as a profession, reminded of the important of ensuring that cultural safe practice is embedded into clinical practice.
Several other key presentations included chair of the APA's Aboriginal and Torres Strait Islander Health Committee, APA sports and Exercise Physiotherapist Michael Reynolds, presenting on high-value placements (see page 41), Warwick Padgham speaking on supporting future Indigenous health researchers using a PhD familiarisation program at the University of Melbourne, Nami Hirano, APAM, discussing the role of clinical placements in Indigenous health, and Alison Francis-Cracknell, APAM, presenting on enriching physiotherapy student education with interdisciplinary Aboriginal and Torres Strait Islander health curriculum.
Best practice in student support
Of the 33 000 registered physiotherapists in Australia only about half of one per cent identify as being of Aboriginal or Torres Strait Islander background— a low number that requires a collaborative effort to improve, says APA Sports and Exercise Physiotherapist Michael Reynolds.
Presenting at the start of the second day of the conference, Michael, a proud Wiradjuri man and sessional academic at the Australian Catholic University, said key to increasing the low number of Aboriginal and Torres Strait Islander physiotherapists is first ensuring that Aboriginal and Torres Strait Islander students are well supported as far back as primary and secondary education levels.
He told attendees that reversing the education drop-out rate, understanding its root causes, establishing a clear career pathway and implementing strategies to enable continued education should be a high priority for educators and leaders in the profession. Engaging with local communities, with the elders of those communities and connecting with culture were also crucial steps in the process, he said.
'We know that school attendance is lower than it should be. There are various reasons for this but we also know where we have strategies to engage local communities we have a better result. So why aren't we, as physiotherapists, why aren't we as practice managers, why aren't we as department heads, why aren't we as university leaders, why aren't we engaging with local communities?'
'There are a growing number of champions leading by example, but why aren't we doing that as a profession? Why aren't we teaching our students that this should be the norm, providing equitable opportunities for all Australians? Why aren't we providing broader opportunities for students to help fix what needs to be done? No one has all the answers and it is not a one size fits all approach, but I hope through my conversations and throughout the course of my role with the APA, we will start to figure out the answers to creating some meaningful changes.'
Michael says working to keep students actively engaged with their education, encouraging active listening, and taking steps to ensure cultural competency through cultural safety training, while supporting students to encourage others to undertake the same education process, were some of the steps necessary to begin or continue the cultural journey.
For Michael, his own journey includes learning the language of the Wiradjuri people with his son through the app crated by Wiradjuri man and TV news and political journalist Stan Grant. Growing up in Sydney, where he works in private practice, Michael says he and his family was impacted by his mother being a part of the Stolen Generations and, as such, he has begun his own journey to reconnect with his culture.
'Many of my family either have cardiovascular disease or diabetes, one has committed suicide. Unfortunately stories like this are far too familiar for Aboriginal people and they are repeated in may families across Australia. It must be recognised that as a university student, it can be tough coming from a place of disadvantage and all any of us want is a fair go and historically, this hasn't been the case for our First Nation's Peoples,' he says.
'I succeeded because I worked hard and had those supports around me, from my wife, my family and friends, from the university, and now from the APA. I wasn't "stolen" but I still feel the effects of being denied the culture that was stolen from me. However, it's important to recognise that our Aboriginal and Torres Strait Islander students come from many backgrounds and everybody's needs, wants and cultural sensitivities are bound to vary. What needs to grow is the recognition of this, the healing that still needs to occur, and the conversations we still need to have to ensure equality for all.'
Why risk is necessary for change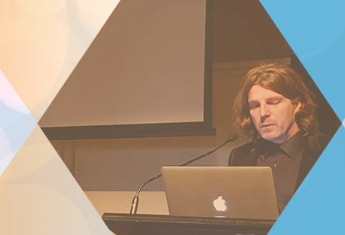 Leigh Carmichael.
Creative risk is something Leigh Carmichael knows quite a bit about. The creative director behind Hobart's Museum of Old and New Art (MONA) was at the forefront of the arts juggernaut and, along with its owner David Walsh, took a gamble on opening the cultural and creative industry hub in the Tasmanian capital city.
In his presentation to delegates on the final day of the NEXT – APA conference, the invited speaker reflected on the word 'risk' and its implications for those who wanted to realise new ideas and be at the forefront of their chosen field, whatever that might be.
'I don't believe it is possible to truly innovate, embrace change, push boundaries, break new ground and be at the vanguard of creativity without seriously engaging with risk at the same time,' Leigh says. 'Risk and new ground are inherently linked. It's also impossible to create anything new if you're following a previously walked track.'
Leigh says the big problem with risk, though, is that there is no way to make it safe. 'There's not a safety hat for risk. You can identify it, assess it, manage it, reduce it but you can't eliminate it if you still want to call it risk. If you manage to make it safe, it's no longer dangerous. And I suggest you've probably watered down the innovation to the point where it may no longer even be interesting.'
However he argues that there is a place for calculated, planned, organised and resourced risk that, mixed with empowering people to make their own decisions and supporting those decisions, can create meaningful change.
'The real challenge is risk, exposing yourself to it, embracing it, thriving in it, managing it while being acutely aware that you are in a dangerous space and you could burn. It's not a bad thing. You could be burnt badly, but if you want to innovate that's the price you've got to be willing to pay.'
Lead and be humble
With 20 slides shown for 20 seconds each, the presenters had to be concise and talk fast, especially when the session chair, Associate Professor Louisa Remedios, was keeping an eye on the time and controlling the changeover of slides.
'Four leaders in 400 seconds each on four essential next steps for our profession' saw Jonathon Kruger, World Confederation for Physical Therapy CEO; Kath Philip, Victorian Chief Allied Health Advisor; Melissa Locke, former APA president; and Michael Reynolds, chair of the APA Aboriginal and Torres Strait Islander Committee, deliver a fast and furious session culminating in a brief panel discussion. The common themes that emerged were humility and leadership.
Jonathon began by exploring future international leadership and the role of the APA and Australian physiotherapists. Although he recounted the strong history of Australia as a global leader, he challenged the profession in this country to continue to be bold and innovative, to foster access to decision-makers, and to share lessons learnt with the world.
But there were lessons in leadership for Australia too, with Jonathon citing the advanced status of prescribing in the UK, and the recognition of Maori culture within the profession in New Zealand. 'To evolve internationally, be humble and acknowledge the lessons of others,' he said.
Kath then covered the steps to take to exert some influence over decision- makers. Influence is power, and can change the way decisions are made and what those decisions are. Of course to help set the policy agenda, you must have a set at the decision-making table, especially when there is competition for resources and funding. She outlined some key actions: embrace electronic health records and demonstrate that physiotherapists are tech savvy and innovative, understand the levels of government and how they function, and build coalitions with other professions and entities because there's power in numbers.
She cautioned against coming across as arrogant and insular. 'Are we listening enough to what other professions are saying?' she asked.
Similarly, Melissa espoused the importance of listening to consumers, as well as thinking outside the box with partnerships, especially in terms of raising the 'physical literacy' of others. It's about starting conversations within the community, and social impact. Examples she gave included partnering with likeminded GPs, and with local schools to initiate a walking school bus.
Melissa talked about diversification and exploring non-traditional partnerships: for example, with companies that print 3D orthotics, with town planners to encourage physical activity, with furniture designers from an occupational health perspective.
In their practice, she advocated for physiotherapists to embrace 'the F words: family, friends, future, fitness and fun'.
Michael talked about 'physiotherapy from the heart' and what physiotherapists can do to close the health gap. He spoke of the need to develop the 150 or so Aboriginal and Torres Strait Islander physiotherapists, of not giving a hand out but rather a hand up.
He emphasised the need to cultivate an inclusive profession, acknowledging and understanding Aboriginal and Torres Strait Islander culture, eschewing an 'I know best' attitude, and undertaking a journey of learning from Aboriginal people and their communities.
Michael spoke of nurturing relationships and developing trust and respect, referencing the APA Reconciliation Action Plan, which means nothing if it isn't being enacted. 'We all have choices,' he said. 'Where are you on your journey?'
The future of digital health is now
Digital health—what it is, how it is rapidly evolving, and where it is going was the topic of a passionate talk by Semantic Consulting managing director and self-confessed engaged patient Tim Blake at the start of the second day.
If there's one thing that Tim thinks is critical to the future sustainability of Australia's health system it is this—the engaged patient. And by this he means those patients doing more than just Googling their symptoms and self-diagnosing; he means those who are actively engaged in their own healthcare, which often involves use of technology such as mobile phone apps or online health forums to better understand their condition, and to share stories and learnings with other patients experiencing similar challenges.
'The notion of engaged patients is so critical for the future sustainability of the health system,' he says. 'We seem to have shifted from the language of "patients" to the language of "health consumer" but I don't always think people understand what that change in language actually means.
'There are three things that I'm really passionate about the moment. One is patient-reported outcomes and the incredible potential to transform the way we practice our professions in healthcare. The second is gamification, having the ability to sustain behavioural change in patients by using techniques that seek intrinsic and extrinsic motivators. And the third is social prescribing, the idea that we can begin to more directly address some of the underlying social determinants of health through the "prescribing" of exercise, sleep, nutrition, social interaction and much more.
'But digital health means nothing if it doesn't end up with integrated models of care. This is ultimately just a toolbox of technologies and techniques that we need to pull together in a deliberate and intentional ways to help us design models of care that are better than what we have today.'
Tim says digital health is a disruptive and transformational approach to the delivery of healthcare, and focuses on engaging and empowering patients. Digital health is not healthcare in itself, he argues, but it is a set of things the supports the delivery of healthcare. 'Digital health is not, and it should not be, a shadow health system doing things differently in a digital world. It should be deeply integrated into our existing models of care, into our existing clinical workflows. We have to take that technology and deliberately and carefully apply it into new models of care in order to get benefits from it.'
Tim says unlike the rapid transformation of certain industries through digital disruptors such as Uber and Airbnb, the transformation of healthcare delivery is likely to be slower because of the complexities of its deeply embedded culture and funding models and incentivised structures. 'I'm going to argue that digital health has, at its core, the notion of the engaged patient, the notion of patients driving the requirements of healthcare in fundamentally new ways. And that is fundamentally different to e-health. Digital health is so much more than what we ever meant by e-health, even though I worked in a number of government departments where they just replaced the name and assumed that their current mandate remained unchanged.'
Mobile devices and the apps available are one of the most important pieces of the digital healthcare puzzle, because they present opportunities that are new and exciting and can reach into the lives of almost every health consumer. This is particularly relevant for physiotherapy, he says, citing telehealth as a wonderful way provide access to healthcare to those who have had limited opportunity, particularly in rural areas.
Tim says it is important for those working in healthcare to recognise that there are new generations of patients with new expectations, patients who challenge the culture of the clinician holding all the answers.
'An engaged patient is a health consumer who takes accountability for their own health outcomes and participated fully in his or her medical care. It doesn't mean the patient knows more, but it does mean that the patient sees themselves as equal in status with the doctor or the health professional,' he says. 'As a patient, it means I own my condition, I own my path through the health system, and that is a good thing. All the evidence we have shows us that engaged patients get better health outcomes. This is something that we should be encouraging.'
Digital healthcare is the answer
Myths and questions about telehealth and its impacts on the traditional 'hands- on' physiotherapy profession is something Karen Finnin, APAM, is well practised at addressing. So in her presentation 'Is telehealth revolutionising or destroying the physiotherapy profession?' at the conference, Karen opened with the biggest question she's asked—how to do an initial consultation without putting your hands on your patient?
'Of course that's our immediate instinct, isn't it? As physios we want to touch someone,' she says. 'Although in an online consultation we don't have our hands, the patient has their own two hands. So we can ask and prompt the patient to perform assessments on themselves. I think that by thinking we're very reliant on our hands we're selling ourselves short.'
Karen, the director if Online Physio and a committee member of the International Society for Digital Medicine, says she did extensive risk analysis and research before setting up the wholly online practice six years ago, creating a dynamic collection of articles, journals and other material that examined physiotherapy and telehealth specifically.
'A big sentiment coming through [the research] is that the outcomes are the same, if not better, than in-person care. Why better? Because we're empowering the patient to get themselves better, to not rely on us as much.'
So what about treatment, how do you replace those manual techniques? This question, says Karen, afforded the opportunity for physiotherapist to have a think about manual therapy and other professions that involve the use of hands to treat. 'Do we overdo it, with our manual techniques? What is more valuable to a patient—a complex manual technique that's applied once a week for a few minutes or a manual technique that a patient has been taught to do on themselves that they can do whenever they need to?' Karen also discussed issues around patient safety including performing assessments remotely, improved patient communication channels, built-in disclaimers, an exercise prescription mobile phone app and embracing new technologies. 'We're not here to overtake or make extinct the hands- on physio. We can quite happily co-exist, trust me,' Karen says.
Rehab at home
A program delivering rehabilitation in the patient's home following hip and knee replacement has a 'back to the future' ring to it, says Associate Professor Anna Barker in presenting her joint paper 'The future of rehabilitation is here: Medibank's rehabilitation at home program' on the second day of the conference.
'Back in the 1900s or earlier, healthcare was predominantly delivered in the home. And hospitals and health centres were only a place where the poor went, those who couldn't afford to receive healthcare. There are some connections to the past in the way that we look at the way we deliver healthcare, and thinking about the future of healthcare,' Anna, the head of member health innovation at Medibank, says.
In 2016, Medibank decided to trial the delivery of rehabilitation services for patients who had undergone hip or knee replacement in their homes, the health insurer evaluated the results of the Rehab at Home trial with KPMG and then began to roll it out nationally in October 2017. The program is designed to deliver hospital-level care in the patient's home when it is what they choose, and when their doctor thinks it is clinically appropriate. It is a multidisciplinary program that includes allied health, medical, nursing, personal care, domestic assistance and travel, and is personalised based on patient need, Anna says.
With the program now covering 93 per cent of Australian postcodes, the health insurer has more than 100 providers delivering services on behalf of Medibank, and an overwhelming majority of those providers are physiotherapists, Anna says. There have been 139 hospitals referred into the program.
Anna says an older patient cohort, those in the 60-plus and 70-plus years categories, make up the majority of Rehab at Home patients. Hospitals generally prescribe what rehabilitation services are required for the patient, and that information comes to the Medibank Health Solutions team for actioning. The team liaises with the hospital, the patient and the service provider under a personalised care program umbrella.
'One of the things that we've done really well with Rehab at Home is saying there are certain elements of the care that must be delivered at certain times. We've got set outcome measures, we've got set escalation protocols and set communication protocols that must occur,' Anna says. 'So while acknowledging that things need to be personalised, we know that high- quality care is one that is standardised and has consistent components, and for Medibank I think that's really important because it means that the customer in Hobart can receive a similar quality and style of service as a member in Cairns, as does the member in Dubbo.'
At the conference physiotherapists interested in becoming service providers were invited to speak with Anna and the Medibank Health Solutions team.
Talking about our generations
Physiotherapists are in a unique position to be hands-on, it's what differentiates practitioners from competitors in the health space, says author and leadership consultant Avril Henry in her keynote address.
'High touch, not high tech' is the message she wants to share with the physiotherapy profession, because she believes that isolating a point of difference and focusing on it is fundamental to success.
In evaluating the future workforce in her keynote address, which closed the conference on the final day, Avril highlighted the emerging forces of an ageing population, an increasingly educated workforce and population growth in lower socio-economic countries as causing a set of new and complex problems, the first of which will see the so-called Baby Boomers exit the workforce by around the year 2025. This, Avril says, will see generations X, Y and Z make up 92 per cent of the workforce in less than 10 years, presenting a unique set of challenges for those in leadership positions.
The statistical analyst told delegates that the change in makeup of the workforce was running parallel with increased educational status of workers, particularly in Generation Y where two in three who are university educated are women. 'We can no longer afford to overlook women as a seriously skilled part of the Australian workforce. And that changed at the end of 2008. So for 10 years now there are more Generation Y women than Generation Y men finishing tertiary studies,' she says.
'The more educated a workforce becomes, the higher their expectations of their leaders, the organisation and its culture. That's the key. And what we are finding now, especially with Generation Y, and in the future Generation Z, will challenge the status quo. I call them Generation Y?, with a question mark. Because it is their favourite word at home and at work: "why?" And Generation Ys will say "why do we do it that way?" and the response they'll get from older managers and practitioners is "that's the way we've always done it" or "just do as I've told you",' she says.
Avril says what may be perceived as a challenge to authority by the younger generations is, in fact, a search for understanding by challenging the status quo. But she says despite the changing workforce, the generations share a common need: access to training and development. Although the motivations may vary across the generations, Avril argues that regardless of the profession or the size of a business, significant investment in training and development will be vital.
'Boomers want to learn more about how to do their jobs today and how to use technology … Generation X want effective leaders. They also want access to soft skills training, so they want to be better managers and leaders than the ones they work for,' Avril says. 'Followed by Generation Y who want inspiring leaders. But if you were afraid of Generation Y, be very afraid of Generation Z. Because guess what? They want caring leaders … We go from "I'm the boss and I'm in control" [Baby Boomers] to "let's do this together" [Generation X] to Generation Y, who are the best team players and the most collaborative generation, saying "we're a team and everyone matters", to Generation Z saying "show me that you care".'
Tailoring management approaches to accommodate the particular generation spectrum presents a raft of challenges but also plenty of opportunities for managers and leaders, Avril says. 'I want to highlight that if you look at the things that matter most to our Generation Ys and Zs, they want authenticity and they want respect—the era of mutual respect has arrived. In their words "you don't get respect because you're old, because you're grey, because you're the boss. You get respect because you lead by example and demonstrate respect first, not just with your superiors and your peers, but with us, your subordinates." And I say bring it on, it is long overdue.'
Well-rounded program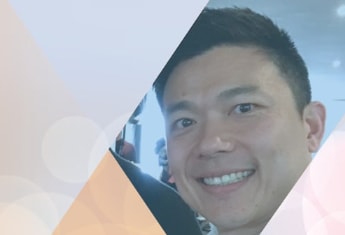 Errol Lim
The NEXT – APA Conference started with a bang through delivery of a clever and creative spin on the thinking-outside-the-box mantra by motivational speaker Matt Church, conference organising committee chair Errol Lim, APAM, says.
'Matt Church was wonderful, we couldn't have asked for more in terms of the opening plenary. I think he took a dagger and he inserted it slowly into the hearts of all the physios there, then just slowly twisted it to make us all feel really, really uncomfortable.
'The take-home messages I think were the things like ginger tea, why aren't we serving things like those in our clinics? And if you're educating a patient to lie on a foam roller and going up and down, why didn't you just let them YouTube it? You're a physio, you should do better than that. That was exactly what we wanted from Matt, from a committee viewpoint. Because that's "next".'
Errol says the highly relevant and informative topics of health financing, risk management, innovation, culturally safe practices, empowering emerging leaders and physiotherapy business models rounded out the first day of the three-day event, and offered delegates valuable insights into the positioning of physiotherapy now and into the future.
Another stand out from the conference program was the variety of presentation offerings on the second day, which began with keynote speaker Tim Blake detailing change in healthcare driven by engaged patients, digital health and mobile phone apps. The technology theme then extended into the afternoon's panel discussion around initiating digital innovation, followed by talks on telehealth, physiotherapy students, social media and practice management.
The final day of the conference began with invited speaker Leigh Carmichael, the creative director of Hobart's Museum of Old and New Art, examining the concept of creative risk and its ability to transform thinking. 'Leigh was so laid back, so normal, he was awesome,' Errol says. 'His explanation of the journey of transformation would have resonated with everyone in the room.'
© Copyright 2018 by Australian Physiotherapy Association. All rights reserved.