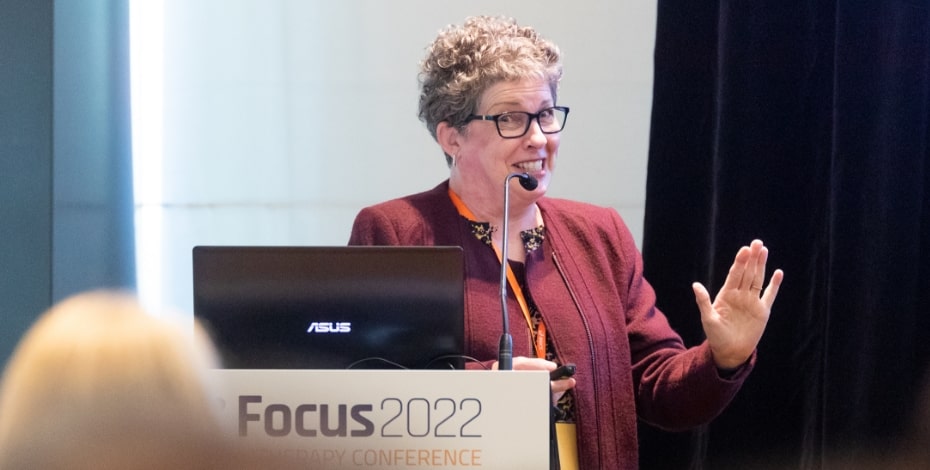 Leading the way in physio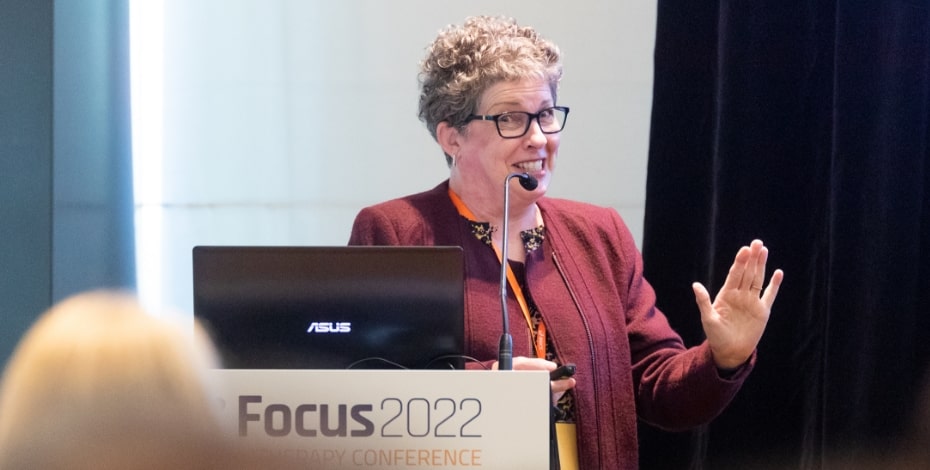 FOCUS 2022 Creating systematic processes and fostering a collaborative, open environment featured strongly among the many topical discussions on leadership at the conference.
Although what tested their leadership skills in ways they could never have imagined varied, Honoured Member and former APA National President Melissa Locke APAM FACP, Specialist Neurological Physiotherapist (as awarded by the Australian College of Physiotherapists in 2008) Professor Prue Morgan APAM FACP and Simon Kerrigan APAM were united in how they responded when faced with a crisis.
The lessons each learned from their experiences were shared in a 'Leading through crisis' presentation on the first day of the conference.
Melissa lost her practice to a freak storm in Queensland, while Prue had to lead disparate university teams through teaching during the COVID-19 pandemic.
Simon discussed leading his team of allied health professionals in aged care through the pandemic, two years after opening his private practice.
While each handled their crisis in a different way, the lessons they learned spoke to the importance of employing good and open communication, seeking support from colleagues, adapting and employing creative thinking, owning and validating feelings of loss and fear, offering good guidance, working towards a mutual solution and learning not to sweat the small stuff.
Later that afternoon, Anthea Goslin APAM discussed leadership development that moves beyond training, customised leadership programs with clear benefits over one-size-fits-all approaches.
Anthea said that as businesses compete for the scarce health dollar and seek to attract and retain top talent, comprehensive leadership development programs can set one organisation apart from another.
Anthea's talk was followed by that of Libby Soderholm MACP, who looked at diverse leadership and the transfer of practice and business skills into different management levels on boards and committees.
Libby, an APA Sports and Exercise Physiotherapist, said that those who run practices or lead teams often already have the skills suited to executive leadership teams.
'Boards and committees around Australia are calling out for diverse talent among those with an interest in governance, strategy and risk.
'It opens up opportunities and may be advantageous to the profession in terms of advocacy, diversity and regulation,' Libby said.
Mentoring as a form of leadership or as a way to elicit leadership skills in others was the theme of two presentations the following day, one by a director at Back In Motion in Mount Barker, Gregory Goh APAM, and one by deputy president of the Physiotherapy Council of New South Wales Toni Andary APAM.
Each speaker explored why training and maintaining your best physios and working with the next generation to keep them in the profession are key to success in private practice.
'One of the best ways of improving the engagement of employees in your business is through mentorship,' Gregory said.
'But how do we have an effective mentorship program for our team or our employees?
'Like many of you, I started mentoring my team in an ad hoc way but over 10 years this has developed and evolved into a structured and specific program called Prune: prepare, relationship, unite, negotiate and equip.'
In his presentation, Toni said that mentoring is most effective when a structured approach is taken to identifying issues, setting goals and review of progress, and that effective mentors assist mentees to manage their own learning through supportive conversations about real problems and dilemmas.
'We want the mentee to be engaged,' Toni said.
'You are setting up the relationship, so whatever works for the person in front of you—do it. You want them to prep for their mentoring sessions; that's how you will know they are engaged and a part of the process.'
© Copyright 2018 by Australian Physiotherapy Association. All rights reserved.