A many-faceted career
At 80 years old, Winsome Baker was, until very recently, one of Australia's oldest practising physiotherapists. A conversation about her career and the changes she has seen over her years of practice.
When Winsome Baker, APAM, was in high school, her mother took her to a career adviser who suggested to her that she think about physiotherapy, occupational therapy or kindergarten teaching.
After visiting a careers expo, she saw plaster of Paris being applied by physiotherapists and decided that that was what she wanted to do.
Winsome says it is a choice that has given her a long, diverse and fulfilling career.
In 1960, physiotherapy was a diploma course at the University of Sydney.
After the first year of training, which included physics and chemistry as well as anatomy and physiology, the physiotherapy students were allocated to either the Royal Prince Alfred Hospital or the Royal North Shore Hospital, treating the public patients in the mornings and attending lectures in the afternoons on psychology, electrotherapy and massage.
In those days, the physiotherapy students were low on the hospital hierarchy.
'We were told that, as physios we were the lowest of the lowest of the low and we must never interrupt doctors or nurses or sisters.
'We were not allowed to wear a cardigan, even when treating patients on the verandahs in winter.
'The occupational therapists were and we thought that was quite unfair,' Winsome says.
Typically, the physiotherapy students performed massage on patients and would use Kromayer UV light therapy to treat pressure sores as well as short-wave and microwave therapy.
They also helped patients to use crutches and with exercises.
After graduating in 1963, Winsome worked at Concord Repatriation General Hospital until 1966, when she had her first child.
Winsome kept her hand in by doing plasters for broken bones and running antenatal exercise classes for the pregnant mothers at her husband's GP practice in Castle Hill, a newly developing suburb north-west of Sydney.
In 1977, when her youngest child started school, Winsome found a job with the Sub-normal Children's Welfare Association (now the Challenge Foundation) as a coordinator for special needs playgroups in Penrith, Merrylands and Liverpool for children with disabilities, who were not yet being accepted into mainstream kindergartens and schools.
The groups ran during the mornings, so she was able to be home for her own children after school.
'I ran a fairly tight learning program at the playgroups—as I liaised a lot with the treating physios and OTs and speechies, I knew more or less what they wanted for each of the children,' Winsome says.
'The program started with Play-Doh, painting or other craft activities.
'We had gross motor equipment that we set out at each session and we always had singing at the end of the morning.'
Because of the stigma of having a disabled child, the mums didn't have a big social group and the playgroups met a huge need, Winsome says.
'They could get together and socialise a bit and offer to babysit each other's kids.
'The parents were great fundraisers so we were able to buy a lot of suitable toys that we loaned out to them.
'I am still friends with one of the volunteer ladies who came to assist with the activities and especially the singing at the end of each session.'
By the mid-1980s, Winsome was looking for a new challenge and found it in a position with the Cumberland School therapy team, providing in-school support for children with disabilities.
She worked there for eight years, until 1992, working with blind children at the Royal Institute for Deaf and Blind Children in North Rocks as well as children with a variety of disabilities at other schools in the region.
'School therapy was a team of OTs, physios and speech pathologists who worked collaboratively, sometimes attending the same school on the same day to assess the same student and prepare holistic programs for them.
'It was hugely important to liaise with the parents and the teacher about the proposed intervention.
'It was a model which required implementing into the school program,' Winsome says.
While working on the school therapy team, Winsome joined a newly formed group called SPOT on DD—Speech, Physio, Occupational Therapy on Developmental Disability—which supported new therapists coming into the sector and promoted best practice therapy for developmental disabilities.
The group provided professional support and continuing education through conferences and courses.
'Treating people with an intellectual, visual or hearing impairment had not been part of my studies, so it was a huge learning curve.
'I did a refresher course on working with children with a disability and the second course in "seating" ever run in Australia at Royal South Sydney Hospital,' says Winsome.
Seating kids in specialised wheelchairs and standing frames was an emerging field and prescribing these and making sure they were used correctly was part of the daily routine.
In particular, Winsome says, the standing frames tended to be complicated, with lots of adjustments that the teacher's aides needed to make for each student who used it.
'Associated with this new program of school therapy was the problem of transporting kids with disabilities to and from school.
'There were no guidelines, let alone standards for transporting wheelchairs in motor vehicles.
'Wheelchairs were tied in with string, no posture belts or head support required,' Winsome says.
'At SPOT on DD we had been tossing around ideas for some months about what could be done, so I suggested that we set up a special committee; hence the Transport Seating Working Party was formed.
'We needed standards to be established, so we approached Standards Australia and after several years the precursor to ISO 10865-2:2015 was gazetted in about 2000.'
While working for the school therapy team, Winsome came across an organisation called Technical Aid to the Disabled (TAD), a voluntary organisation making specialised equipment for people with disabilities since the mid-1970s.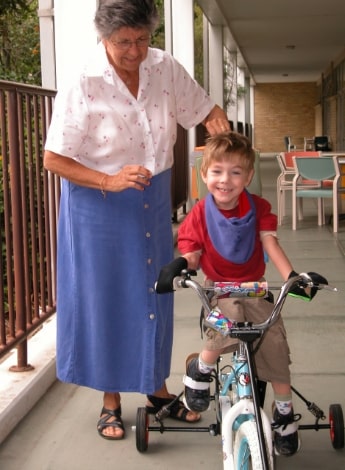 Winsome Baker with Alexander Graham on a modified bike. Photo supplied by Winsome Baker. Photographer: Keith Olds.
In 1992 she started working at TAD as manager of the custom designed aids department, coordinating both the projects and the volunteers.
Her role included talking to and assessing the clients to work out what equipment and modifications they needed and liaising with the engineers and volunteers who designed and built the equipment.
With her help, the organisation expanded to include about 300 volunteers across Sydney and regional areas, completing more than 1100 projects a year, including supportive furniture and standing and walking frames.
She worked closely with TAD's engineers to work out what the clients needed and then organised the volunteers to complete the projects.
A highlight at TAD was a project to develop modified bikes for children and adults with disabilities.
Therapists had been asking for help in getting children on bikes and TAD developed a whole range of simple bike modifications, including removable training wheels, foot cups and supportive seats with seatbelts, which could be made to fit all sizes of bike.
'With that prescription, we were able to get kids onto every size bike up to adult.
'These were little kids who were never able to move by themselves and once they were all strapped in, they started to pedal—they could move their legs and actually move the bike themselves.
'It was absolutely amazing,' Winsome says.
In 2006, Winsome left TAD and moved on to work at the New South Wales Department of Ageing, Disability and Home Care, initially seeing children with disabilities, then working with adults living in group homes.
During this period she was helped enormously by Barbie Dorsch, who trained as a physiotherapist with Winsome and is now the president of the APA's Physiotherapy Emeritus Group.
'When I left TAD after 14 years there, I felt I didn't have enough up-to-date physio skills.
'Barbie said, "Just come down a few times to my place."
'She ran me through basic physio stuff and once I did that, I knew where to go to search for information,' Winsome says.
In 2011, she retired from the Department of Ageing, Disability and Home Care, but less than a year later found herself working in aged care as a physiotherapist with Agewell Physiotherapy, now part of Plena Healthcare, for the most part at Cherrybrook Christian Care Centre.
She finally retired at the end of January this year, at the age of 80.
'I determined that when I turned 80 I would retire and I have achieved that after clocking up a very happy 10 years plus at the aged care facility.
'COVID meant that I have been very busy for the past two years due to difficulties in recruiting and maintaining staff, so I am retiring a bit later than I anticipated,' Winsome says.
While Winsome's career has been diverse, it has really revolved around disability since her days at Concord Repatriation General Hospital.
In that time she has seen a lot of changes to physiotherapy practice, she says.
'First of all, we treat people with evidence-based practice now, which wasn't the case when I started out.
'I think the fact that we now have so many specialties and physios are getting paid for research is absolutely brilliant,' Winsome says.
'In the days when I trained in physio, there was no such thing as going and working for a sporting club or anything like that.
'You either went to hospital or you were in private practice.
'And in those days you had to do what the doctor told you.'
Winsome says the APA has crossed so many bridges and ticked so many boxes over the course of her career.
'For example, here in Australia, we have got this wonderful liberty now that we can treat people without referral and in turn refer people to the doctor—the whole system has reversed.'
Winsome says it's important for young physiotherapists to realise that their physiotherapy degrees can lead to many diverse careers.
They are not constrained to a particular kind of work.
'There are other jobs, other ways to use your degree.
'Physio can be applied to so many different things, as you can see from what I've done.
'I haven't sat in a hospital or in a private practice.
'I have applied my knowledge to the general advantage of some communities.
'I think my advice is just to let yourself get involved with other things,' she says.
She is pleased she chose physiotherapy as it has given her such a long and diverse career.
Winsome says the profession attracts practical, helpful people, generous with their time and willing to share knowledge.
'Physios have always been willing to offer help, whenever I have needed it.
'I think that's really important.
'And they helped me explore ways of doing things that by myself could have been impossible,' she says.
'Looking back on my career, I think that what I feel most proud of is the way I have been able to promote and establish friendship groups wherever I have worked or treated people.'
© Copyright 2018 by Australian Physiotherapy Association. All rights reserved.