Mentoring for success: elevating your team
At its core, peer-to-peer mentoring is a way to guarantee that employees feel valued and part of the team. In this first of a two-part series, two physiotherapists who have become authorities on mentoring within large organisations in metropolitan cities discuss the benefits of investing in people and why mentoring is crucial for staff retention and growth.
A standard definition of mentoring is a mutually beneficial relationship that involves a more experienced person helping a less experienced person to achieve their goals.
Beyond that, mentoring is also a way for private practitioners to attract, retain and develop young professionals while also enriching their own careers along the way.
The process of giving and sharing knowledge and experience, in turn, invests in the next generation of physiotherapists and helps to build longevity into the profession.
Although mentorship often carries the stigma of being a time-intensive, complicated process, the delivery of mentoring programs can take many different forms over varied duration.
From an hour a week face-to-face to full-day group programs, mentoring programs can be endlessly tailored to suit your practice and circumstances.
The rewards are great, say those who are in the business of mentoring employees.
If you have business and/or clinical experience, you might consider taking on a mentee.
Having a mentee can help you improve communication and leadership skills.
Mentoring is also a valuable tool in succession planning and it can improve employee job satisfaction, which in turn helps retain good staff.
Empowering the team
Anthea Goslin, APAM, is the Director of Clinical Services at Active Rehabilitation Physiotherapy in Brisbane, Queensland and oversees a team of around 70 physiotherapists and managers.
The South African-trained physiotherapist, who worked in the public system in Tasmania for many years, says she has experienced a variety of mentoring programs throughout her 25-year career but none quite as comprehensive as that at Active Rehabilitation Physiotherapy.
'Perhaps what makes this mentoring program stand out, for me, is that it is coupled with a workplace culture that develops the team in a very positive way,' Anthea says.
'The mentoring program provides a forum for self-reflection, discussion, support and the setting of goals and action plans.
'The opportunity for two-way feedback is highly valued.
'An added benefit is that it further builds a cohesive team dynamic as well as improving things like staff retention.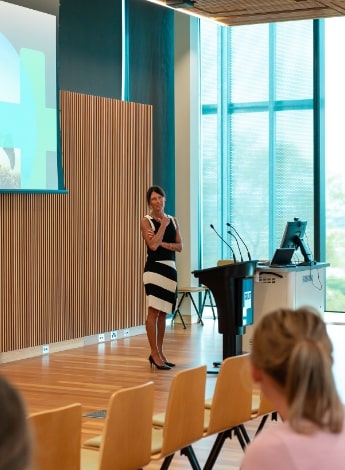 Lisa Roach says Healthia runs tiered mentoring programs, starting with new graduates.
'Most of our team say they look forward to their mentoring rather than it being something that is more of a box-ticking exercise, as it can be in some workplaces.'
Anthea says that the business conducts formal mentoring meetings twice yearly, coupled with ongoing coaching sessions, to support team members to achieve their goals.
Participants complete a detailed self-reflection and mentors then respond in the format of a mentoring report a few days prior to the meeting.
She says team members can then digest the details before their meeting.
This then enables the face-to-face meeting to be a rich and fruitful discussion about what matters most.
The program incorporates both personal and professional development.
'The self-reflection encompasses a clarification of the understanding of roles and responsibilities and we ask questions such as, "What do you love about your job?" and "What do you find most difficult?", promoting their reflection on their key strengths and areas they identify as requiring further development and support.
'Team members are supported to set goals in keeping with their strengths, preferences and with organisational need.
'We also explore whether there would be any cause for them to look for work elsewhere and what suggestions they have for improvements in our business, providing opportunity for the practice to grow and value its biggest asset—its people,' Anthea says.
Time constraints
'Busy private practitioners might say, "I don't have time to mentor. I've got a full list to attend to", but mentoring doesn't always have to be face to face.
'There is much more acceptance of mentoring online and of group mentoring than ever before,' says Lisa Roach, a physiotherapist who has more than 30 years' experience across public and private sectors.
Lisa has been the Divisional Chief Operating Officer at Healthia, an integrated allied healthcare organisation that includes networks of optometry, podiatry and physiotherapy clinics, since 2018.
She added the title of Chief People Officer to her name in January last year.
'The impact of the mentoring is immense and more highly valued than potentially we, as the owners of the business, give credit to sometimes,' Lisa says.
'We have a pretty young workforce in physio; it's two-thirds female, one-third male.
'A lot of the young physios who are around four to five years out are starting to think about families and other life milestones.
'A lot of what keeps them hanging in with us, I think, is the opportunity for mentoring and professional development.'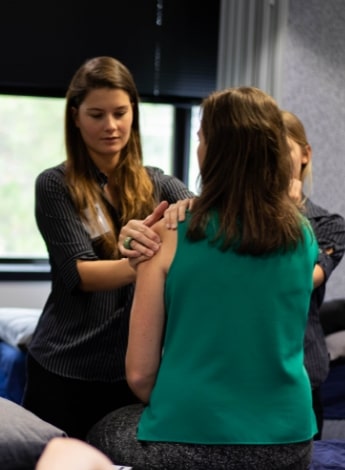 Mentoring and the learning opportunities attract employees to Healthia.
Healthia runs tiered mentoring programs starting with the Recent Graduate Program for those in their first year out, new employees and those joining from the public sector.
This year the 10-month program will have more than 150 participants.
It includes three full-day, face-to-face workshops held twice a year, online group mentoring and in-clinic mentoring.
For those three to four years out of university, a Clinical Leadership Program and a Business Leadership Program have each been created to mentor people who want to become mentors themselves or who are interested in taking on more of a leadership role.
Lisa says the latter gives those looking to shift from a clinical focus to more of a management role an outlet to keep their knowledge and experience in the business.
'Then we have a clinic class shareholder program, which is about ownership.
'This is effectively for people who are three, four, five years into their journey with us.
'If they're interested in ownership, we have a program that mentors them through the process of equity ownership and starting their clinic,' Lisa says.
A culture survey conducted internally last year highlighted many key offerings that Healthia owners and employees identify as being important to them, Lisa says.
'The overwhelming feedback we received was that they loved their peers and they loved the learning.
'So from an employee perspective, the mentoring and the learning opportunities attract them to the organisation.
'From a retention perspective, they love staying because they like the fact that they're interacting with small groups of teams through their learning experiences.'
Investing in you
This year the APA is introducing two new mentoring offerings in addition to the existing eLearning mentoring products.
The APA Graduate Mentoring Program and APA Mentoring Connections are each ready to be rolled out and will complement the existing cpd4physios mentoring series currently available on the APA website.
Exclusively for APA graduate members, the APA Graduate Mentoring Program will enable recent graduates to be matched with an experienced APA member to receive guidance on personal and professional development.
The eight-month program, starting next month and running until December this year, will explore professional issues and concerns in a supportive and confidential relationship.
The APA Mentoring Connections program will be a less formal way to connect all physiotherapists with mentors.
The mentoring relationship will have a focus on 'in the moment' advice and guidance, and will last as long as required.
Both parties will need to be Ahpra-registered APA members.
Click here for more details about both programs.
The next article, to be published in the April issue of InMotion, will focus on mentoring in rural and regional areas.
© Copyright 2018 by Australian Physiotherapy Association. All rights reserved.