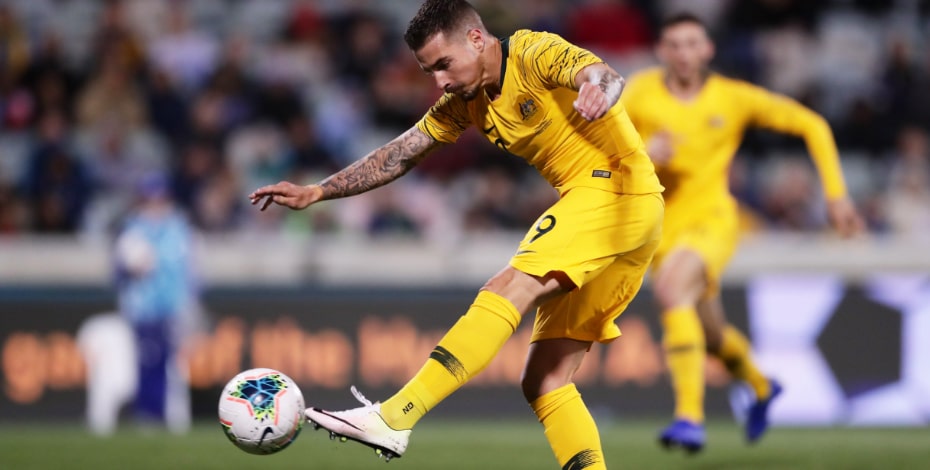 Olympic goals in mind for soccer physio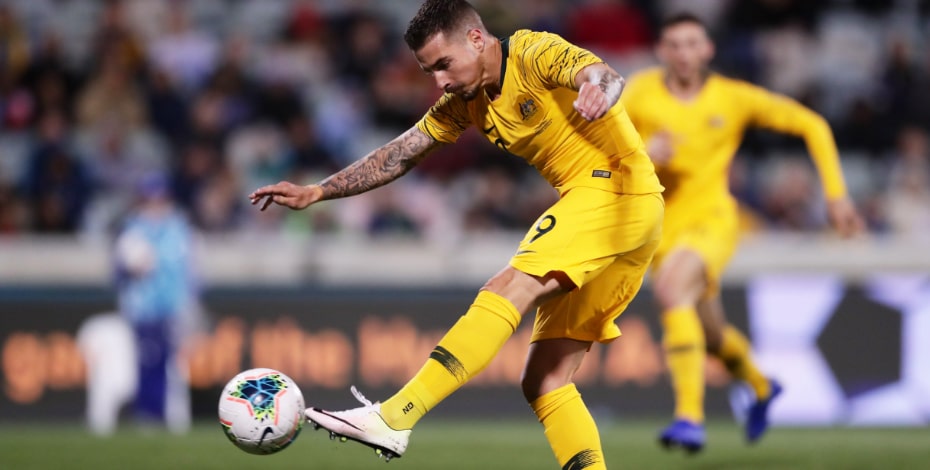 As the world holds its breath to see if the 2021 Olympic Games in Tokyo will take place this month, physiotherapist Dr Matt Whalan is preparing to achieve his dream of working with an Australian team at the Games. Here Matt speaks with InMotion about what it takes to achieve this in a post-pandemic world.
Dr Matt Whalan, APAM, is a physiotherapist with many hats—practising clinician, researcher, and Player Availability and Perform+ Coordinator with Football Australia.
Matt is also a physiotherapist within Football Australia's National Teams Medical Unit.
In June, he was with the Socceroos in the Middle East as the team successfully won all eight of its games to progress to the third round of World Cup qualifying in the lead up to the FIFA World Cup in Qatar next year.
Matt was one of three physiotherapists within the team; and considers his work with Football Australia and the World Cup campaigns a career highlight (obtaining a PhD and helping develop a 'sustainable' clinical practice rounds out a career trifecta).
In July, Matt is expecting to be in Tokyo for his first Olympic Games, supporting Australia's Olyroos as the elite team returns to the major international event for the first time in 13 years.
While debate continues about whether the Tokyo Olympics should proceed in a COVID-19 world, Matt remains excited to have been chosen for the sport's medical team.
'There's a number of weeks between now (mid-June) and the Games starting in July (23), and the world could change again, as to it going ahead. From my perspective, I can only look at the opportunity.
'The opportunity to travel with soccer very rarely comes up in a lifetime, and the opportunity to go to the Olympics, likewise. And we are doing it in unique times under COVID-19 conditions.



'But when the opportunity comes up, you take it because it may not come along again. Thankfully, my family is very supportive of the scenario so I can pursue this opportunity.'
The 'scenario' is travelling under different and stricter guidelines than previously required in a pre-pandemic world.
For the first time, an infectious disease specialist joined the team on tour ('it's something you would never have expected before last year'), to monitor the health of players and support staff and look for early signs of a cold or flu.
'There is a heightened awareness around each person's health and wellbeing. The message is to be on alert and practise good hygiene because we all know how quickly this virus can spread.'
Every 48 hours all members of the touring party were tested for the coronavirus.
They were also confined to certain areas of the hotel where they are staying and could only leave the site for practice or games.
'Compliance is strict and people understand what they have to do to keep each other safe. When we have meals together we all sit in the same spot and the same table to further minimise close contact with others.
'And, if the worst happens, then we should have minimised transmission through quicker tracing.'



Chartered flights were common to minimise contact with an extended population. Masks were also mandatory.
There will, most likely, be similar protocols when in Tokyo. However, travel during a pandemic and a two-week mandatory hotel quarantine in Australia has made it impractical for Matt to return home between the World Cup qualifiers and Olympic Games.
'After being in quarantine I would only have had one day at home before jumping on a plane and heading to Tokyo, so it was more practical to stay away.
'It has been harder on the family and testing the mental health but it has to be done. My wife and kids are extremely understanding because they know this is unique and we are all in challenging times.'
It was a passion for sport, particularly soccer, that drew Matt to physiotherapy. As a young player who suffered injuries, visits to the physiotherapist were a little too often for his liking.
'It got to a point when I realised I was better on the other side of the bench,' Matt says. 'Like for many physiotherapists, I saw physiotherapy as an exciting prospect that would satisfy my interest in a medical career and keep me close to sport. Plus, I get to work for myself.'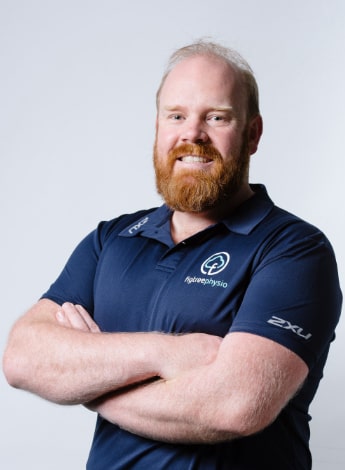 His career path was secured when he completed work experience at a clinic and he was part of the first cohort of students studying for a Master of Physiotherapy at The University of Sydney, graduating in 2003.
After practising in a private clinic in Wollongong for about 20 months, Matt moved to a clinic in Figtree.
'Clinical work was always an interest. Each person who comes in the door has a unique situation and wants to achieve different outcomes. A physiotherapist has an incredible and important opportunity to make a difference to people's lives and ensure they stay as mobile as possible.'
In 2005, he became a partner in Figtree Physio. 'Becoming a partner in the practice was a bit sooner than I expected but I took the leap and had some good support around me.'
Athlete and team high-performance management, as well as injury reduction strategies, has been a focus of the physiotherapist's clinical and research work.
His PhD (completed last year at University of Wollongong) considered injury prevention in football, and builds on an honours degree in exercise science and rehabilitation and master's in physiotherapy.
As a researcher at the University of Wollongong, Matt consults with the School of Medicine, and is extensively involved in sports physiotherapy in the Illawarra region.
With more than 15 years' of clinical experience and a special interest in injury risk reduction and prevention, he has supported all but one of Australia's elite men's, women's and youth soccer teams.
'I have yet to work with (Australian women's national soccer team) the Matildas. However, I am happy to say one of our clinical team members has been called up into the Matildas' staff.
'Physiotherapy has evolved quite a lot since I started, and I think it is important to encourage your staff to pursue their passion within the profession.



'I don't want them to be just like me, but if they are interested in clinical work and research and want to pursue the chance to support a national sporting team, then they should do it,' he says.
'We really try and encourage a multi-layered approach to physiotherapy at the clinic and think it is important for staff development because it also provides networking and learning opportunities.'
Other sporting codes to benefit from Matt's experience and knowledge base include rugby league, Australian Rules football, cricket and athletics.
When COVID-19 restricted travel and halted some sports last year, Matt and colleagues at Football Australia took the opportunity to finalise Australia's version of football's globally recognised injury-prevention program, the 11+.
FIFA initially developed the program in 2009 as a way to integrate risk-mitigating exercises into warmup to reduce injury and burden in men's sub-elite football.
Despite the program proving a 40 per cent reduction in injury, challenges remained with compliance and adoption.
The researchers revitalised and modernised the program to capture players of all ages and experience, starting with juniors, and tackle issues related to 11+ adoption.
In October 2020, the research (The 11+ of the future: a primary injury prevention framework for sub-elite football) was published in the British Journal of Sports Medicine. In April, the free training resources called Football Australia Perform+ and Fundamentals+ (the kids' version) launched nationally.
It's a piece of work that was needed to protect players and the future of the game, says Matt.
'To encourage adoption we are prompting coaches to consider the framework not just for injury-prevention but as a way to increase player performance and availability on the field,' says Matt.



'If we can get players and coaches to follow these guidelines at least twice a week, at a minimum, then we can help minimise injury and keep athletes playing the sport they love a lot longer.
'This framework wasn't around when I was playing junior sport, so it is good to see physiotherapists taking a lead on injury prevention.'
>>More about the The Perform+ framework program that Matt helped develop to prevent sports injuries and keep players on the field will feature in the September issue of Sports & Exercise Physio magazine, available via subscription to members of the APA Sports & Exercise group. Head to the Membership section of the APA website for more details.
© Copyright 2018 by Australian Physiotherapy Association. All rights reserved.