Opening the clinic to the less fortunate
Jess Ellison, Co-founder and COO of Life Ready Physio and Pilates, pioneered a program offering free physiotherapy to people in need.
After graduating from Curtin University together in 2009, Jess Ellison and Benjamin Trinh thought about what kind of clinic they wanted to work in—that is how the idea for Life Ready Physio and Pilates came about. 'We had a dream to do physio really beautifully and have coffee machines and do pro bono physio and not be worried about charging people … we were very idealistic about what we wanted,' Jess says. 'The seeds were planted in that very first conversation about how we just wanted to have beautiful practices, and be really fair in how we charge people.'
Completing an MBA from AGSM (UNSW business school) in 2017 allowed Jess to develop her business skills and help scale Life Ready to over 200 employees. Jess and the team aimed to give everybody an opportunity to access physiotherapy care at Life Ready's 25 practices located throughout Perth and Melbourne. And with that ideology evolved the Open House Program. Jess says 'at the time
I was really passionate about women's health and I wanted to do something for Sudanese refugees, who were arriving in Perth and who were struggling with post-natal issues, and I just wanted to give them free physio. So we surveyed all of our staff, and we received an overwhelming majority of responses saying "yeah, this is awesome, let's do this". That's how we got the go ahead to start this program that we'd been talking about from the beginning of Life Ready.'
'Every clinic has an Open House window at least once a fortnight and it's our physios who volunteer their time to look after the Open House patients. 
Officially launched in February last year, the Open House program is a pro bono service, partnered with four charities and with the support and assistance of local GPs, providing care to the less fortunate in Life Ready clinics in Perth and Melbourne. Patients who are referred to the program are those who can't afford physio, or private health, and are not eligible for Medicare benefits. The referrer, whether it be a charity or a GP, needs to fax through a referral and the clinic's admin will call the client and book them into an Open House slot. 'Every clinic has an Open House window at least once a fortnight and it's our physios who volunteer their time to look after the Open House patients. Some clinics do it randomly-spread through their diaries, some clinics stick to that fortnightly window, but it depends on the volume of patients being referred,' Jess explains.
As Life Ready grew, there came a point when they were geographically spread out enough, with 22 locations in Perth and three in Melbourne, to be able to offer a meaningful pro bono program. Jess and the team at Life Ready want to provide patients the care in the best environment possible. 'We are really focused on customer service and injecting a bit of hospitality into healthcare,' Jess says. 'So the idea of being able to welcome someone into our clinic with a friendly receptionist who knows them by name and gives them a cup of tea or coffee or a biscuit, and then they're given a proper treatment plan and the sessions aren't rushed … it's not just about the physio but also about the whole experience. We just want people to be treated in the best way possible.'
Life Ready has partnered with Helping Little Hands, The Esther Foundation, Council for Asylum Seekers Refugees and Detainees (CARAD) and Sporting Chance Foundation, to help with physiotherapy care needs on referral from a doctor. At this stage, the Life Ready volunteer practitioners receive patients through GP referrals and the charities, and they offer at least three sessions to each patient. Jess says 'we are still looking for more patients though. You talk to GPs and you say this is what we're offering and they say "that's amazing, that's too good to be true". But we don't get very many referrals so we are always on the search for patients. We want more and more referrals, so there's definitely some more work we can do in terms of encouraging GPs to send them through the program.'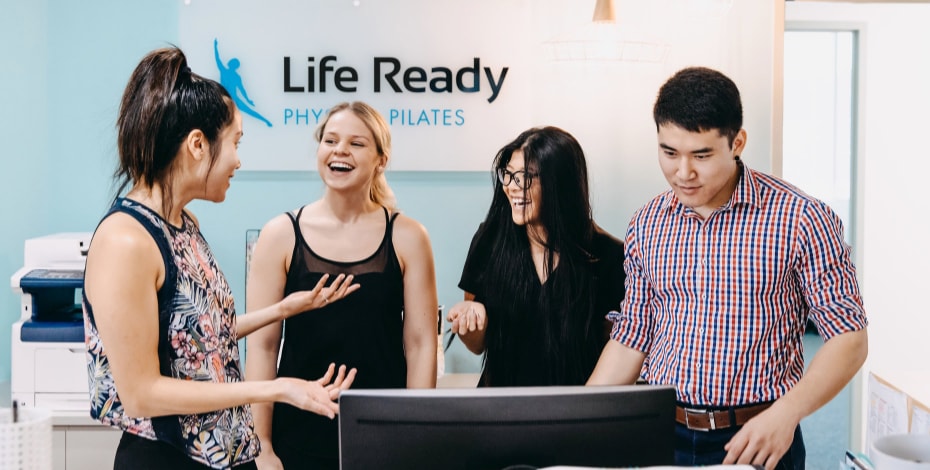 Physiotherapists at Life Ready Physio and Pilates Rockingham, one of Life Ready's 20 locations across Australia. Photo supplied.
The partnership with other charities has been successful in connecting patients to the Open House program. CARAD looks after refugees, asylum seekers and detainees, and they have a GP who can connect people with the program and organise a translator if needed. The Esther Foundation is a service specifically for women who have fallen on hard times and if they need physiotherapy care they have access to any Life Ready clinics. And then there's Helping Little Hands, which looks after the parents of children in the newborn intensive care unit at the Children's Hospital in Perth. Jess says 'the parents could be stuck at the hospital all day long and they often need physiotherapy intervention, so we have a massage service who actually go and visit the hospital to offer free care once a month.'
A more recent partnership is with Sporting Chance Foundation, an organisation that offers pro bono surgery and pre and postoperative rehabilitation to Aboriginal and Torres Strait Islander athletes. The Open House program physiotherapists offer Sporting Chance athletes free physiotherapy throughout their whole rehabilitation program. Jess says that the program is still evolving and even though they have plenty of support thus far they are always on the lookout for more. 'If anyone wants to get doctors referring to us then we have more than enough referral pads and we are very flexible; we are still learning, we're still growing, and we hope that the program looks completely different in the next year, but only for the better,' she says.
'Interestingly, being involved in the program has gained quite a good level of staff engagement and staff pride for the organisation,' Jess says. 'The whole purpose of Life Ready is to raise the bar of our profession. We want to inspire other physios to do the same, so if there are some other physio groups who want to copy us and start offering pro bono physio to groups who can't afford it then we're doing our job.'
© Copyright 2018 by Australian Physiotherapy Association. All rights reserved.