Partnership brings everyone together
APA Musculoskeletal Physiotherapist David Giles and APA Sports Physiotherapist Jamie Phillips graduated together and went straight into private practice. Ten years after they bought their first clinic together, they opened The Injury Hub.
Despite its rural location, The Injury Hub has a physiotherapy team of nine, and includes specialist medical professionals so that patients can access specialist services and treatment without the need to travel to a city. Founders David Giles and Jamie Phillips observed that in the town of Gawler, South Australia, there was the perception of a need for patients to travel to access advanced services in rehabilitation and medical specialisations.
David says 'it was a vision and goal for us to try and provide a facility that hosted various allied health and medical professionals so that local and surrounding communities would not have to travel to access such services.'
The Injury Hub is 60 minutes from Adelaide city and includes physiotherapists, exercise physiologists, a sports doctor, orthopaedic surgeon, neurosurgeon, masseuse and dietician. David and Jamie decided to introduce specialist services based on a patient-centred perspective.
'Our physiotherapists are very much guided by best evidence- based practice. When working alongside specialists such as an orthopaedic surgeon, neurosurgeon and sports physician who is willing to trial conservative management, we know that physiotherapy can provide successful conservative management for conditions such as rotator cuff tears, OA hip and knees,' Jamie says.
The decision was also made from a business perspective because orthopaedic and neurosurgeons are very busy professionals; therefore, physiotherapists working alongside them have organic exposure to their patients.
'As we know, it is only a small percentage of people seen by a neurosurgeon who actually then go on to having surgery,' David explains. 'The remaining patients likely need specific and ongoing conservative management and rehabilitation. We saw this as an opportunity to work alongside these medical professionals, and to be able to offer a high level of conservative treatments for their patients who do not require surgery.'
He adds: 'Another bonus from having other specialists lease your rooms is that it generates income and helps pay your debt.'
Prior to its development in April of last year, David and Jamie were looking to expand their existing physiotherapy business. They were occupying rooms at the local hospital supplying physiotherapy services for inpatients and outpatients as well as having a separate private clinic located in Gawler.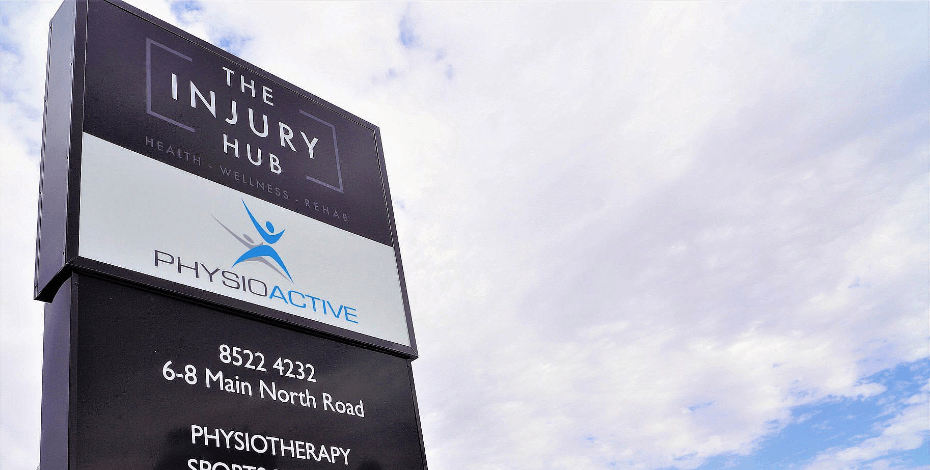 They decided they required more space, particularly for gym facilities for Pilates, group classes and rehabilitation equipment, and started looking locally for a suitable facility.
'Unfortunately, within the local region there was no appropriate space to lease. After a few years of looking, a burnt down property came onto the market that had the potential for development,' Jamie says. 'We faced a lot of roadblocks early in the development because the building was on the local heritage list and it had a lot of value within the community. As a result we were restricted in what we could design, the look of the facade and layout. This resulted in an increase in cost and delay in the project. It took three years from initial talks with local council to opening the front door.'
'Another bonus from having other specialists lease your rooms is that it generates income and helps pay your debt'
DAVID GILES
Another challenge for the pair is attracting staff due to the clinic's location. Despite being only an hour from Adelaide, David says it is still perceived as too far away for physiotherapists to come to work, so they need to put a lot of time and effort into obtaining their physiotherapists long-term. 'We have found benefit in providing a fourth-year placement for physiotherapy students, which works from both parties where the student gets to experience our clinic and we get a feel if this student would potentially fit into our team,' he says.
'Retaining our staff requires ongoing staff management, providing ongoing professional development opportunities, and creating an environment where staff want to work. This is something which we are also trying to achieve with our experienced staff and newly purpose built clinic.'
Even though building and owning their own clinic has come with its challenges, David and Jamie both agree that they have seen a significant financial benefit. 'Rent, which was previously an expense to someone else, is now going towards our investment. From a tax perspective, depreciation and other tax deductions have also been able to be claimed, making it a great investment.'
DAVID AND JAMIE'S TOP THREE TIPS
Identify what your local community needs are and what it is missing.
Building relationships with other allied health and medical professionals is pivotal.
When designing your clinic, allow space for growth.
© Copyright 2018 by Australian Physiotherapy Association. All rights reserved.