Passion for physio is evidenced by research
By his own admission, Professor Rob Herbert lives parallel lives. In one life he is a physiologist studying the mechanisms of contracture and he's a clinical researcher in the other. And managing the physiology/clinical research dichotomy is just the way he likes it. 
Just how Rob Herbert, APAM, evolved from student to clinician to educator to researcher is much more than a shining example of being in the right place at the right time. Sure, the stars did align and doors did open for Rob at just the right time in his career, but arguably the profession's biggest name in evidence-based physiotherapy has also worked diligently to get where he is, honing and crafting his talents along the way.
It was in the early 1980s while studying for his bachelor of physiotherapy at the then-Cumberland College of Health Sciences (now the University of Sydney) that Rob discovered his vocation of choice, physiotherapy, could offer him far more possibilities than he had anticipated.
'I'm a little bit embarrassed to say that because I was good at sport, I thought studying physio would be quite a nice way to mix sport and a profession. It probably took me about a week to realise that physiotherapy had a lot more possibilities than that,' Rob says. 'I realised that physiotherapy can make people's lives better. It's hard to ask more from a profession than that.'
Although he describes himself, with good humour, as the 'world's worst clinician', Rob began working as a physiotherapist on rotation at several hospitals including Royal Prince Alfred, Lidcombe and Sydney hospitals, for two years after graduating. While he enjoyed the work and the variety it offered, what he discovered was a real passion for reading about research. His voracious pursuit of learning via continuing education courses did not go unnoticed; renowned physiotherapy educator, researcher and APA Honoured Member Roberta Shepherd invited Rob to teach physiotherapy at Cumberland College—and he jumped at the chance.
'I don't think I'd given [teaching] a moment's thought before Roberta invited me. I used to turn up to courses and listen to things and go away and read stuff, so when Roberta invited me to teach I thought that would be quite a lot of fun—and it was,' Rob says.
Going on to become senior tutor while continuing to practise part-time at Lidcombe Hospital, Rob undertook a Master of Applied Science (Exercise and Sports Science) before transitioning to full-time lectureship at the School of Physiotherapy at the University of Sydney. This melding of clinical and academic roles grew organically and, almost without his knowing, saw him begin to split his time between dual interests in physiology and clinical research. Ergo, the emergence of his parallel lives.
'It [starting out in research] was completely unplanned. In fact, at that time few physiotherapy academics were doing research and I had no concept that research could become a career for a physiotherapist,' Rob says. 'Initially I focused on teaching. I had a great mentor in Louise Ada [now Emeritus Professor]. With Louise's support I got the hang of it and really enjoyed the academic role.
'I was at the University of Sydney for … 23 years I think. Over that time I developed research skills. At the same time the profession was going through massive changes. By the time I left the University of Sydney the physiotherapy profession had begun to transform into something that would have been almost unrecognisable to physiotherapists in the early 1980s. I think every physiotherapist working in a university at the time was surfing that wave of change … there was a need to grow a research base and a need for clinicians to be able to read and understand research. Everyone who was working in academic institutions was, in one way or another, having to come to terms with massive scientific and professional change.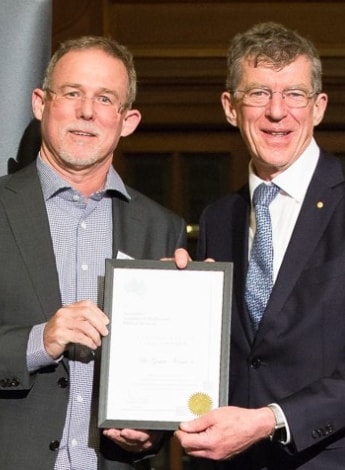 2016: Robert becomes Fellow of the Australian Academy of Health and Medical Sciences.
'I realised that physiotherapy can make people's lives better. It's hard to ask more from a profession than that.'
When Rob embarked on his research career in the late 1980s, there was were few physiotherapists with research skills. At that time, physiotherapists learned to do research by working with biomechanists or physiologists ('which I did, and I loved it!'). Rob undertook his master's degree studying the effects of immobilisation on the passive mechanical properties of rabbit muscles. He found the experience challenged his intellect and whetted his appetite enough to want to learn more. As there was no option to undertake a PhD in physiotherapy in Sydney at the time, Rob did his PhD under the supervision of renowned neurophysiologist Professor Simon Gandevia.
'It was during that time that I came to understand how science is done,' Rob says. 'Simon Gandevia is someone I still collaborate with 25 years later. He works down the corridor from me [at Neuroscience Research Australia, NeuRA, in Randwick] and we still do projects together. He's a very good scientist and he taught me a lot of things about how to do science well.'
While receiving training in basic science, Rob developed a parallel interest in clinical research. 'At the same time as I was learning about neurophysiology, I started getting interested in clinical trials and epidemiological research in physiotherapy. That interest permeated Rob's teaching. With APA members Anne Moseley, Catherine Sherrington, Chris Maher and Mark Elkins, Rob established the Centre for Evidence Based Physiotherapy, which maintains the PEDro database.
PEDro is designed to help physiotherapists find high-quality research into the effectiveness of physiotherapy interventions (see article on page 42). It proved to be a game-changer. While also being active on many advisory boards, expert panels, working groups and editorial boards both nationally and internationally, Rob became an Associate Professor and then Professor at the Sydney Medical School, University of Sydney.
In 2007, Rob switch gears to a full-time research position as an National Health and Medical Research Council Research Fellow and moved to the George Institute for Global Health, a leading independent global medical research institute established and headquartered in Sydney. Then, in 2012, he took up a position as senior principal research scientist at NeuRA. This provided the opportunity to take on a broad range of career interests, wearing a great many different metaphorical hats. His tireless thirst for knowledge has him highly- regarded in national and international circles for his expertise in research methods, but in his typical good humour, Rob says his involvement in so many different aspects of the profession comes down to one thing. 'The trick is to be old. When people ask me how I do all this stuff, I tell them "you've just got to be old".
'In one half of my professional life, I've studied mechanisms of contracture and how muscles respond to stress. That has involved studies on healthy subjects, trying to understand what happens when muscles are stretched, as well as studies on people with motor impairments—trying to understand what has happened to muscles that have become weak and developed contracture,' Rob says. 'The other half of my professional life is in clinical research studying the effects of physiotherapy interventions. A large chunk of my clinical research has been done in collaboration with Lisa [Harvey], my wife, because she's got a broad program of research studying the effects of physiotherapy interventions for people with spinal cord injury. Our interests overlap in the prevention and treatment of contracture, so we've done a few studies together on that. Lisa has led some of the best studies I've been involved in.'
Reflecting on the changes to physiotherapy that have occurred over his career, Rob believes research has transformed physiotherapy for the better—it's a vastly stronger profession now than it was 30 years ago—but he believes also there remains plenty of potential for research-driven improvements in clinical practice. 'I have seen physiotherapy practised all over the world and there are enormous variations in the degree to which physiotherapists are prepared and able to use research for clinical decision-making. Australian physiotherapists, generally, have embraced evidence-based practice— perhaps more than anywhere else in the world.
'One of the most rewarding projects that I've been involved in has been the development of the PEDro database. I've enjoyed working on that project with good people, knowing that it is helping the profession grow. It's easy to remain motivated doing that sort of thing,' Rob says. 'Another long-standing project has been the APA's journal: formerly the Australian Journal of Physiotherapy, now called the Journal of Physiotherapy. I've been a member of the journal's editorial board on and off since the late 1990s and for some of that time I was scientific editor and chair of the editorial board. The editorial board is a great group of people doing great things. We've got unquestionably the best physiotherapy journal in the world and it keeps getting better. It's been a lot of fun.'
© Copyright 2018 by Australian Physiotherapy Association. All rights reserved.