Patient education for knee osteoarthritis
This systematic review explores whether patient education is effective for knee osteoarthritis, either by itself or in combination with other interventions. Q&A with Anthony Goff.
There are existing reviews that include trials of education for knee osteoarthritis. How does your review differ?
Other reviews in this area have primarily assessed psychological outcomes or include trials for people with osteoarthritis in other joints (such as hip or hand), other forms of arthritis (such as rheumatoid arthritis) or other chronic conditions (such as chronic pain).
Recommendations in clinical practice guidelines regarding pain and function for knee osteoarthritis are therefore informed by research that may not be specific to this group of people.
Our aim was to explore the literature for people with knee osteoarthritis only and the outcomes that matter the most for patients, which are pain and function.
What evidence did you find with your searches?
We identified 29 trials involving 4107 participants with knee osteoarthritis.
We were able to compare patient education as a standalone intervention against usual care or exercise therapy.
Additionally, we were able to compare the benefit of combining patient education with exercise therapy against either intervention alone.
We performed meta-analysis for short-term (less than 6 months), medium-term (6–12 months) and long-term (more than 12 months) comparisons when possible and we were able to pool data for 19 comparisons of pain and function outcomes.
However, only six (32 per cent) produced statistically significant findings.
Of these six comparisons, two were clinically important for pain or function using the respective subsections of the WOMAC.
Is education effective as a standalone intervention for knee osteoarthritis?
Our findings suggest that patient education is statistically superior compared to usual care for short-term improvements in pain and function.
However, improvements did not exceed recommended minimal clinically important differences between groups using WOMAC pain and function scales.
This means that despite statistically significant differences, improvements in pain or function are small and may not be clinically important for the patient.
Additionally, patient education was statistically inferior to exercise therapy for short-term improvements in pain and these differences appear to be clinically important using the WOMAC pain scale.
Based on our findings, we can say that patient education may have limited effectiveness as a standalone intervention.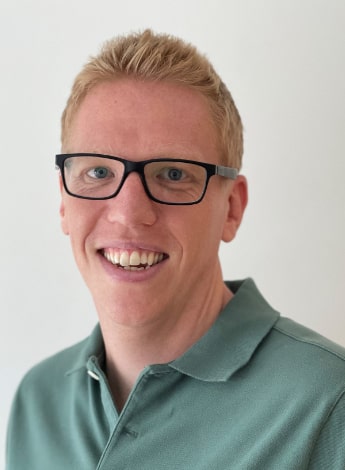 Anthony Goff is investigating the role of patient education in treatment for knee osteoarthritis. 
However, the quality of the education provided in the included studies may have influenced these outcomes and this is something we are currently exploring further.
What about when it is used in combination with exercise therapy?
When exercise therapy is added to patient education it results in statistically superior short-term improvements in pain and short- to medium-term improvements in function compared to patient education alone.
Although improvements in pain do not exceed recommended minimal clinically important differences, improvements in function do, indicating that wherever possible, exercise therapy should be combined with patient education.
Another consideration is whether education added to exercise therapy can improve outcomes.
Our results related to this indicate that short-term pain and short- to medium-term function outcomes with exercise therapy and patient education compared to exercise therapy alone are not statistically different.
However, the mean difference between groups exceeded the recommended minimal clinically important differences for short-term pain and function in favour of combining exercise therapy with education.
This suggests that there may also be a clinical benefit to adding patient education to exercise therapy.
In summary, patient education and exercise therapy appear to complement each other.
Therefore, we recommend providing them in combination for people with knee osteoarthritis.
Where do you see research in this area heading?
The direction that patient education research is moving in across a range of conditions is exciting.
During our systematic review we observed that patient education provided as part of a control condition was often inferior in terms of content and development.
For example, we observed that control conditions were often not based on previous research or on educational or behaviour change theory.
Such factors may well have contributed to our review findings and impaired the estimated benefits of patient education in our meta-analyses.
We are currently performing an ancillary analysis exploring this further and will be excited to share our findings soon.
We feel that there is a lot of scope for improving the provision of patient education in future research (and clinical practice) by incorporating more of a theoretical basis into its design and delivery, including people with a lived experience of the condition in the development of interventions (co-design) and incorporating principles of blended learning into the delivery of patient education.
>> Anthony Goff is a UK-trained physiotherapist. He is currently a lecturer at Singapore Institute of Technology and a PhD candidate at La Trobe University. He has previously published research relating to exercise for tibiofemoral injuries and physical activity and exercise knowledge of physiotherapists.
© Copyright 2018 by Australian Physiotherapy Association. All rights reserved.