Physio mission to Africa helps children
A team of five Australian physiotherapists who volunteered to help severely disabled children in desperate circumstances in Zimbabwe has returned home feeling more seasoned for the experience. On the first venture of its kind through the One Night for One Year charity, the physiotherapists were met with more than 800 children wanting help when they arrived at the Open Heart Disability Care Trust Centre located three hours outside of Harare, the nation's capital.
With the physiotherapist volunteers seeing between 20 and 30 children a day during their eight-day mission in late September, the conditions at the centre were hot, the resources were basic and the equipment very limited; however, the group was welcomed with open arms by the local community, which assembled a team of 14 volunteers to help the physiotherapists educate the families about how to deliver ongoing treatment of their children.
One volunteer, Gillian Goodes, APAM, who was born in Zimbabwe and grew up in Bulawayo, was nominated as the group's clinic lead. Gillian and fellow volunteers APA members Ruth Marshall-Rogers, Caitlin Lloyd, Cindy Davis and Sam Fairbairn share experience in and/or currently work in paediatric physiotherapy. Each was chosen after being processed through an induction designed to make them fully aware of the realities and the risks they would face in the African nation.
Gillian told InMotion that the volunteers largely treated children with cerebral palsy but some also presented with Down syndrome, hydrocephaly, spinal injuries, congenital lower limb deformities and developmental delays. The team spent time teaching the local volunteers about basic handling, positioning and activity ideas for them to then take back to their communities to continue to help the children and their families.
'Education was the main component, I would say, because the actual time you got to do any treatment was very small,' Gillian says. 'We did five days at the centre and we did a couple of days of home visits as well. That was a real eye-opener. There was a couple of really heartbreaking moments. We saw a boy at home who had cerebral palsy and… would normally have been walking but he sort of just crawled himself through the dirt all day. He had the worst contractures and pressure sores on his ankles, knees and hips from lying on a concrete floor. I feel like I want to go back and do some more to stop other children getting to that point over there.'
Similarly, Ruth Marshall-Rogers, who has a background in paediatrics in both public and private sectors, says that despite expecting to see a lot of poverty in Zimbabwe she was still shocked by the level of destitution and the impacts that had on the children. 'I was shocked at how malnourished and small the children were. For example, one of the kids was two and  I thought he was probably eight months.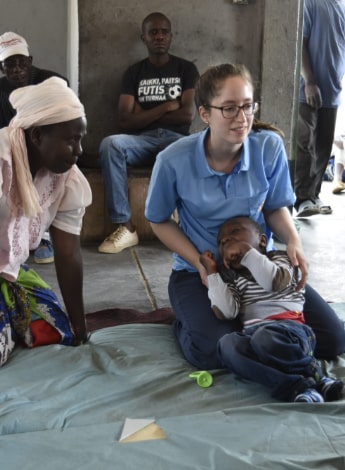 Caitlin Lloyd works with one of the very many young patients who travelled great distances to see the Australian volunteers.
There were lots of kids that I thought were probably aged about eight and their families would say "Oh they're 12". You see a lot of quite significant growth restriction. The level of disability was definitely very high. And, of course, there was the lack of equipment available to help them,' Ruth says.
The centre had mats on the floor and some basic equipment, which the physiotherapists adapted to better suit the children they were treating, often using blankets or towels to better seat a child in a wheelchair or sourcing a better fitting wheelchair where possible. Besides helping the children, both Gillian and Ruth say one of the most rewarding aspects of the volunteer work was seeing the relief and appreciation on the faces of the child's parents.
Event organiser and One Night for One Year (onenightforoneyear.org) charity fundraiser and liaison Bernard Macleod says the visit by the team had resulted in great achievements, improvements and changes in the daily lives of the children from the Muzarabani District. A second trip is being planned for next year and physiotherapists, particularly those with paediatric experience, who are interested in finding out more about volunteering can email bernard@onenightforoneyear.org  for more details.
© Copyright 2018 by Australian Physiotherapy Association. All rights reserved.