Physios reach out in the Top End
Exercises by a fishing spot followed by some fresh caught fish for lunch, early morning walking group activities to beat the harsh midday sun—working in the Northern Territory can be anything but a typical day at the clinic. Melissa Mitchell speaks with Genevieve Agostinelli from BodyFit NT about treating patients in remote communities.
Standing on the sandy shores of a popular fishing spot, Genevieve Agostinelli is taking a group of Aboriginal and Torres Strait Islander women through a series of exercises to help improve their health. It's an idyllic location, and standing in the shade with a gentle breeze blowing it is easy for Genevieve to admire the natural beauty of her outdoor clinic. It's little wonder she loves working in the Northern Territory.
'I love the environment, the communities are just beautiful. Many of the places we visit are islands or coastal. There's fantastic fishing and people swimming in the ocean even though there's crocodiles there,' Genevieve says. 'I love that it is a challenge working out here. That part of it is rewarding—a small win is a big win.'
Genevieve is the manager of four physiotherapists from the team at BodyFit NT, which also includes six exercise physiologists and administration staff across two sites in Darwin and Palmerston. On her own, with a colleague or with other allied health professionals, Genevieve travels out to remote communities twice a month, for anywhere between one and five days at a time. Presently the vast area covered by the team includes 25 remote, mostly Aboriginal and Torres Strait Islander communities stretching from Darwin to parts of Arnhem Land, down to the Daly River region and across to Katherine. The team also makes trips to the Tiwi Islands.
Currently funded through the Northern Territory Primary Health Network (NT PHN) in the key strategic priority area of Aboriginal and Torres Strait Islander health, professionals from across allied health disciplines often link up to deliver services in remote areas. Many share the costs of transport (road or plane) and accommodation, which can be prohibitive depending on the location.
'As you can imagine, travelling out to such remote places is extremely expensive,' Genevieve says. 'We try to link trips with other visiting health professionals. For example, you might get the physiotherapist and the podiatrist or diabetes educator going out together. It is particularly beneficial working with the dietician to deliver health promotional activities together.
'The funding is for Closing the Gap and management of chronic disease in the Aboriginal and Torres Strait Islander population. Our main focus is chronic disease, so we see a lot of chronic respiratory and cardiac conditions, and type 2 diabetes,' Genevieve says.
Much of the remote health services provided by the BodyFit NT private practice centres around public health education and exercise therapy rather than one-on-one, hands-on treatment. Often a client with Chronic disease will also present with concurrent musculoskeletal problems such as a rotator cuff injury or back pain.
'The health literacy is very low in the communities so getting those health messages across is a big focus for us,' Genevieve says. 'We also ensure we are helping to empower the community through upskilling members of the community to assist with programs around health, exercise and education. Every trip we take should involve a bit of upskilling as well as health promotion.'
There is enormous variety in not only the geographical locations of the communities but also in the settings clinicians use to treat their clients. Often Genevieve will treat clients in their home, using the urban environment to facilitate treatment programs. In some locations community centres will store equipment for use during visits while in other locations there is access to communal facilities such as swimming pools or very basic gymnasium equipment. This diversity in settings creates opportunities for the treating physiotherapists to be innovative and imaginative.
'Often we'll be treating at a client's house so we need to see what they've got on site that we can utilise,' Genevieve says. 'They [clients] can hold onto a chair and do some sit to stands, we could bring a little step with us to do some step up work or create obstacle courses, that sort of thing.
'One of the communities that I visit regularly is Maningrida, which is in west Arnhem Land. Maningrida is quite a large community so we have access to a cupboard where we store weights, theraband, tape and the like.'
But before she ever visited Maningrida or any other community, Genevieve and those who join BodyFit NT undergo cultural awareness training and, in some cases, are given orientation by Indigenous health workers. This includes being shown around the community and specific sites and locations of cultural importance.
'Many of the places we visit are on the water, there's islands, fantastic fishing and people swimming in the ocean even though there's crocodiles there.'
'When I first went to Maningrida I had one of the Indigenous health workers, take me around the community in the car and show me places where I was allowed to go and where I'm not allowed to go because it's ceremonial or because I'm a woman,' Genevieve says. 'I think it is really important, to know those spots and be respectful of spiritual landmarks.
'In Darwin the team undergoes cultural awareness training and as a team we have in-services every Friday. Every so often we will have a cultural awareness in-service or team meetings where we discuss issues that arise from working remotely. We might have an in-service on safety out in community … because things do happen and you are out on your own a lot of the time. So just being very aware of those risks is really important.'
To help clients better engage with exercise programs, Genevieve says team members will often seek out a community liaison assistant to help them comply and follow up on the program during the absence of the treating physiotherapist. This integrated approach has helped improve client participation and strengthen the relationships during the gaps between appointments. Compliance is one of the challenges of working in remote communities, another being delivering the health message in a relatable and culturally-relevant way. This can sometimes mean incorporating the use of bush medicines and traditional healing methods in treatment plans, she says.
'A really important part of our work is working as a team with allied health and other community services because ultimately we are all trying to provide the same messages—improving health,' Genevieve says. 'It's important to work with community housing and the local council to address determinants of health that are not just the main, obvious ones such as overcrowding and social situations.
'The culture there [remote communities] is completely different to any other Indigenous culture that I've experienced in the city,' Genevieve says. 'An example is learning about the witch doctor, who is someone who uses black magic as a traditional way of healing. We try to show understanding but acknowledging traditional healing methods and bush medicines while educating about western medicines and treatment.
'The work is so diverse. You could be treating a child for a developmental disorder and then an elderly client with a chest infection and then a footballer with an acute ankle—all in one day,' she says.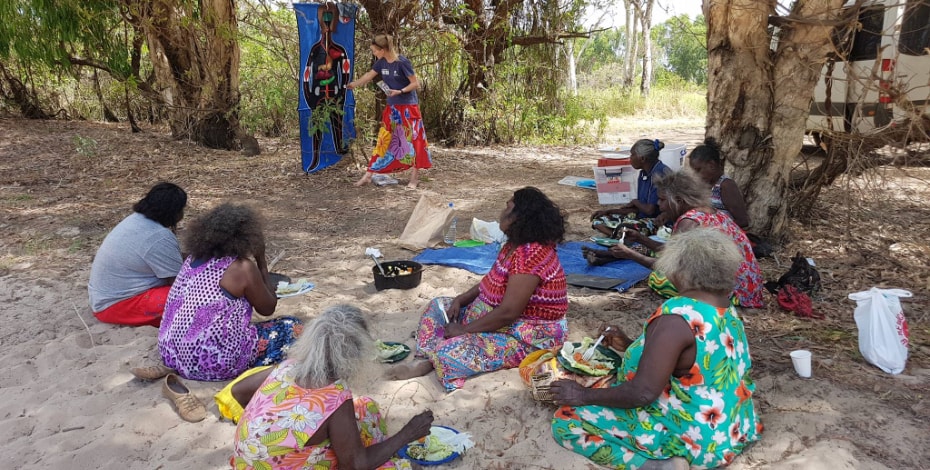 Helping women in remote communities improve health outcomes is all part of the program.
Health promotion activities in some of the remote locations can include physiotherapy- led water aerobics followed by a healthy lunch cook-up in conjunction with the dietician.
The allied health professionals provide the recipe and the ingredients but have the clients cook the meal and take the recipe home. All produce such as salads and vegetables are sourced at local shops and are prepared on accessible equipment such as a camp oven or barbecue.
Genevieve balances her work in the remote communities with her managerial role at the clinic in Darwin and treating private clients at the practice. This diversity, she says, requires a degree of flexibility, an ability to think on her feet and scope to be resourceful. Out in remote areas it also means consultations are generally longer than those held in the clinic.
'When I see a client [in a remote community] there's no point having a short consult, particularly if there are language barriers. Just having someone in and out the door in 20 minutes is not going to do a thing; I'd rather spend time with one person to ensure they have time to understand, discuss and ask questions,' Genevieve says. 'Sometimes follow ups can be a challenge, particularly if you have to refer them [clients] on to another specialist or organise for them to come to Darwin for an appointment, which presents geographic issues.'
Genevieve says she thrives in the diverse environment afforded the physiotherapists who work at BodyFit NT and encourages anyone considering a move to the Top End to take the next steps. 'There is so much to offer physiotherapists up here,' Genevieve says. 'No two days are ever the same; it's so rewarding. The work is always interesting and challenging, but in a good way,' she says.
The Bodyfit NT remote programs team provide services that include:
continuation of care for chronic conditions and post-operative rehabilitation
individual consultation and programs to suit specific needs
men, women and family exercise groups
community walking groups
education and upskilling programs
children's sports and development programs
National Disability Insurance Services (NDIA) provider.
© Copyright 2018 by Australian Physiotherapy Association. All rights reserved.