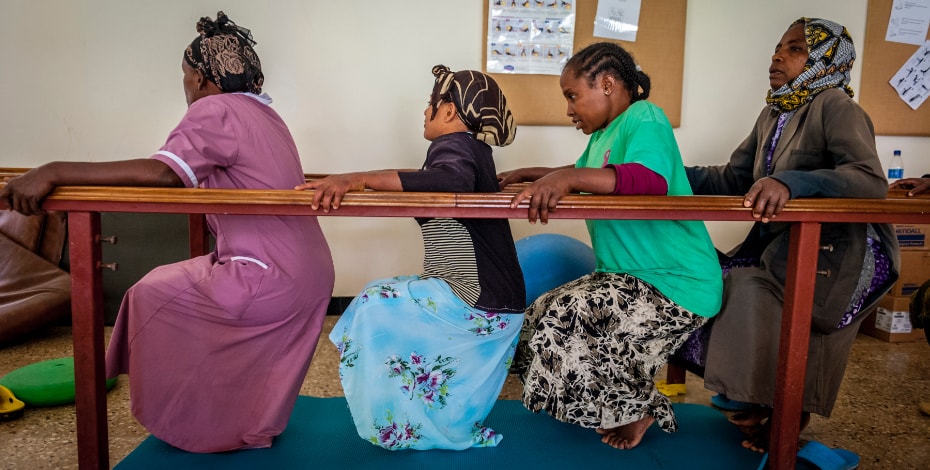 Restoring dignity and hope with rehabilitation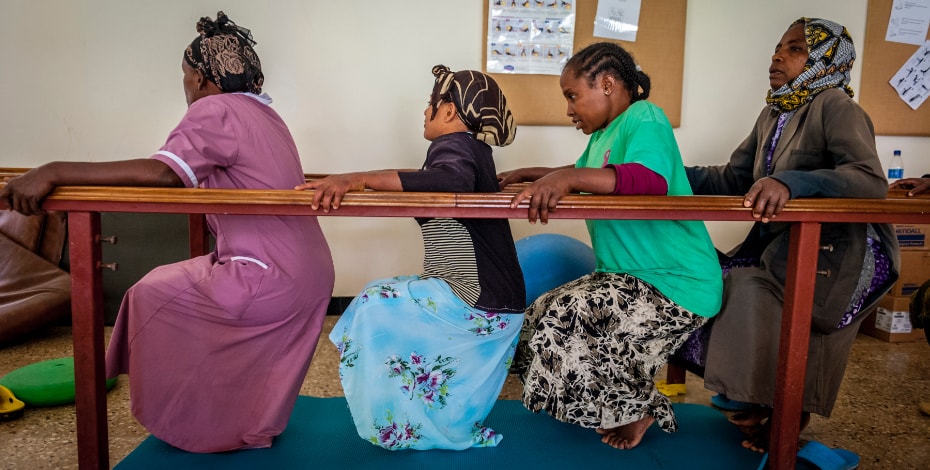 Physiotherapy rehabilitation is a critical element in the treatment of obstetric fistula. Hamlin Fistula Ethiopia is dedicated to restoring the health and dignity of women who have survived the horrendous—and preventable—childbirth injury.
When Abeba arrived at Hamlin Fistula Ethiopia's hospital in the Ethiopian capital of Addis Ababa, she was in a wheelchair, and could barely move her legs—let alone stand on her own two feet.
Back in her remote village, married at 15, and pregnant at 16, she'd endured a seven-day labour, eventually giving birth to a stillborn baby. She then lay helpless in her own faeces and urine, because of a double obstetric fistula injury. An obstetric fistula, one of the worst things that can happen to a woman, is an internal injury caused by an obstructed labour, where a hole is formed between the birth canal and the bladder or rectum.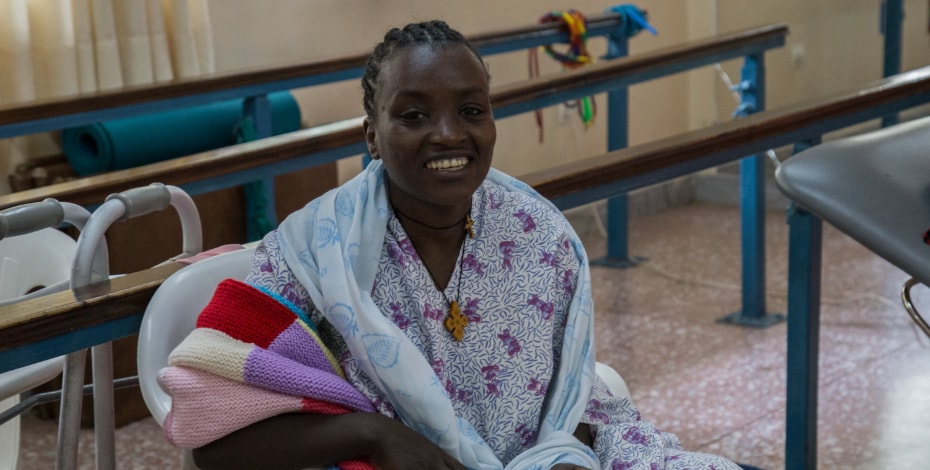 Adeba was in a wheelchair and could barely move her legs before arriving for treatment at the hospital in the Ethiopian capital, Addas Ababa.
In Abeba's case, it was both. She could barely move and ended up lying on a stained blanket in an isolated hut for a year. There was no treatment available for her in her village, but she heard from a relative about the hospital. It took her father two days to push her to the clinic. When she checked in, doctors were alarmed to see how much her muscles had contracted as she'd lain immobile for so long, and how thin, malnourished and dehydrated she was.
'I was afraid to eat and drink because of my problems,' Abeba says. 'You want to do everything you can to stop the mess.'
At first, she was bedridden but today, a year later, Abeba has a grin on her face that she can't wipe off. She has been undergoing crucial daily physiotherapy sessions at the hospital, and then spending much of the rest of her time doggedly doing her exercises alone, including pedalling a stationary bike and lifting weights strapped to her legs.
'I've been told I need to be fit before I can have the fistula surgery,' Abeba, now 18, says. 'I am determined to get well so I can have the operation. And look at me already—I used to be in a wheelchair with both my legs paralysed. Then I learned to walk with a stick, and now I've thrown that away. The doctors say I've shown a big improvement and now I am very hopeful of having the operation soon.'
Abeba says her new lease on life is all thanks to pioneering Australian surgeon Dr Catherine Hamlin, who arrived in Ethiopia 60 years ago and established Hamlin Fistula Ethiopia. There are now six Hamlin hospitals across Ethiopia. Catherine, who recently turned 95, still lives on the grounds of her Addis Ababa Fistula Hospital. Over the past six decades, she and her team have treated more than 60,000 women suffering obstetric fistula injuries.
'I greet her whenever I see her in the hospital,'Abeba says. 'I like to thank her. She has done a wonderful thing for me.'
Like Abeba, many fistula patients are extremely weak when they arrive at Hamlin Fistula Ethiopia. Many are severely underweight. Many have paraplegia or paraparesis, muscle contractures and atrophy including foot drop and hip and knee contractures. Intense physiotherapy prior to surgery is mandatory for these patients to ensure they are fit enough for the Hamlin surgical team to operate to repair their fistula injuries.
The physiotherapy program at Hamlin Fistula Ethiopia's Addis Ababa Fistula Hospital consists of a rehabilitation unit and a stress urinary incontinence (SUI) unit.
'I was afraid to eat and drink because of my problems. You want to do everything you can to stop the mess.'

Adeba, on her obstetric fistula injury.



At the rehabilitation unit, patients' muscle, nerve and joint damage is assessed and treatment provided. The room is equipped with fixed bicycles, walking machines, standing machines, quadriceps benches, infrared lamps, hot packs, ultrasound machines, vibrating massage machines, parallel bars, medicine balls, wall bars and balance boards. Treatment provided by the Hamlin rehabilitation team includes heat therapy, electrotherapy, massage therapy, mobilisation exercise therapy, guidance and support for active exercise, passive exercise and resistance exercise.
Some patients also have secondary physical conditions related to prolonged labour such as back pain, myalgia and SUI which the Hamlin physiotherapy team treat post-surgery.
The SUI unit assesses pelvic floor muscles. The team provides daily pelvic floor exercise classes for all admitted patients after their fistula surgery, as well as for previous fistula patients, who are pregnant and back at the hospital for a caesarean delivery. Intensive pelvic floor exercise therapy is provided to patients and outpatients with stress urinary incontinence.
Hamlin's physiotherapy rehabilitation and SUI units are staffed by qualified physiotherapists who are passionate about their job and about making a difference in the lives of so many. All have a diploma in physiotherapy and Bachelor of Nursing degree.
Sister Selam Aregawi has been with Hamlin for nearly six years and is the head of their physiotherapy department. Sister Aregawi, perhaps more than most, sees these women at their lowest, most vulnerable point. While the Hamlin model of care encompasses a holistic approach of nutrition, counselling, surgery and community reintegration, for Sister Aregawi, the significance of physiotherapy rehabilitation can't be overstated. 'There is nothing more satisfying than seeing these women walk again,' she says. APA Women's, Men's and Pelvic Health Physiotherapist and the registrar of the Australian College of Physiotherapists, Angela James, and her team at AJ Physio & Sydney Pelvic Clinic, are avid supporters of the Catherine Hamlin Fistula Foundation, which raises funds in Australia for Hamlin Fistula Ethiopia. Through events and ongoing support from their staff and patients, the AJ team has raised more than $5500.
This has supported eight women to undergo surgery and rehabilitation to repair their obstetric fistula injury. Ever since Angela first read Dr Catherine Hamlin's book Hospital by the River, she became deeply inspired by Hamlin Fistula Ethiopia's work and acutely aware of the postsurgical issues with SUI.
'There is Level 1A evidence for pelvic floor muscle training to best manage SUI. Critical factors that influence the quality of this evidence based intervention include individualised feedback from an experienced physiotherapist and appropriate progression of exercises,' Angela says.
Last year more than 1300 patients received physiotherapy at Hamlin Fistula Ethiopia. A donation of $50 will cover the cost of a physiotherapy program for one patient.
Click here to support the work of the dedicated physiotherapists at Hamlin Fistula Ethiopia.
Lifetime of healing
Founded 60 years ago by Dr Catherine Hamlin and her late husband Dr Reg Hamlin, Hamlin Fistula Ethiopia has treated more than 60,000 Ethiopian women who have suffered obstetric fistula. After Reg's death in 1993, Catherine refused to leave. She was determined to carry on her dream of eradicating fistula forever.
Catherine has pioneered the way in providing complete treatment for women suffering with a fistula injury. Surgical repair, physical rehabilitation and counselling all form the elements of Hamlin Fistula Ethiopia's world leadership in best practice treatment of fistula injuries and secondary conditions.
Read more at hamlin.org.au.
© Copyright 2023 by Australian Physiotherapy Association. All rights reserved.