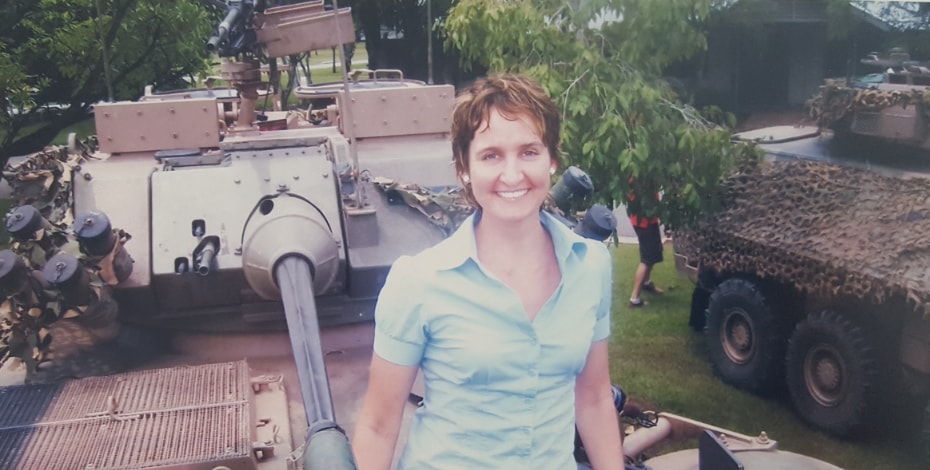 A salute to a fine military career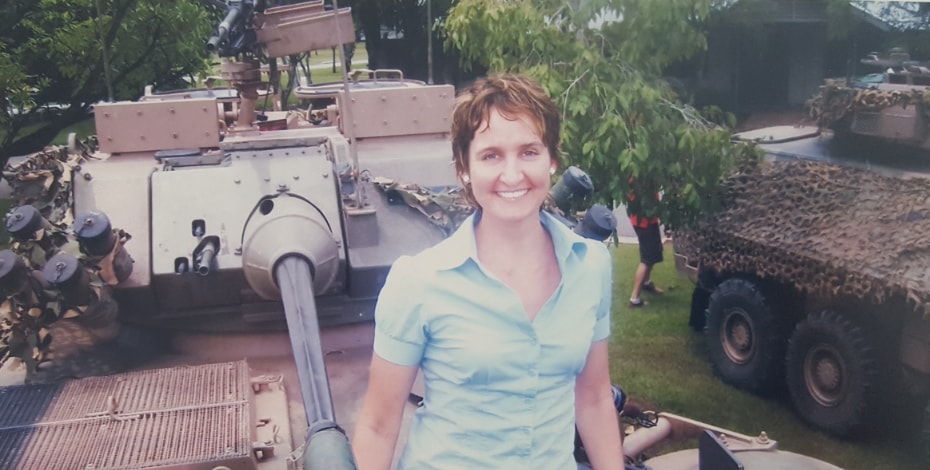 On the advice of a friend, Bernadette Petzel moved from Sydney to Darwin to begin working for the Australian Defence Force. Despite saying she'd only commit to six months at the Top End, it was the start of a dedicated career with the military. Melissa Mitchell reports.
When the sun rises on Anzac Day this month, there is little doubt that APA Sports and Exercise Physiotherapist Bernadette will be among a crowd gathered for a dawn service wherever she happens to be in the country. Having regularly attended Anzac Day services on 25 April with family and friends for many years, the day holds special significance for Bernadette, who has seen first-hand the commitment of our defence force men and women.
'It means a lot to me because Anzac Day is a really clear reminder of the sacrifices and services that our military has made for us. And I think sometimes that gets lost in modern times,' Bernadette says 'In my role, particularly having worked with seriously injured and ill defence force personnel, I've had daily reminders about the sacrifices the current military is making for us.'
At times, either contracted to or employed directly by the Australian Defence Force as a civilian, Bernadette has been working as a physiotherapist with the military since she took the plunge and made what she thought would be a temporary move to Darwin in 2005.
Planning on staying just six months, Bernadette ended up staying for seven years. Discovering that her work environment was made up of young, fun and sociable people, Bernadette easily fell in with the lifestyle and discovered a real passion for her work.
'I worked in a really good physiotherapy department there, I was surrounded by other physios who were doing postgraduate study,' Bernadette says. 'So I ended up signing up to do my postgrad master's in sports physiotherapy.' She completed that master's through La Trobe University in 2010.
Two years in to her contract in Darwin, Bernadette joined the RAAF Reserves. She thrived working on the bustling military base in a job that offered tremendous diversity and a range of professional challenges. The base had a high operational tempo, with large numbers of personnel being deployed all over the globe. That meant that not only was Bernadette's patient load quite high but so too were the standards that rehabilitated military personnel were required to meet in order to perform active duty.
'Much of the work [involved] the assessment and rehabilitation of musculoskeletal and sporting injuries,' Bernadette says. 'The work was fun and sometimes challenging because the injured Defence personnel needed to be rehabilitated back to high levels of fitness and physical capacity in order to reach an employable and deployable status.
'There are also time demands for recovery. You have to try and rehabilitate people quickly; that's because if they're injured for a period of time greater than one or two months, they may need to be downgraded. The downgrade allows rehabilitation and recovery to be a priority but it also means that they can't go on courses, get promoted or be deployed.'
Conversely, Bernadette and her colleagues were also able to rehabilitate many personnel over longer periods, taking on complex cases that required adherence to a lengthy, effective rehabilitation program delivered in high-quality rehabilitation facilities over 12 months, sometimes longer.
'Common injuries in the army include shin pain, whether that's compartment syndrome or shin splints, ankle sprains, knee injuries such as ACL ruptures and PFJ syndrome. Across the tri-services, low back pain, and shoulder injuries are quite prevalent.
'The military population is a good one to work with as it's full of young, generally fit and motivated people. The patients are often invested in their own recovery as it has a direct impact on their career and deployment opportunities. Also it's rewarding as a physiotherapist when you get to guide someone from early-stage rehabilitation right through to late-stage recovery; you don't get the same non-participation/drop-out rates that you can sometimes encounter in the civilian setting,' Bernadette says.
'The other thing is you get to do amazing exercise-based rehabilitation because we have excellent rehab facilities and gymnasiums. Access to such facilities really helps to make the jump from impairment-based therapy to function-based rehabilitation and work-specific recovery. It is another thing that keeps me working with the military and not going into private practice where such facilities are sometimes not as easily accessible.'
Having grown up in a rural setting in country New South Wales, Bernadette needed to move closer to home for family reasons in 2012 and as such she took up a post at Canberra to work at the Royal Military College Duntroon. After nine months she moved on to Holsworthy Army Base in Sydney and finally to HMAS Kuttabul base at Potts Point in Sydney in March 2018.
The Holsworthy posting saw Bernadette become directly employed by the Australian Defence Force for the first time, after previously working as a contractor. She also joined a newly formed multidisciplinary team created to rehabilitate the most seriously injured, ill or wounded soldiers. Bernadette was on this team with a rehabilitation physician, an occupational therapist, a psychologist, an exercise physiologist and a rehabilitation coordinator who liaised with Command. The team worked with a wide variety of military personnel.
'During the time I was out at Holsworthy I worked with people recovering from various injuries including complex gunshot wounds, multitrauma from motorbike and motor vehicle accidents, limb amputations, traumatic brain injury and other conditions such as autoimmune polyneuropathies and cancer,' Bernadette says. 'The other type of complex cases we worked with was chronic pain. Often these cases could have concomitant or primary mental health diagnoses, including depression or PTSD. In such cases physiotherapy had a role to play because there would often be musculoskeletal issues but it understandably wasn't the primary role. I got to learn a lot about acknowledging and addressing the psychosocial drivers behind a person's pain experience.
'The role at Holsworthy was both very challenging and very rewarding. It was a great experience to be able to work very closely with other disciplines.'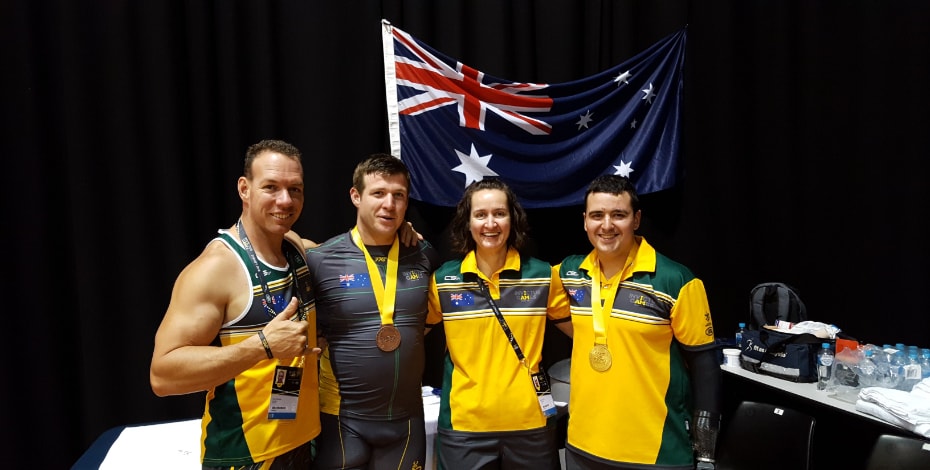 Outside of the military, Bernadette became involved with Paralympics Australia when she undertook an elite sporting team placement as part of her master's, working with Specialist Sports and Exercise Physiotherapist (as awarded by the Australian College of Physiotherapy in 2009) Keren Faulkner. A fellow master's candidate who was linked to Athletics Australia, Victoria Moore, also encouraged Bernadette to provide physiotherapy for the Paralympics team, and she attended the 2012 and 2016 Paralympic Games in London and Rio respectively, as a team physiotherapist.
A year after her last Paralympic Games venture, Bernadette became involved with the Invictus Games, an international adaptive multisport event, created by Prince Harry, Duke of Sussex, in which wounded, injured or sick armed services personnel and associated veterans take part in sports including wheelchair basketball, sitting volleyball, and indoor rowing. She attended the Invictus Games in Toronto, Canada, in 2017 and was one of the Australian team physiotherapists when the Games came to Sydney last year. So did Bernadette get to meet Prince Harry when he attended the Games in Sydney or Toronto? 'No! I was about 10 metres from him but I never got to meet him or shake hands,' she says.
Bernadette says she thoroughly enjoys working with the Paralympic athletes and thrives in the competitive and challenging environment; she hopes to continue working in that field into the future. In the meantime though, Bernadette will be turning her immediate focus to Anzac Day and reflecting on what the day means to her and the country.
'I think that if I'd had the military on my radar when I was younger I would have joined up. It would be a great job to do when you're young—you get to travel and see Australia and potentially see the world,' Bernadette says. 'Even in the modern military, in relatively peaceful times, there are still sacrifices being made by our young people when they sign up, and it is important to pay respects to those and the many others who have given so much to this country.'
© Copyright 2023 by Australian Physiotherapy Association. All rights reserved.