Seeding Grant helps Rebekah grow
PRF Seeding Grant recipient Rebekah Das began her career as a rural physiotherapist and, after several major career incarnations, she now runs a small musculoskeletal physiotherapy clinic in New Delhi, India, with her husband. But she's also taken on an educational role, as she explains to Melissa Mitchell.
There have been many challenges Rebekah Das, APAM, has faced throughout her career but perhaps none more so than moving to India with her husband and fellow physiotherapist Debashish Das, APAM, and starting up a small private physiotherapy clinic. Facing a vastly different health landscape in India, Rebekah has learned to modify her practice to better integrate with the Indian culture, a culture which sees patients take on more of a passive approach to treatment.
'Training in India is more protocol driven. [In Australia] we place a great emphasis on collaborative, individualised practice and helping patients to understand their problem and to take an active role in their own management. This is frequently a very different approach to anything patients in India have experienced in the medical system before,' Rebekah says. 'It is sometimes quite surprising for them to take the reins and not to simply expect to passively be "fixed" by following doctors' orders. Often we have to convince people to try us out as our approach is so different. But those who stay with us obviously appreciate it.'
Using her evidence-based practice and clinical-reasoning training, Rebekah works to improve patients' health literacy—as well as their health. With her husband, a musculoskeletal and sports physiotherapist, the couple runs the myPhysio GK2 clinic in New Delhi. While essentially a musculoskeletal practice, Rebekah has also taken on the role of a continence therapist.
'Essentially there is not really any such thing as a continence physiotherapist here in India. Many undergraduate students do gynaecology rotations as part of their training, but what they are taught to do is quite different to what a women's health or continence physiotherapist might do in Australia,' she says. 'I have trained one of our current staff members to assess pelvic floors and plan to teach further staff as they show capacity and willingness.'
Rebekah's passion for pelvic floor physiotherapy was something she developed while running antenatal classes for rural women in South Australia as a young physiotherapist. Just prior to that Rebekah had been the only physiotherapist servicing six outback towns covering a vast swathe of rural land—a challenge she loved and was dedicated to. But after dislocating her elbow in a horse riding accident, Rebekah had to press pause on her clinical career and instead was excited to be offered the opportunity to embark on a teaching career at the University of South Australia.
'A one armed tutor gets along a bit better than a one armed clinician!' Rebekah says. 'I discovered that I really enjoyed teaching and I went on to complete a graduate certificate in higher education from Queensland University of Technology. My interest in research developed as part of my academic role and of course the positive influence of senior academics who at the time understood the importance of research much better than I did.'
Fitting weekend professional development courses in around her academic role, Rebekah slowly began working clinically again in women's health private practice while also maintaining her academic role. She was nurtured by many experienced continence physiotherapists who mentored her after she began undertaking the professional development courses. Rebekah also sat in with mentors during this time, eventually building up the knowledge base and the confidence to start practising specifically in this field.
Further exploring her passion for pelvic floor physiotherapy, in 2013 Rebekah applied for a PRF Seeding Grant for her research into assessing the sensation of 'Desire to void: development of a new instrument'. Attracting that Seeding Grant, she says, essentially helped her complete her PhD and develop an outcome measure for urinary urgency. Having a PhD, in turn, strongly influenced the way in which Rebekah approached her work as a clinician.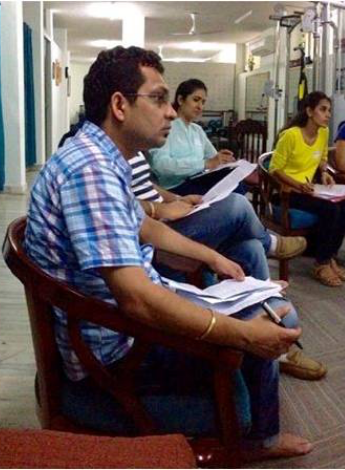 'I think in Australia we are quite blessed with our history of professionalism and in particular the way our profession has embraced evidence-based practice. Moving to India has been an enormous challenge professionally. My husband and I run a clinic and aside from practising as a pelvic floor physiotherapist, my main role has been training our staff to undertake their roles as musculoskeletal physiotherapists.
'What we do as Australian physiotherapists is quite different in the most part to what physiotherapists are trained to do locally in India. Teaching evidence-based practice and clinical reasoning to our staff, and also designing and running courses for local physiotherapists, are activities that I think I now approach quite differently and with more confidence as a result of PhD training. Of course, as a clinician, undertaking a PhD taught me the importance and also the skills for keeping up to date in my field.'
In India, Rebekah noted that gynaecology rotations occurred as part of undergraduate physiotherapy training in some colleges, but she noted a lack of postgraduate courses for training in pelvic floor physiotherapy.
'My impression is that students graduate with a very limited understanding of the pelvic floor and consequences of dysfunction, even if they have completed gynaecology rosters. Any concept of pelvic floor training is limited to verbal "strength" training, unfortunately often using ineffective cues and disconnected from principles of exercise physiology,' she says. 'I have met many women who have been taught to do "Kegels" and are essentially exercising their adductor muscles (at best). I believe pelvic floor training belongs in the postgraduate arena, with awareness of the field and essential anatomy and biomechanics taught at undergraduate level.'
As a physiotherapy committee member for the International Continence Society, Rebekah undertook a survey of pelvic floor physiotherapy training globally and says it is internationally accepted that postgraduate level training involve internal examination of the pelvic floor, organ structures and muscle function.
'When I started to understand the lack of specialised training in India, I did not feel comfortable to begin promoting pelvic floor physiotherapy for conservative management of pelvic floor dysfunction to patients and doctors as there was such a lack of suitably qualified practitioners. I therefore decided to begin by running a few courses myself—it's a drop in the ocean approach but at least a start,' she says.
Her courses cover the concepts and methods to undertake evidence- based practice (which includes how to find, read and appraise relevant articles), to teach in-depth the types of pelvic floor dysfunction and consequent symptoms and how to effectively assess the pelvic floor structure and function via vaginal and anal examinations.
'As Indian physiotherapists are also first contact practitioners, differential diagnosis and the identification of red flags has also been really important. We also have to cover some really practical things like how to set-up a clinic space to be appropriately private and hygienic and also to discuss some culturally different understandings and practices related to pelvic floor function and hygiene practices.
'I am very mindful that by running courses in a field where there are few advanced practitioners, it is also important to offer mentoring and ongoing training and so I have continued to discuss difficult patients with course attendees and to offer journal club-style meetings as well as a few more advanced courses for the small group who have enthusiastically dived into practice in this area and are doing really well,' she says.
Rebekah has spoken at a few urology conferences and a colorectal conference in India, and for the past few years she has been working again with the University of South Australia, assisting with the development and teaching of a professional certificate in the conservative management of pelvic organ prolapse. She has also been a member of the International Continence Society and has taught a number of workshops on the management of overactive bladder at their international meetings. In 2018, Rebekah also presented a similar workshop at the University of Montreal, which she says was a great opportunity.
Reflecting on her evolving career, Rebekah says that applying for the PRF Seeding Grant was an 'an excellent opportunity and at the time one of the few available grant opportunities where I felt that the committees deciding on funding would actually understand the importance of this work'.
'My advice to others considering applying for the 2019 Seeding Grants is to embrace such a unique opportunity. Physiotherapy is a broad profession covering multiple areas and it can be difficult to find other grant opportunities where the intricacies of our research questions are well understood,' she says.
'It is obviously also highly competitive, and so it is vital to put in the hard yards and write concisely, convincingly and realistically. Have many people look at your work before submitting and especially have someone with experience help you to create a realistic and effective budget to meet your goals,' she says.
Seeding Grants assist new researchers working on new or established research projects. Applications for 2019 close on Friday 8 March. There will be six Seeding Grants offered with a maximum amount of $10,000 for each. Application forms and guidelines are available from the Physiotherapy Research Foundation.
© Copyright 2018 by Australian Physiotherapy Association. All rights reserved.