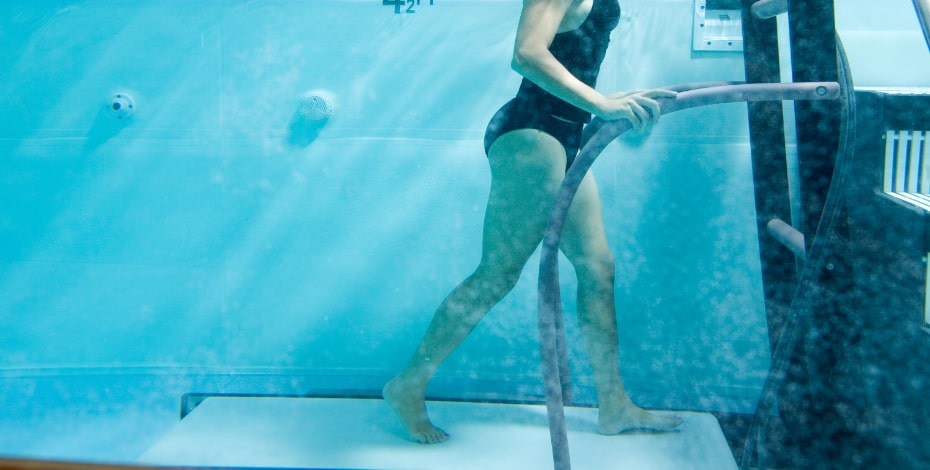 Time to take the plunge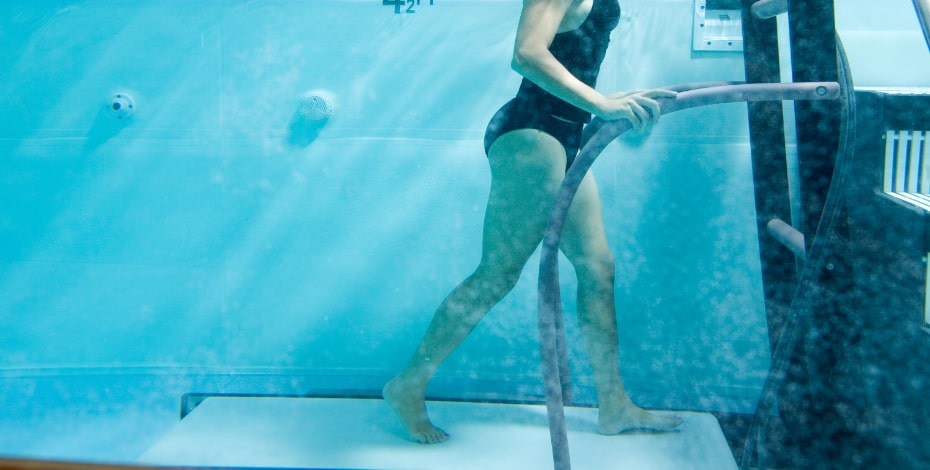 Sophie Heywood, APAM, dives into why you should seriously consider aquatic physiotherapy.
Why should more physiotherapists consider working in the water?
One good reason is that physiotherapy and exercise in water provides an environment that can allow greater freedom of movement.
This can be an empowering positive experience and often aims to improve function.
Being in water offers patients with limitations in fitness, motor control, strength, or for those who are experiencing pain, a different environment in which to move.
The pool also provides  an opportunity for cardiovascular exercise at higher intensity for people with weakness, lower levels of function or weight-bearing limitations.
The pool can be a valuable place to work on specific patient goals, or it can be an effective adjunct to land therapy.
With increasing numbers of people experiencing chronic disease as  well  as the National Disability Insurance Scheme identifying hydrotherapy as a beneficial option, the opportunities for aquatic physiotherapy are growing.
Lastly, the pool is a fun and enjoyable place to work, both for the clinician and the patient.
What is the latest Aquatic physiotherapy research evidence?
In the past, most high-quality studies in aquatic physiotherapy were focused on people with musculoskeletal conditions.
In recent years there is a growing interest and evidence in neurological populations, chronic disease management, brain blood flow, dementia, and older adults.
From Australian clinicians and researchers, there has been a great mix of interesting studies published in the last few years in the areas of aerobic fitness in older adults using water walking, high-intensity interval training in adolescents with cerebral palsy, circuit training for people with diabetes, aquatic physio for falls and balance for people with Parkinson's disease, ground reaction forces in closed chain exercise in older adults with knee osteoarthritis and rehabilitation for ataxia.
The Aquatic Group offers Level 1 through to Level 3 courses. What have those who completed the full suite gone on to achieve?
The Level 1 course is typically completed by early-career physiotherapists; physiotherapists working in a hydrotherapy pool for the first time; and physiotherapists increasing their hours in the water.
The Level 1 course offers the important foundations of understanding buoyancy and drag, risk management, handling skills and movement facilitation in the water, evidence-based practice and a greater mix of ideas and rationale on their selection.
The Level 2 online course and the Level 3 course offer an extended and more advanced discussion of evidence-based practice and clinical reasoning.
Level 2 participants are often establishing a new service or work with a particular group of their patients, and want to design and implement the most effective intervention or explore new ideas for treatment.
Past Level 3 participants have gone on  to run private aquatic businesses as well as manage public and private hospital services.
Many participants have also completed research and quality projects that have been presented at national or international conferences and/or have published their work in peer-reviewed journals.
A number of past participants teach the APA aquatic courses or deliver aquatic education through universities or within their own organisations, both in Australia and overseas.
The Aquatic Physiotherapy Level 2 online units are coming up in May/June, what do they entail?
The Level 2 course is divided into three online courses. Each course takes approximately eight hours to complete and includes interactive webinars and videos, with a focus on keeping them clinically useful as possible.
The first course is on applied physics and exercise,  the second is on applied physiology and the third is on clinical reasoning, decision and planning aquatic programs.
Level 2 course participants from last year described the impact on their clinical practice in the following ways:
'In the past I had predominately copied land exercises in water, which caused me to have difficulty when trying to progress exercises.
'Now having a greater understanding of buoyancy, drag and the other hydrostatic and hydrodynamic effects of immersion I feel I am better able to progress exercises and to make better use of the aquatic environment.'
'This unit has made me consider what type of patient populations would benefit from aquatic physiotherapy, more than I initially thought. It provides a different mode of exercise with its own specific principles which could be really beneficial and exciting for some patients.'
'I felt I already had a good grasp of the physiological principles of hydro, but this unit has highlighted some weaknesses in my knowledge and challenged parts of my practice. I feel like I will be providing a much more evidence-based approach for the future.'
'I have more scope in progressions of exercise…I hope to be more effective in my sessions and better able to fine tune exercises to the right level for my clients.'
The Aquatic Group is encouraging physiotherapists to present their research or quality improvement activities at the THRIVE 2021 physiotherapy conference this year.
Visit thrive.physio/abstracts for details on assistance or mentoring to support abstract submission and presentation of your project in the aquatic environment.
Level 1 (face-to-face), and Level 2 (online), courses are available in 2021. Keyword search 'aquatic physiotherapy' at australian.physio/pd for more information and to register.
© Copyright 2018 by Australian Physiotherapy Association. All rights reserved.