A tool to assist in patient analysis
APA Innovation Advisor Barry Nguyen reviews a useful gait analysis app, which helps physiotherapists examine how a patient walks.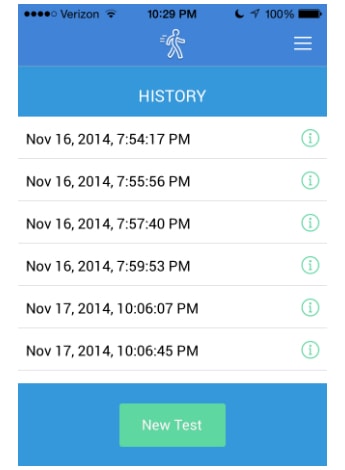 GAIT SPEED
Developer: Rachael Walton-Mouw
Get it: Apple app store or Google Play store
Price: $1.49
The Gait Speed mobile app is a functional measurement that can be used by physiotherapists to analyse a patient's safety, confidence, and effectiveness in walking. The app features a timer, which a physiotherapist can start and stop at pre-determined gait distances and collect multiple time trials while assessing your patient's walking.
A patient's results can be saved on a history page with a time stamp to allow for easy identification and access, or you can save with a password in the physiotherapy information section. Although all patient data is stored in the cloud, it may not be secure.
Pros:
useful in geriatric or neurological rehabilitation environment
easy to use timer—use 'eyes free' external volume buttons or large simple button on screen to start and stop
customisable distance in metres or feet
option for password protection
able to manage and export patient data.
Cons:
pre-set gait distances do not include 10 metres, only 10 feet
the data is saved in the cloud.
Note: The views expressed by the reviewer are not necessarily those of the APA.
ATTENTION ALL APP AFICIONADOS. Interested in reviewing an app for InMotion? Or do you have a suggestion for an app to be reviewed? Either way, we want to hear from you. Email barry.nguyen@australian.physio to indicate your interest or to share your suggestion.
© Copyright 2018 by Australian Physiotherapy Association. All rights reserved.