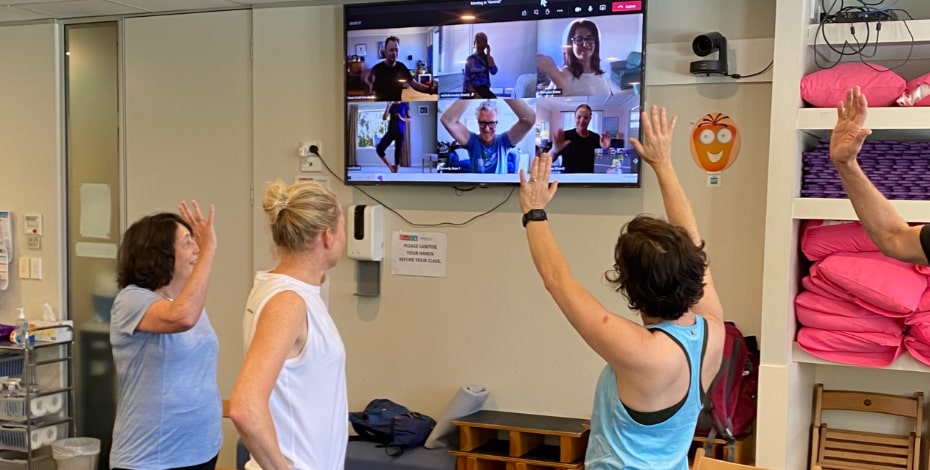 Transform and scale up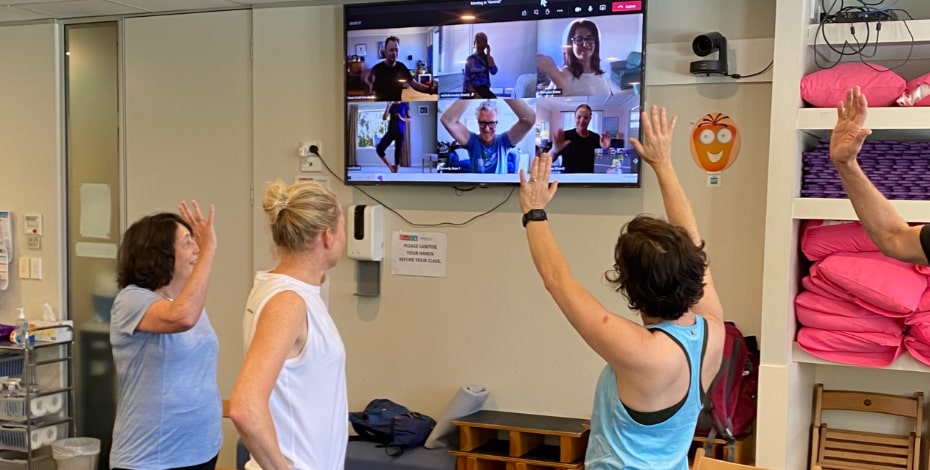 Like many others, this clinic had to adapt to the challenges posed by COVID-19. Change born out of necessity is setting up success for the future.
Like many businesses, Sydney clinic Physiocise had to reassess its services during the initial wave of the COVID-19 pandemic as restrictions tightened across the nation.
Companies that had already started a digital journey were considered in prime position to weather the ensuing storm and maintain business. For others, it would bring challenge and opportunity to adapt and survive.
In a collaborative effort, CEO Melissa Partington, clinic founder and creative director Anna-Louise Bouvier and their team of physiotherapists and administration staff were swift to adapt to the change, transforming to a digitally first business within a matter of weeks.
They adapted a group-based practice that was 100 per cent dependent on face-to-face classes and consultations, to one that has been digitally transformed and services scaled to future-proof the business for the coming decades.
Classes moved to online, a new virtual home program was introduced, telehealth consultations enabled, and a new interactive website was fast-tracked to support an online booking and payment system that was already in the process of being introduced.
Since March, clients from across the globe have been logging in for consultations and group classes. Satisfaction surveys report they are positively embracing the new approach to accessing physiotherapy services.
'But it wasn't about just moving classes to online, we brought in technology that saw us re-cable the mortar and bricks setting and transition as a practice to a fully integrated digital offering in response to COVID,' says Melissa.
'This also meant our team had to adapt quickly to upskill and learn new technology.



'Some went from not using any form of technology in the workplace to hosting online classes using state-of-the-art technology—cameras, laptops, audio, lighting, and sometimes having to troubleshoot quickly if technology or wi-fi failed.'
With governments putting states into lockdown to minimise transfer of the coronavirus, the uncertain climate brought myriad unknowns.
The duo drew on their own skills and experience to drive the change, and called on their professional and personal networks to ensure it happened within weeks.
Melissa focused on the infrastructure and 'tech side' of the business, while Anna-Louise focused on the redevelopment of the website and a communications strategy to ensure clients remained engaged with services.
Melissa also prioritised her staff support and training, as every team member not only had to learn new skills but also a different way of delivering their expertise.
On the IT side, a team of tradespeople, Melissa and her administration team committed to 16-hour days for 'about a week and a half from go to whoa' to re-cable the four-studio clinic, set up and test large screens, video cameras, audio and headsets, as well as start learning how to operate the new equipment.
'We didn't go for the vanilla option, it's a bespoke solution of multiple overlapping systems.



'I had to find people who were willing to think outside the box to make that work—we wanted and needed the best sound and the quality headset and video cameras to ensure optimum delivery of operations.'
Adds Anna-Louise: 'Melissa embraced COVID-19 as an opportunity for a long-term solution to pivot the business and reach out to clients wherever they are in the world at any time.
'She not only called on IT resources to make it happen, but she also considered the security and what would be the best offering for patients—how would they be able to adapt to the change and the technology. It had to be a two-way experience between the patient and the clinic.'
In the back-end, sound governance around security and accessibility were also key requirements for the streaming platform, with Microsoft Teams considered the best option. 
'When COVID started, there was concern about security with Zoom, so we didn't think it was appropriate for medical provision; WebEx was not achievable in terms of pricing. We already had Microsoft licences, the security was there, so we then worked with what we had, and it was accessible to everyone,' says Melissa.
Even though a website upgrade was, she says, already scheduled to coincide with the introduction of the new online booking system, bringing it all together required critical thinking on each piece of infrastructure and the collective whole.
'We are lucky that we had started that process before COVID-19 hit. The one we had was a bit clunky, and with the new website, it is a much more streamlined system and user-friendly. But then again, nothing's ever easy,' she adds.
'When we came to build the website and integrate it with the booking platform and then Teams, there was still a lot of critical thinking that had to be done. As one of the IT guys used to say, "for every solution there is always another problem".'
In assessing each issue, the focus remained on the user experience—how the client would react, interact and respond to each touchpoint when engaging with the clinic in an online and in-person capacity.
'We did a lot of work on making a 360-degree website platform for engagement, that meant from when the client first started thinking about coming into the clinic to then the actual experience,' says Anna-Louise.



To further increase engagement, the team introduced a new weekly virtual home program called the BASS that focuses on balance, agility, strength and stretch.
The program is emailed to more than 1000 clients each week, with an average 70 per cent open rate.
Overall, website traffic continues to grow steadily, increasing from 1500 views a month to more than 4700.
'The results of a satisfaction survey regarding patients' response to the BASS are testament to the gratitude and value they feel they have had from our response to the COVID-19 crisis. Just over 80 per cent of clients say they love it,' says Anna-Louise.
The digital-first approach has enabled Melissa and Anna-Louise to position Physiocise as a leader in continuity of care with a full suite of wrap-around services.
'It's also about the reporting, the security, the feedback, the follow up—that's all happening at the same level as if the patients were coming into the classroom,' says Anna-Louise.
'Physiocise has always been about innovation combined with exceptional care. We have created a best-in-class offering that has allowed us to deliver classes and telehealth to our clients.'
Adds Melissa: 'The key thing we were concerned about was people not being able to access allied health or other medical care, and losing that sense of community and connectedness that comes with it.
'Being able to stay online during COVID-19 has kept our clients connected, kept them strong.'



The patient-first approach required incredible commitment by the administration and physiotherapy team to upskill in IT, and tutor clients of group classes, most of whom are aged between 50 and 80, to set up the required technology on their personal devices.
'While some clients had experience in using FaceTime, it was new territory for most and they really embraced having the help as they wanted to stay engaged with their classes and other clients.
'For some, it was the only visual contact that they had had with people during the COVID lockdown, which really highlights the importance of delivering online patient-centric services for physiotherapy.'
When initial transformation was undertaken at the end of March, more than 80 per cent of clients remained engaged with group classes throughout restrictions, with the remainder of the clinic's full caseload slowly re-engaging within weeks of the new technology roll out.
'They were seeing what was possible and how it could be accessed, so the response has been phenomenal, with clients feeling they are still getting that quality of care, even if they aren't standing there in the room with you,' Melissa says.
Physiocise will, she says, head into 2021 in a much stronger position after adapting their business model.
'There will still be ups and downs in the coming year in terms of COVID, but in being adaptable we know we can provide continuity of care and, at any moment, have five people in the room and 10 people at home or vice-versa. We can do whatever is required to keep people safe.
'We also have the scope to expand services and reach a wider audience. We even have clients returning to us after having moved away or overseas for work or family, and others coming to us because of word-of-mouth.
'There's a whole new side of the business that is now there. There were small touch points before, but now they can be regular.'



DIGITAL CHANGE IN THE CLINIC
Here are Melissa Partington's top tips on digitally transforming a clinical practice.
Sourcing hardware
Know what you want, and consider the scale and scope of your practice. Also, go with what you can afford and are comfortable with in delivering the best customer experience.
Large screens enhance the client experience. Do you have capacity in-house to focus on IT or will it be outsourced?
Dealing with issues/upgrades
Digital is never done. There will always be upgrades and issues, with Wi-Fi dropping out, clients needing support, staff training.
Create trouble-shooting guides for clients, and accept that system crashes will happen, so stay calm, and methodically work through a technology check.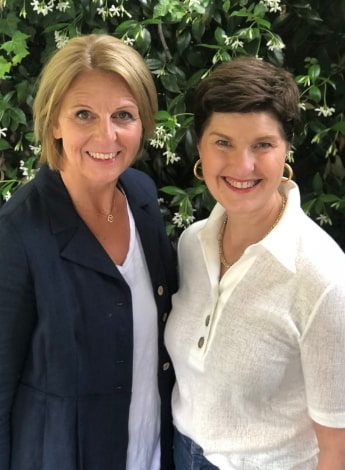 Upskilling your team
Change management is hard so it is critical your team are part of the journey. With admin teams, there may be capacity to take on an IT role, but ensure this comes with best-practice training.
Choosing equipment
You basically get what you pay for, as not all equipment is made equally. There are cheaper options, but is that going to give a clearer image on screen, will the headpiece and microphone deliver good-quality sound?
Do your research, ask questions of the experts, and work with someone you are comfortable with. 
Choosing systems and platforms
Security and customer accessibility are critical. Always consider how they will interact with booking systems and websites. If they don't find them accessible then they won't use them, which defeats the purpose of going digital.
FOCUS ON THE CLIENT
When introducing change to your clinic, a customer-centric approach is vital, says Anna-Louise Bouvier.
Choosing a website platform
Your digital footprint needs to reflect the quality of your services. If you are producing content, such as videos and articles, then consider a user-friendly website platform, such as Squarespace.
Factor in time and costs of producing content, whether it is done in-house or you engage a specialist provider.
Understand what engages
You may have an idea to produce content or video, but is it resonating with your target audience?
Use analytics to identify what works so you are only investing in what clients want. If you are not sure, ask them. SurveyMonkey can help you do this.
Communications
Keep staff informed on all activities, so they remain invested in your practice and purpose.
For clients, use email campaigns to promote programs and practice news and reinforce your value.
Understand your ecosystem and keep clients within it, ensure your website has all the information clients may need.
Know your point of difference
There will always be competition out there for exercise and therapy dollar. They key is to understand what makes your practice special and to clearly articulate that every step of the way.
© Copyright 2018 by Australian Physiotherapy Association. All rights reserved.