Changes to the APA Member Insurance Program
The APA, together with our insurance broker, BMS, annually review all products offered to our members, ensuring access to comprehensive and competitively-priced insurance cover that meets your needs as a physiotherapist.
From 31 December 2022, the APA Member Insurance Program is changing.
Why is my cover changing?
The global insurance market is undergoing a significant shift due to a number of unprecedented global events. As a result, APA member insurance premiums have been increasing substantially over the last few years. The APA has absorbed the majority of these increases in order to minimise the impact on our members. This year, we need to take additional steps to ensure the continued affordability of the APA member insurance program, including some policy changes as outlined below.
When are the changes applied?
The changes to the program will be reflected in all policies renewing from 31 December 2022. Please refer to your Policy Schedule for further details on your policy.
What's changing?
The table below shows the changes to the policy effective from 4pm, 31 December 2022.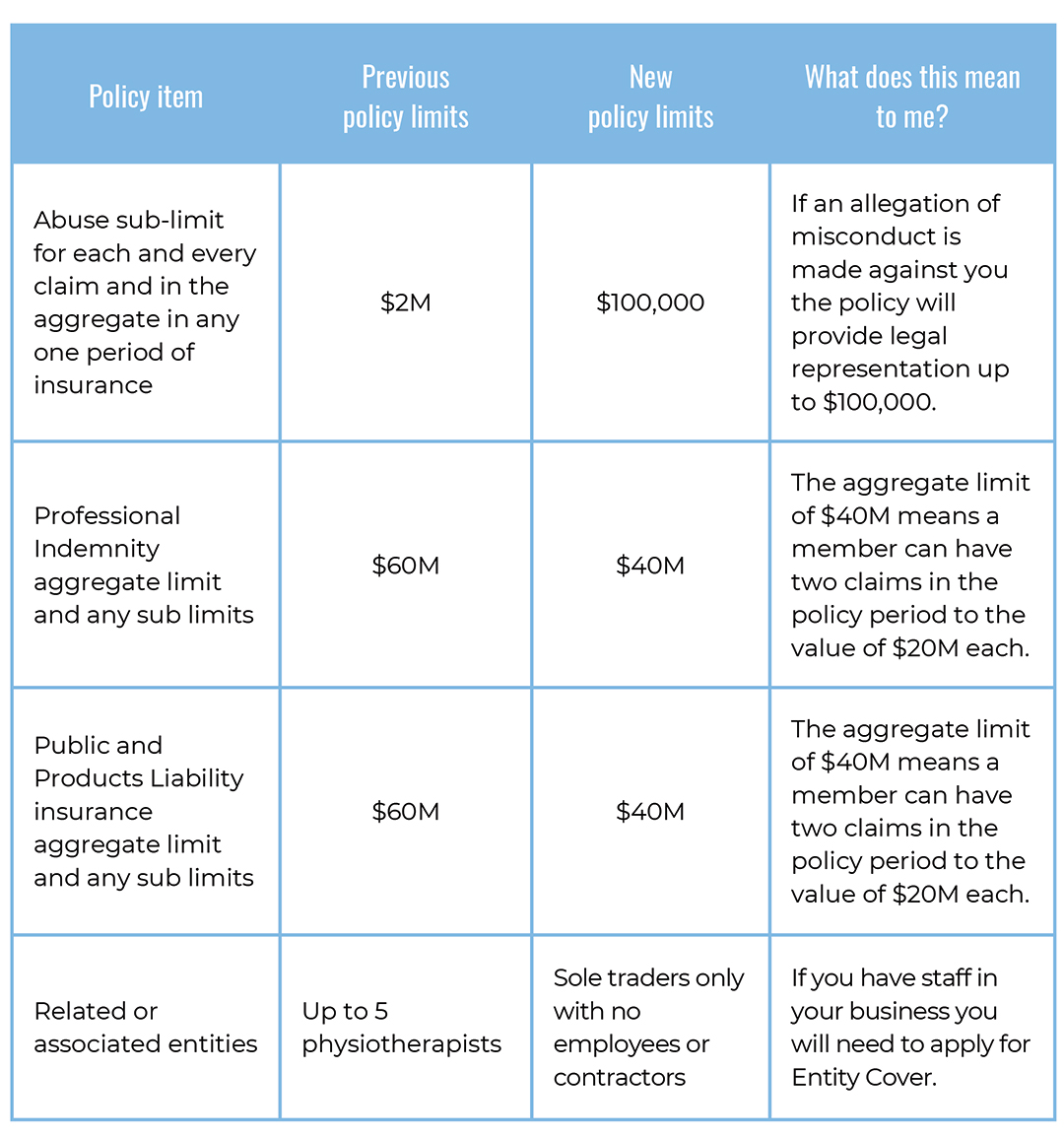 Is the APA Member Insurance Program still compliant with the Physiotherapy Board of Australia (PhysioBA) and the Australian Health Practitioner Regulation Agency (Ahpra)?
Yes, the APA professional indemnity insurance policy complies with and exceeds all requirements set by the PhysioBA and Ahpra.
Entity Insurance
Do I need Business Entity cover?
It is good practice for all businesses to cover their entity risk. If a clinician in your business is named in a legal proceeding, it's not unusual for the business to be investigated as a means of determining liability and fault, if any exists. If you are a business owner, or sole trader, it is important to ensure your entity risk is adequately covered. We encourage you to contact BMS or via the BMS Online Portal to determine the best cover for your specific requirements.
Will there be an extra premium payable?
If you are a Sole Trader with no employees there is no additional premium payable under the policy you hold through your membership however, you still need to apply for cover to obtain a certificate with your business name insured. If your business has staff (in any capacity), a premium will apply. Premium is individually assessed for each business and can be determined by logging into your APA account and visiting the BMS online portal here.
How do I gain Business Entity cover?
BMS has a self-service microsite to help our members gain business entity cover. If you decide to take out this insurance, it is important to do so via the BMS microsite. Once purchased (even if there is no premium payable), the site will automatically issue you an Evidence of Cover, noting your business entity name, via email. Please note that if you do not apply for business entity coverage you will not be automatically covered under your insurance as part of your normal APA membership and insurance policy.