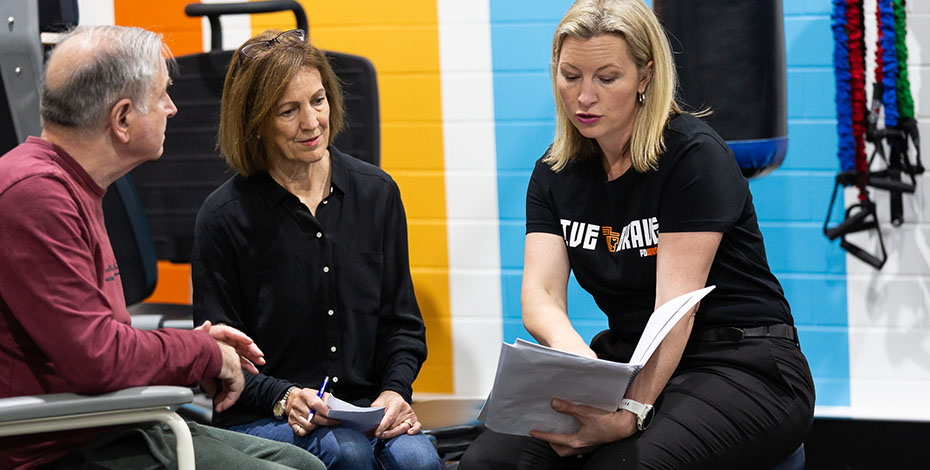 Adventure opens up a world of physio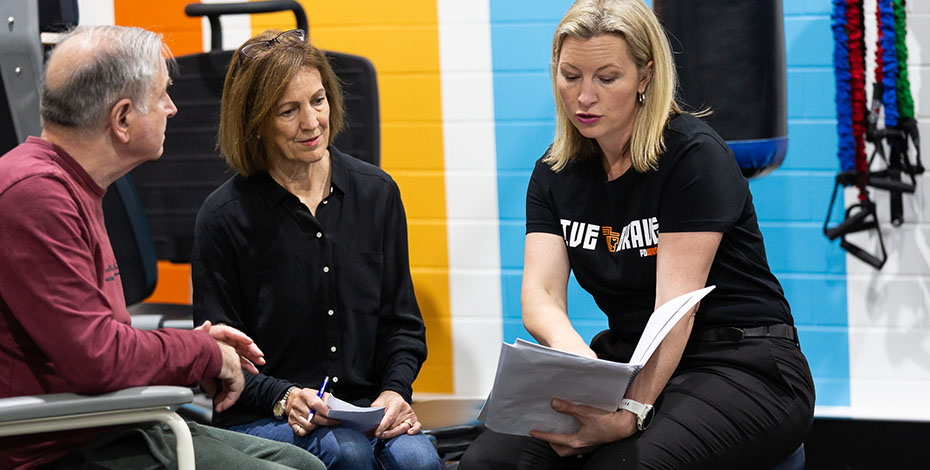 Before she became a new member of the APA Board of Directors, Dr Melissa McConaghy FACP explored the world and the many options that the physiotherapy profession offers at home and abroad.
Melissa McConaghy was in the middle of teaching a course in London when her phone began beeping madly.
While trying to continue with the instruction, a mildly distracted Melissa apologised to course participants and quickly checked, thinking it could be about her children.
The pings were messages of congratulations from back home in Australia—she'd just been named Physiotherapist of the Year in the Allied Health Awards.
'I read the messages and I remember I was shaking and I said, "Oh guys, I know I'm teaching you but hang on, I just need a moment",' Melissa recalls.
Although she was halfway around the world, in that instant Melissa's heart was back in Sydney, the home town she'd returned to and in which she had set up two businesses after travelling and working overseas for many years.
The 2019 Physiotherapist of the Year award kicked off an incredible year for Melissa, who would go on to receive the APA New South Wales Branch Council's Contribution to the Profession award.
Both awards came off the back of an industrious time for the Specialist Neurologist Physiotherapist (as awarded by the Australian College of Physiotherapists in 2010), who had founded an annual online conference on Parkinson's disease the year before.
The conference, attended by up to 10,000 delegates from across physiotherapy and other health professions, has raised an incredible $200,000 for charity partners.
Not long before that, she had also founded PD Warrior—her biggest professional achievement to date (see details below).
'I think winning any award is amazing—just to know that what you do in your daily life can be recognised in such a way,' Melissa says.
'When I won the New South Wales Branch award, it was huge because the candidates and the finalists were very well-known people. To be among them was an honour, let alone to actually win the award.'
These accolades, along with a HESTA Impact Award for her contribution to health in 2022, number among Melissa's extensive achievements and interests in the area of neurological physiotherapy.
It is a field for which she developed a passion as a new graduate on rotation at Bankstown-Lidcombe Hospital in Sydney's south-west. It was here that Melissa was first introduced to one of the biggest influences on her early professional life, her supervisor Karl Schurr APAM.
'I fell into neuro really; I went to Bankstown to do my year of allocation and I ended up with an incredible student supervisor, Karl Schurr, who many would know was one of the best. He was instrumental in helping me fall in love with neuro.
'I found it incredibly rewarding to be able to take somebody from needing to be helped out of bed to becoming independent with the basic activities of daily life. I instantly found that incredibly appealing; nothing else felt as impactful after that,' Melissa says.
After 12 months at Bankstown-Lidcombe Hospital, Melissa set off on the first of her overseas ventures, starting with her appointment as supervisor of the University of New South Wales' physiotherapy undergraduate clinical placements in India.
After enjoying some time travelling India as a tourist, Melissa spent several more weeks with the students in various locations in India as they treated a broad patient cohort in sometimes very challenging environments and circumstances.
The nature of the work was confronting at times and some patients resorted to fashioning equipment using whatever they could find.
'I remember horrific stories of people seeking rehab, with local therapists trying to create prosthetic limbs out of PVC piping. It was a phenomenal grassroots experience,' Melissa says.
Following that, she travelled to Thailand, where she spent the better part of a year working at a school for children with disabilities as an Australian Youth Ambassador for Development.
The school, located just outside of Bangkok, proved to be an eye-opener for Melissa, who marvelled at how much the local physiotherapists could achieve with scant resources.
Being unable to speak Thai presented a few challenges initially, which she overcame with the use of gesturing and very patient colleagues and kids until she could get by in the language.
'It was an incredible year,' Melissa says of the experience. 'It was such a hierarchical model to work within in Thailand and to see what the physios were doing with practically no resources, but still making a difference to children's lives, was incredibly powerful.'
The experience of working in foreign countries allowed Melissa to stretch her physiotherapy skills in a multitude of of new and unexpected ways, offering insights into just how much the profession has to offer.
'I think physio as a profession really lends itself to the ability to travel,' Melissa says. 'Physio is amazing in its diversity and the portability of the skills that you can take with you.'
Before heading back to Australia, Melissa landed a job in Wales with a company providing in-home rehabilitation services, funded through a trust instead of the UK's National Health Service.
This innovative business model stayed with Melissa when she returned to Sydney in 2005, as did the profound experiences of her travels. She began laying the foundation of what was to become her first business, Advance Rehab Centre.
'After coming back [to Australia] I spent a couple of months looking around to see what I could do and then decided I was going to have a crack at opening a business myself.
'I couldn't see too many neuro-specific organisations doing home-based rehab at the time, so I set up on my own, knowing that it would always be multidisciplinary.'
Working from the spare bedroom in her mother's home at a time when Department of Veterans' Affairs patient slips were all manually handled, Melissa recalls piles of slips laid out on the family's dining room table waiting to be sorted.
Over time, Melissa has grown the business from sole practitioner to now employing more than 100 staff. Three years ago she stepped back from clinical work to focus on education and training, while also running her second business, PD Warrior.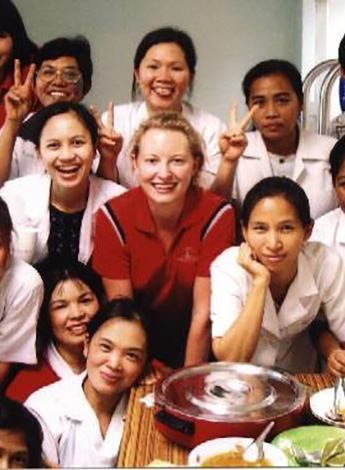 Melissa with some of the staff at the school for children with disabilities in Thailand.
Recently Melissa added another feather to her cap, that of a member director on the APA Board of Directors. 
Bringing her business strategy and leadership acumen to the table, Melissa says she is keen to absorb the knowledge of more experienced board members as well as working towards strengthening career opportunities for physiotherapists.
'I'm looking forward to making a contribution and learning from the rest of the board how to become a really effective and valued board member,' Melissa says.
'It's going to be a steep curve, I think, but other people do it and they do a very good job so I'm sure it can be learned and I'm ready for the challenge.'
'One of my strengths is strategic and big picture thinking and, my staff would tell me, "telling people what to do".
'I've discovered, after many years of being in business, that I'm not very good at the finer detail of implementation and execution. I don't like admin and because of this have become better at surrounding myself with great people who have those skills and enjoy that.
'I'm hoping that might align quite well with being on a Board.'
Warrior for a good cause
Melissa McConaghy FACP had been treating patients with Parkinson's disease since 2000 before helping to found PD Warrior, an exercise rehabilitation program that sees Parkinson's patients vigorously challenge mind and body coordination to improve mobility and decrease tremors.
Along with co-founder Lynn Tullock APAM, Melissa set about showing how an evidence-based program modelled on neuroplastic exercise—previously thought beyond the capabilities of Parkinson's patients—can make big changes.
In 2011, PD Warrior was born.
'It is a novel treatment that is designed to rewire the brain, improve symptoms and slow Parkinson's down,' Melissa says.
'PD Warrior has probably been the best thing that I've ever done as a physio. In neuro I feel very privileged to be able to help people every day of the week, even if it's not directly—it's through my team.
'But I think PD Warrior has been quite special because of the impact it has had and the hurdles we had to cross when we first developed the program.
'I remember being called a "cowboy" and being told how radical the treatment was—and it took a thick skin to take it to market and to push and promote it.
'I published a book and I'll never forget launching that book. I thought, "Oh my God, people are going to read this; my colleagues are going to read this; I'm going to get raked over the coals."
'And I really did. But I think it made me stronger and I knew it worked.'
The program is now licensed in 10 countries and delivered in four different languages by physios trained to deliver PD Warrior either face to face or online, individually or in class settings.
It includes options for private online classes and coaching as well as the provision of a 10-week challenge, all tailored to each Parkinson's patient's specific needs.
© Copyright 2023 by Australian Physiotherapy Association. All rights reserved.