Juggling study, work and family is a balancing act
In the fourth iteration of this series, we speak with a physiotherapy student who is also a single parent and an advocate for self-care, and an overseas-trained physiotherapist who has blended private practice and raising a family with studying to become a twice-titled physiotherapist and working towards specialisation.
Kathryn Grew, APAM
Mother of two, Townsville, Queensland
I'm currently a second-year physiotherapy student at James Cook University.
I commenced my degree in 2018; however, I took a leave of absence when I was going through my divorce and came back to study in 2019.
I was full-time in my first year and then last year with COVID-19, and the challenges of single parenting and home schooling, I went part-time before returning to full-time study in 2021.
I'm originally from Brisbane, but have called Townsville home for the past six years.
I was accepted into the physio program at the University of Queensland in my early 20s, but at the time my now ex-husband was just getting into mining.
So I had to make that life decision—do I go with my partner and follow his dreams or do I stay in Brisbane?
I went with him and completed my Bachelor of Arts in Sociology at Griffith University.
But I always had that intense desire to go back to physiotherapy.
I've long been fascinated by what the body can do and with pushing your body to its limits, having been involved with umpiring hockey at a national level and playing competitive sport since an early age.
And I think you respect that a lot more as you become a parent—the way that the body grows and changes and what you go through to bring a child into this world.
It is incredibly fascinating.
I'd previously been qualified as a personal trainer and, after the birth of my second child, I also became qualified to teach mat work Pilates, specialising in both pre- and postnatal care.
I'd moved a lot with my ex-husband because of his job and at the time we were living rurally west of Mackay.
I started to see the gaps in the healthcare system because I was exposed to them.
I was running my own business, teaching Pilates and working with women who hadn't had access to services to make that period of their life more comfortable or to provide them with the education to do so.
And I think that was when my heart went, 'This is what you were born to do in life.'
I have two primary-school-aged children and life can get really crazy juggling single parenting and studying a degree like physiotherapy.
It can be quite mentally exhausting at times, but my kids are amazing.
They are with me almost 70 per cent of the year, which means they have long days with before-school and after-school care every day.
I give them as much as I possibly can and we regularly prioritise reconnecting as a family by ensuring we eat dinner together every night, and spending quality time outdoors together away from the chaos of city life.
This helps us recharge when we're all feeling a little bit worn out.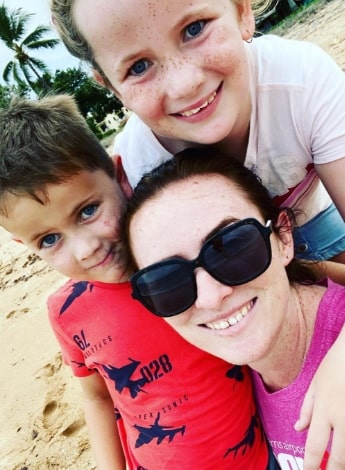 Kathryn and her children enjoy spending time outdoors as much as possible.
Sometimes, particularly leading into exams, I do have to sit down and have that chat with them and say, 'The next two weeks are really important for me.'
I might need a bit more from them in that time, but in return I give them back what extra they need from me once it's done.
We celebrate all my academic success as a family, as it is as much their victory as mine.
We are a team.
I couldn't do what I do without them.
I managed to do an Ironman triathlon in my first semester of physio, with 20 to 30-hour training weeks on top of study.
I could not have done that had my kids not been there to support me every step of the way.
Organisation is our key to success; we have a family planner, colour-coded with everyone's schedules, on display in the kitchen.
It shows everything from extracurricular activities to when homework is due, what they have on each day at school and what uniform is required.
The kids can see what my schedule looks like and can even ask Google what is on that day if they need clarification.
We have flexibility to work with each other.
And I make sure to prioritise my mental and physical health among all of this.
It's not negotiable for me to do some sort of exercise every day because it keeps me balanced and allows me to go from being mentally switched on as a student for more than eight hours to being switched on and available as mum for the remainder of the day.
I'm also an advocate for myself.
I see a psychologist every second week, because it's important to touch base with that independent person who just reinforces that you've got this.
Being a bit of a perfectionist and a bit of an overachiever, I am not one to just be happy with a pass.
I put 110 per cent in every day and sometimes that's to my detriment.
But it's this drive, determination and passion that are going to make me an exceptional physiotherapist.
My advice is to use what resources you have at your disposal, whether that's having family around or drawing on the services available through your university, or whether it's just speaking to people who have been there.
Put yourself out there; it's okay to be in that vulnerable position and ask for help.
And you need to learn to be flexible.
Parenting is not a straight line; it doesn't always go to plan, no matter how organised you are.
I think what I have learned is that when it doesn't go to plan, it's not the end of the world.
Shalin Patel, APA Musculoskeletal Physiotherapist and APA Sports and Exercise Physiotherapist
Father of one, Bacchus Marsh, Victoria
I grew up and completed my bachelor's in India.
I always had an interest in human health, the body and biomechanics and it seemed the right sort of area to go into.
I think as any new graduate, you come out with this excitement and think you can fix the world.
But pretty soon I was disappointed and within a year I was thinking, 'Hang on, this isn't working.
'Something is not right here.'
That's when I decided to pursue further education and I came to Australia for that in 2007.
I did my master's in sports and manual therapy at the University of South Australia, which was an intensive two-year program.
Then I stayed in Adelaide for about six-and-a-half years.
Because I was an overseas graduate, I needed to go through the Australian Physiotherapy Council assessment process for overseas-trained physiotherapists.
While I was going through that process, my wife became pregnant and my daughter Taashvi was born in 2015.
After graduating, my first stint was in private practice and I've been in private practice for almost the past 15 years.
In that time I've become an APA Titled physiotherapist in both musculoskeletal and sports and exercise physiotherapy.
I'm currently undergoing a two-year training program with the Australian College of Physiotherapists to be a Specialist Musculoskeletal Physiotherapist; I'm in my first year and the first six-month block is coming to an end.
Juggling study, work and family life is definitely challenging.
I was up after midnight last night trying to submit a case study that's due next week.
This morning I was prepping for the PD session for the rest of the team.
I work with a private practice, Back in Motion, and we have a team of 15 clinicians.
I'm one of the senior supervisors and I have the responsibility to steer the professional development for our team.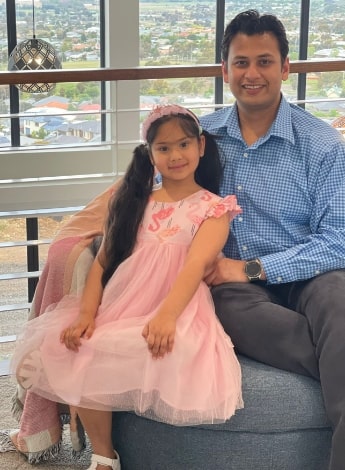 Shalin and his daughter Taashvi enjoy spending time together when they can.
I always knew that I wanted to pursue professional career growth and that it would be challenging at different points in time.
But how challenging it would get—that's a guess until you are facing the situation.
I am someone who thrives under pressure.
Challenging times work out for me but if I look in hindsight, it's almost like nothing has ever been easy.
That just makes the results a lot more rewarding because you need to put in time and effort, and make sacrifices, to appreciate things more.
Some days work takes priority, other days studies take priority and on other days, the family and time spent with my daughter take priority.
It's a constant balancing act in some ways.
You have to have a bird's-eye view of what needs to be done at what point, then you go in and address those tasks and move on to the next priority.
I'm fortunate that my employer is very supportive of me pursuing higher academic and professional recognition.
I have flexibility in terms of my work hours and the kind of clients I want to see, if needed.
My family has been great.
My parents came over from India and they got stuck here just as the borders closed in Victoria due to COVID-19.
That was a blessing in disguise because I've had both my parents looking after my daughter, which made things easier for me in terms of working and studying.
It worked out well for the most part.
However, when they left, it was suddenly, 'Hang on, life is not as easy as you thought it was.'
My advice for other physio parents or soon-to-be parents is that it's a marathon, not a sprint.
You absolutely need to plan and have an idea where you want to go, have a goal in terms of what you want to achieve, and then almost reverse-engineer from that point on.
You also need to be adaptable to the time line because not everything gets achieved when you want it to be.
That's probably one of the biggest lessons we've had in the past two years, I think.
We might want to do things but it unfortunately doesn't happen according to plan.
Adaptability and resilience are definitely the key.
© Copyright 2018 by Australian Physiotherapy Association. All rights reserved.