More than a side hustle
Emma Bamblett was commissioned to design the logo for the APA's new podcast series, The Deadly Physios. She talks to InMotion about the art of storytelling.
When Emma Bamblett was approached to design a logo for the APA's new podcast series (see breakout below), the brief was to capture the essence of our Aboriginal and Torres Strait Islander culture, connection to Country and the power of truth-telling.
Emma heard this calling, creating an extraordinary piece of art that transcends the message of The Deadly Physios series.
Emma, a proud Aboriginal descendant from the Wemba Wemba, Gunditjmara, Ngadjonji and Taungurung people, was born and raised in Echuca on the Murray River, before relocating to Melbourne 19 years ago.
Prior to discovering her artistic talents, Emma completed a bachelor degree in arts and business management at University of Technology Sydney (UTS), specifically in community management for not-for-profit organisations.
'I didn't finish high school at all. I went straight into the workforce and then realised later on in life that I have to go and get a degree and it was well and truly worth it.'
After having her third child, and soon after completing her degree at UTS, Emma says she needed something therapeutic for herself, so she decided to do art.
What began as a simple, relaxing pastime has turned into a powerful form of self-discovery and storytelling.
'I'm getting to tell stories through my artwork and connect to my identity through art. On my dad's side, we all have that artistic creativity.
'In channelling that, I have learnt heaps about myself, in regards to totems, my Country, my kinship, connection to Country. That's been a passion for me—totem and family trees and finding out about Country.
'My art is my hobby. I work full-time in family and child welfare at the Victorian Aboriginal Childcare Agency, where we help kids keep connected.
'We have one of the highest rates of Aboriginal and Torres Strait Islander kids in care in Australia and that's where I love doing group work, working with young people and keeping them connected to culture.'
Despite claiming her art is a hobby, Emma now has two thriving businesses she calls her side hustles.
The first, Emma Bamblett Koori Art, is Emma's more personal art, which includes paintings, commissions and murals.
Her second side hustle, with long-time friend and colleague Megan Van Den Berg, is called Kinya Lerrk, which means 'women coming together' in Wemba Wemba.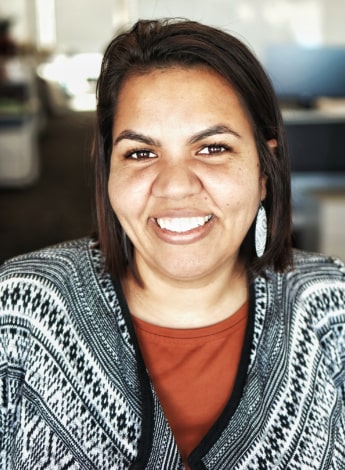 Their focus is on using design and art that celebrates Aboriginal culture and respectfully acknowledges traditional owners of the land.
Their product series includes indoor and outdoor Acknowledgement of Country plaques, tea towels and a candle series titled 'Back to Country' reflecting on the scents of Country.
In the past two years, Emma has been exploring digital art design. When creating the podcast logo, she says three key things stood out: connection to Country, connection to mind and body, and storytelling.
'This is the main part of why I am an artist—because I get to tell stories. I've used a lot of symbols that speak of networking, connection, respect, learning and building knowledge and also sharing those stories.
'When you look at the art piece, I'm hoping that people can visualise that's what the story is telling— the strong connection to Country, to mind–body and that key storytelling theme throughout it.
'I think it's important work that the APA are doing. I was amazed to see that there are Aboriginal physiotherapists out there.
'For me it all made sense, because the trauma from past policies that the government placed on Aboriginal people affected our whole minds, our bodies.
'I can see and hear stories now from our elders of the impacts of that past trauma; they have affected people's bodies and wellbeing and transferred onto young people and their families.
'I believe it's important work and it was a pleasure to do the artwork for the APA.'
To discover more about Emma's talents, tune into her episode of The Deadly Physios here nd check out Emma Bamblett Koori Art and Kinya Lerrk online here.
Connection through storytelling, culture and Country
This painting represents the journey of the Australian Physiotherapy Association and the importance of reflecting connection to culture and Country through truth-telling.
There are three circles within this art piece that represent the core foundations of the Australian Physiotherapy Association.
The purple circle on the left side of the art piece with the two symbols of people represents storytelling. The curved lines coming from the heads represents truth-telling.
The top circle with the figure symbol represents the importance of social and emotional wellbeing for Aboriginal people and the importance of having an Indigenous physiotherapist.
The blue and green circle on the right side of the art piece with the circle and hill formations represents the importance of connection to Country. The hill formations represents land and mobs.
Around the art piece there are blue and purple circles connected by curved lines. They are ways we connect, build relationships and support community.
The continuous lined work throughout the art piece represents respect and strength in Aboriginal culture. It is throughout and always alive.
The orange areas with the circles connected by straight lines represent sharing knowledge. They are different sizes and shapes to highlight the diversity and differences in community knowledge.
© Copyright 2018 by Australian Physiotherapy Association. All rights reserved.