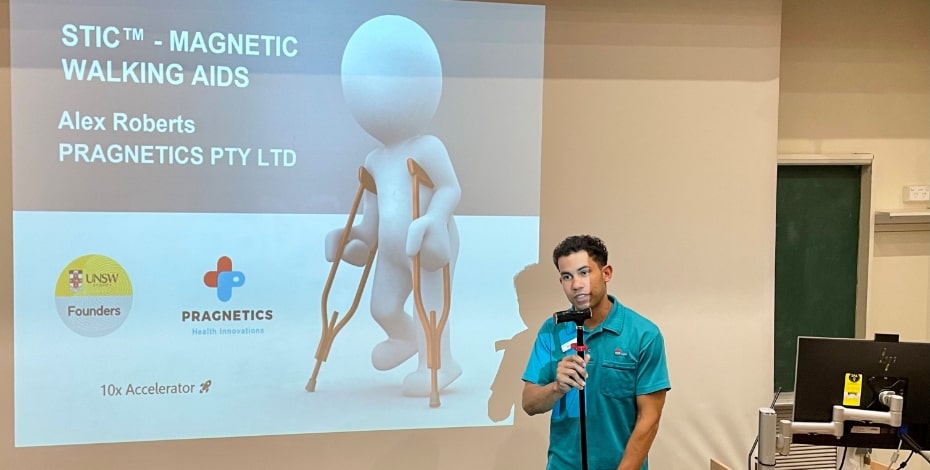 Physio Pitchfest ready to welcome new ideas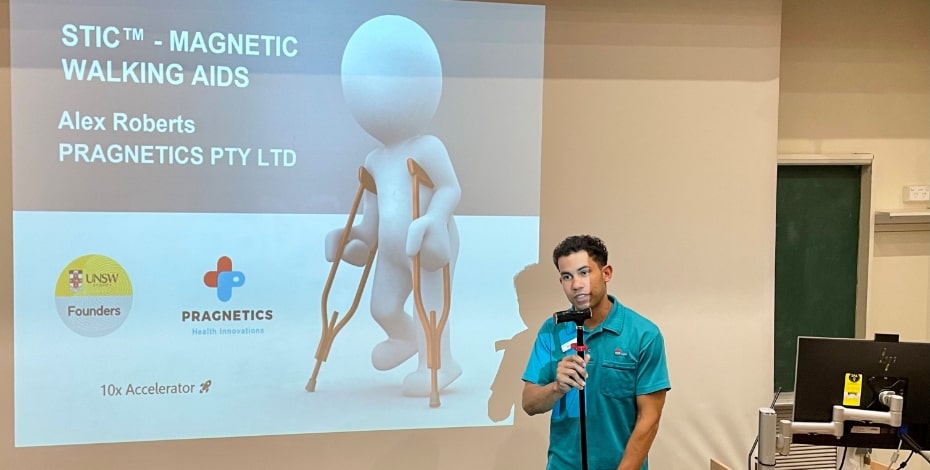 Physio Pitchfest offers physiotherapists a chance to show off their bright ideas and innovative products and services. Several past winners speak about their experiences and give some advice to would-be entrepreneurs.
It's time to get your applications in for the Physiotherapy Research Foundation's Physio Pitchfest, to be held at the APA's IGNITE 2023 national conference in October.
Hurry up, though—applications close at the end of May.
It's the third time that the PRF will hold Pitchfest, which aims to identify innovative ideas and concepts addressing unmet clinical needs that can advance physiotherapy practice and improve patient wellbeing.
The recipient of the Pitchfest Judges' Award takes home $15,000 to put towards further development and marketing of their product or service.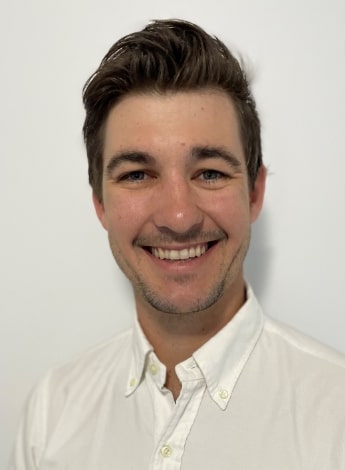 Daniel Hug won the Physio Pitchfest Judge's Award in 2022 for his falls app.
Since taking home the Pitchfest Judges' Award last year, Perth physiotherapist Daniel Hug APAM (pictured left) has been focused on validating the use of his falls assessment app SummaRise in assessing falls in aged care settings.
The app provides a straightforward and comprehensive assessment of patients after a fall, allowing aged care staff to quickly and easily log critical information, manage patient care following the fall and identify trends and risks across the facility.
'We're into our eighth month trialling it with an aged care provider here in Western Australia in three aged care homes and we're getting great feedback about the ease of use and quality of information.
'We're partnering with Macquarie University on a pilot study to see if the app improves the clinical care—we're analysing the data from that study now.
'We are also in discussions with the aged care provider about moving from a trial to a paid service.
'After the data analysis is complete, we hope to show some improvements in clinical care and the quality of the information that we're documenting through the app so we can launch it more widely,' says Daniel.
Daniel says that he and his business partner have made further improvements to the product, including a dashboard to allow users to extract and analyse data.
They are also looking at the development of wearable devices to assist with monitoring and preventing falls and for use by people outside of the aged care setting.
'We are trying to look at the whole spectrum of falls on a continuum covering pre-falls risk assessment, pre-fall detection, detection of a fall and post-fall assessment, with it all feeding back into management and prevention,' he says.
Daniel says there is never a bad time to start thinking about developing an idea for a product or service.
'If you have an idea, go for it.
'It doesn't matter how early on it is—you'll never have the perfect time to launch a startup.
'I'd also advise doing some startup accelerator programs to give you a foundation in how to think about driving innovation and to validate your product or idea,' he says.
He says that it's important to get feedback from your users or your market while you are developing the product so that you don't waste time developing a product that's not needed or wanted.
'As they say, launch before you're ready.
'If you're not happy with your first product, you've launched too late.
'Even if you don't think you're there yet, there are lots of people out there to support you.
'Start before you're ready and just get out there and talk to people who might be able to help you or whom your solution might help,' Daniel says.
'Show your passion, demonstrate that you're solving a problem that needs to be solved and have some conviction.
'Back yourself because a lot of the time, particularly early on, you may have self-doubt.
'It's important to believe in yourself.'
One colleague to whom Daniel has been able to turn for help is Dr Leo Ng APAM, who was the People's Choice Award winner at the inaugural Physio Pitchfest in 2019.
Leo's product, Research Screener, uses machine learning to make the process of finding relevant publications for a comprehensive literature review quicker and easier.
'Daniel was a former student of mine and he heard about what I was doing with Research Screener.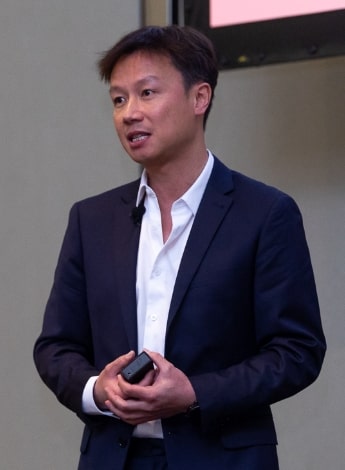 Leo Ng, winner of the People's Choice award in 2019 presents at the APA's FOCUS 2022 national conference.
'He gave me a call; we caught up; I shared with him my journey with Pitchfest and also my journey to commercialise a product,' says Leo, currently a senior lecturer at Curtin University (pictured right).
'When he came up with the idea [for the SummaRise app], I thought it was great and I shared with him the challenges and success I had.
'I helped him practise his pitches; I talked to him about the importance of speaking to potential customers and actually selling the prototype to see if customers were willing to buy it.'
Daniel and Leo ended up in Curtin University's free Accelerate program at the same time, allowing them to support each other as they learned about innovation and commercialisation.
Leo says it's an invaluable way to become familiar with the process of taking a product from idea to market and it exposes innovators to people who can mentor them in aspects of business that they don't learn in their physiotherapy training.
'I feel that without the mentors I have had, I would have given up many years ago.
'Now I can pay it forward.
'I had a student approach me recently with a great innovative idea and he said, "I don't know what to do. What is my next step? Where can I get help?"
'I directed him to speak to four different people and I hope we will see him at Pitchfest one day.'
Another entrepreneurial physiotherapist—Alexander Roberts APAM, who won the People's Choice Award at last year's Physio Pitchfest—agrees that it's well worth it to join an incubator program.
He found one at the University of New South Wales.
'In physiotherapy they don't really teach you much about business and innovation.
'It's more a clinically based degree.
'I recommend trying to get yourself into a startup incubator, whether that is before or after you enter Pitchfest,' Alexander says.
Alexander's biggest tip is to test your product on the target market as early as possible.
'Find a customer group that is likely to use your product and don't be secretive about the invention.
'You've got to test it… otherwise you will never know if it's going to work.
'Use your workplace and your own patients, get instant feedback—whether you're in private practice or a hospital, you will be surprised at how willing people are to try new things and give feedback,' he says.
Alexander has recently successfully applied for a Minimum Viable Product grant from the New South Wales Government, which will help him take the next step with his product, the STIC magnetic walking stick attachment.
The grant will allow him to substantially expand production of the attachment and he is talking with several mobility equipment suppliers about the possibility of adding his product to their catalogues.
In addition, a small study validating the use of the product is about to be published, which will give it further weight.
Alexander plans to move to the United Kingdom in the coming month so he can get some overseas experience and expand into his first international market.
Back in Perth, Leo is getting ready to spin out Research Screener into its own company, rather than working from Curtin University's commercialisation arm.
To date it has been available as a beta product for a nominal fee.
'While the university's main focus is on research and teaching, Curtin wants to support innovations from students and staff, so has helped us get off the ground.
'Now both parties have agreed that it's time for us to give it a shot on our own.
'Once that happens, we're planning to do a lot more promotion and some more development,' he says.
While the People's Choice Award doesn't come with a monetary prize, Leo says that the recognition and the validation of the product from the audience approval have been invaluable.
'When there are 1700 people who think your product is innovative and people come up to you afterwards, saying, "Hey, when it's out can you contact us?" and things like that, it gives you confidence to keep going,' he says.
>> Applications for Physio Pitchfest 2023 close at the end of May. Click here for more information and application forms.
© Copyright 2023 by Australian Physiotherapy Association. All rights reserved.