Peter O'Sullivan awarded with Insurance Commission of WA grant
The Physiotherapy Research Foundation together with the Insurance Commission of Western Australia is pleased to announce that it has awarded Professor Peter O'Sullivan a research grant valued at $90,000 that aims to improve the independence of people seriously injured in vehicle accidents to ensure insurance premiums remain affordable.
More specifically, Professor O'Sullivan and his team at Curtin University will develop a feasibility trail of stratified Cognitive Functional Therapy for high risk neck and back injuries following road traffic accidents. Peter is a Specialist Musculoskeletal Physiotherapist (as awarded by the Australian College of Physiotherapists 2005).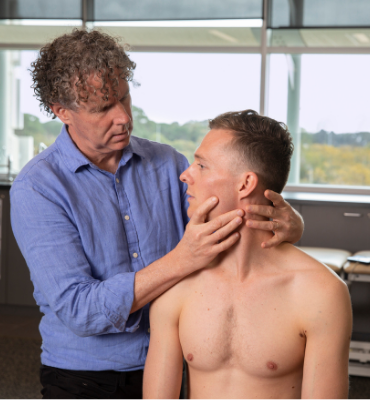 This research is funded by the Insurance Commission of Western Australia in partnership with the Physiotherapy Research Foundation. The Insurance Commission manages personal injury claims for people injured in crashes on the road and for government agency staff injured in the workplace in WA. Many claims involve the injured person requiring rehabilitation to help them return to work and the community.
In 2019, the Insurance Commission paid $70 million for around 400,000 health services for 15,000 injured Western Australians. Effective rehabilitation delivered by allied health professionals can help people recover from injuries quicker and, consequently, reduce the cost of claims and the premiums paid by motorists and employers.
The APA together with the PRF is extremely honoured to be chosen to be involved in this project. Professor O'Sullivan and his team plan to begin working on the research study in October of this year.
Pictured
Kane Blackman, Commission Secretary, Insurance Commission of WA
Darren Elliott, APAM, WA Branch President, APA
Professor Peter O'Sullivan, FACP, Curtin University
Dr Rob Schutze, Curtin University 
For more information on this research study read the article featured in the November edition of InMotion here.