Neck pain and migraine: a cross-sectional, single-blinded study
Neck pain is a common symptom of migraine, more frequent than nausea and highly predictive of migraine onset. Yet neck pain may be part of migraine symptomology and not from a local cervical source.
Researchers Dr Zhiqi Liang, FACP, APAM, Dr Lucy Thomas, APAM, Dr Gwendolen Jull, FACP, APAM, Joanne Minto, Hossein Zareie, FRACP and Dr Julia Treleaven, MACP, APAM, set out to identify how often neck pain associated with migraine presents with a pattern of cervical musculoskeletal dysfunction and if pain hypersensitivity impacts on cervical musculoskeletal function in persons with migraine.
This work was supported by a PRF Project Grant allocated to Dr Zhiqi Liang in 2018.
The findings of the research study have been summarised by the Physiotherapy Research Foundation (PRF) and transformed into this infographic. For more information and to read the research abstract click here. Click on the image below to access a printable A3 file.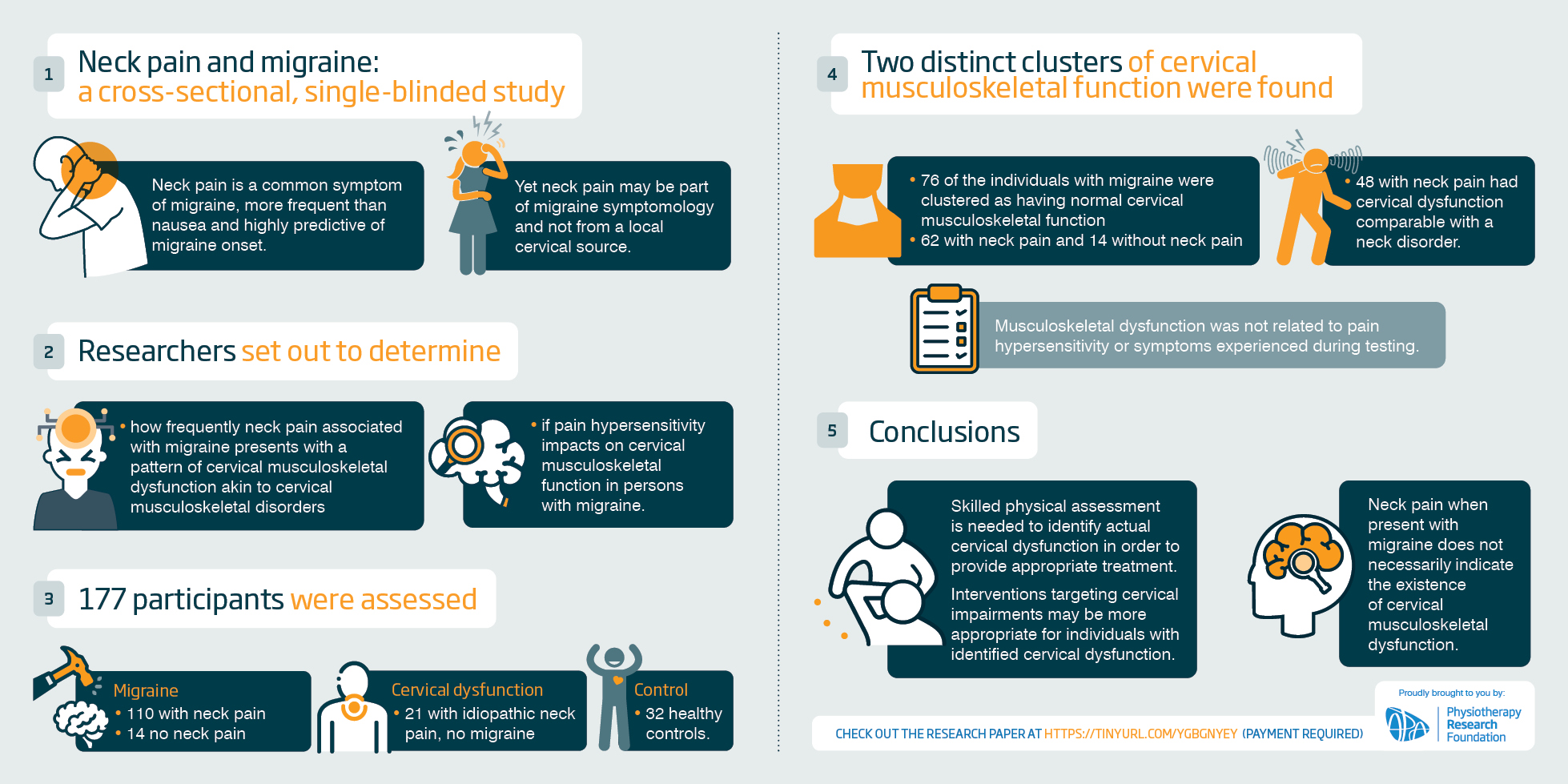 About the researchers:
Dr Zhiqi Liang, FACP, APAM, from The University of Queensland, was awarded a PRF Project Grant to gain a better understanding of the mechanisms underlying neck pain in migraine. She is a Specialist Musculoskeletal Physiotherapist (as awarded by the Australian College of Physiotherapists in 2014).
Dr Lucy Thomas, APAM, is an academic at The University of Queensland and Titled Musculoskeletal Physiotherapist. Her PhD 'Minimising Risk Factors for Cervical Spine Manipulation' and ongoing research has investigated cervical arterial dissection, cervical arterial blood flow and screening for vascular risk in the neck. She regularly presents at both national and international conferences.
Dr Gwendolen Jull, FACP, APAM, is an Emeritus Professor in Physiotherapy at The University of Queensland, Australia. She is a specialist Musculoskeletal Physiotherapist. Her research, teaching and clinical interests are in the field of cervical spine disorders. Gwen's research has involved quantifying the changes in the articular, neuromuscular and sensorimotor systems with neck pain, implications for assessment and management.
Joanne Minto, APAM, is a Queensland-based physiotherapist and researcher. She has also had research published in the Journal of Orthopaedic & Sports Physical Therapy while at the Musculoskeletal Pain and Injury Research Unit, Department of Physiotherapy, University of Queensland, Australia.
Dr Hossein Zareie, FRACP, is an Australian-based health professional and Consultant Neurologist at Royal Brisbane & Women's Hospital, Queensland, Australia. Hossein is trained as a Neurologist (Brain Specialist) and has a practice located in North Lakes.
Dr Julia Treleaven, MACP, APAM, is a lecturer and researcher at The University of Queensland. She has been researching whiplash and neck pain since 2000 and in 2004 completed her PhD focusing on the neck's influence on sensorimotor control. She is also an assessor at the Whiplash Physical Diagnostic Clinic. Julia has been an invited speaker at many national and international conferences and workshops in the area of neck pain, whiplash, concussion and dizziness.
This #infographic is a PRF initiative supported by Pain Away Australia, Australia's No. 1 joint & muscle spray, and cream topical pain relief brand containing arnica and naturally derived active ingredients, and partner of the PRF.