Positive experiences with telehealth during COVID-19
A group of researchers lead by Professor Kim Bennell, APAM, conducted a mixed-methods study to discover if Physiotherapists and patients report positive experiences overall with telehealth during the COVID-19 pandemic.
The results from a Physiotherapy Research Foundation (PRF) funded grant indicate that telehealth is a viable delivery option for physio care due to overall positive experiences.
The PRF has highlighted key messages from the research study published in the Journal of Physiotherapy and produced this infographic. For more information and to read the full article published in the Journal of Physiotherapy, click here. Click on the image below to access a printable A3 file.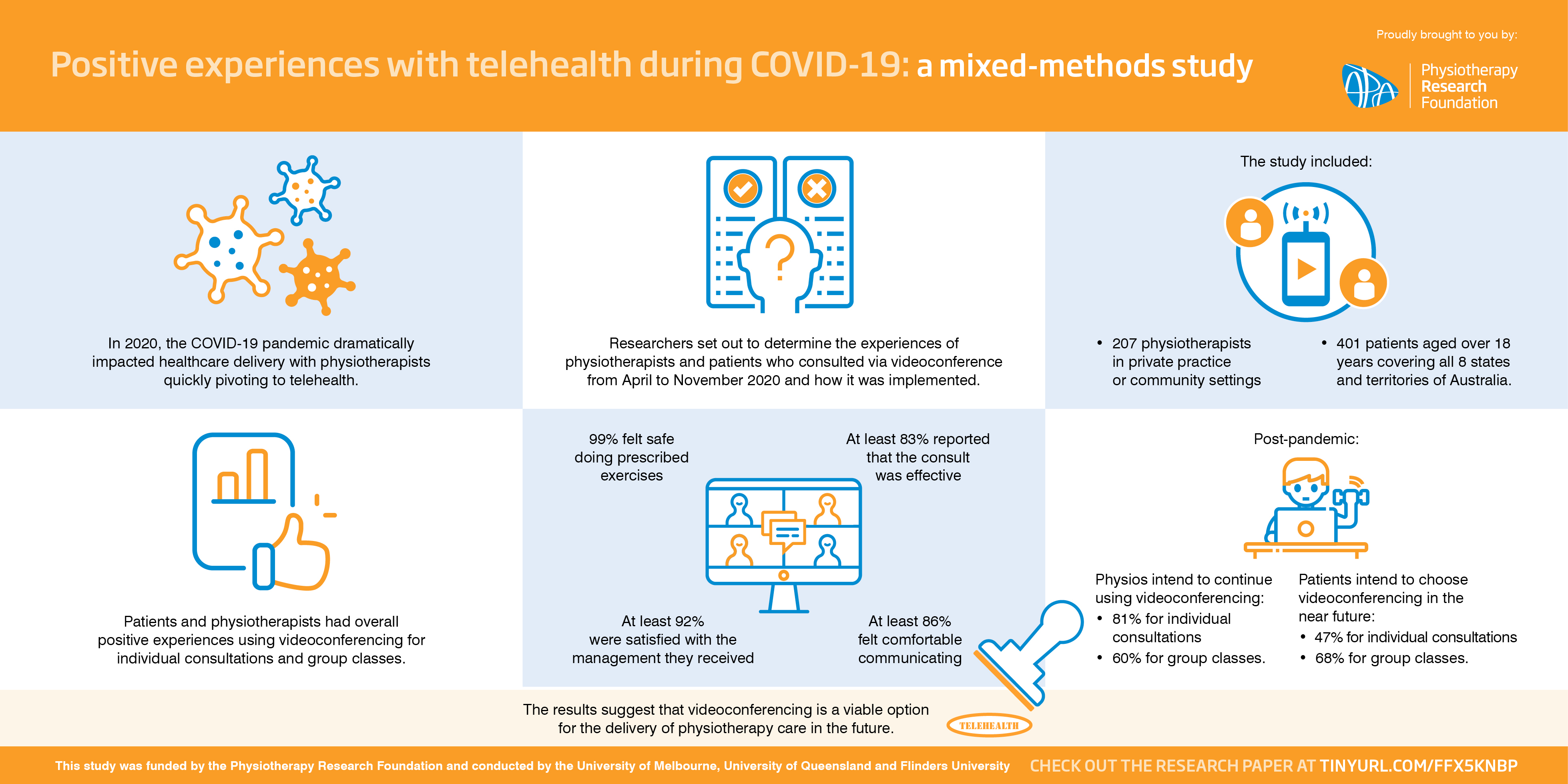 About the researchers:
Professor Kim Bennell, APAM, is a research physiotherapist and her current positions include Professor and Director of the Centre for Health, Exercise and Sports Medicine (CHESM), in Physiotherapy at the School of Health Sciences, University of Melbourne, NHMRC Principal Research Fellow and Director of the NHMRC Centre of Research Excellence in Translational Research in Musculoskeletal Pain. She leads a multidisciplinary team including people from physiotherapy, medicine, exercise science, podiatry and psychology.
Dr Belinda Lawford is a post-doctoral musculoskeletal researcher, mostly focusing on osteoarthritis, and with particular expertise in qualitative methodologies. Belinda obtained her PhD in 2018, where her research evaluated remotely-delivered service models for exercise advice and support by physiotherapists for people with osteoarthritis.
Mr Ben Metcalf is a research scientist, experienced in the co-ordination of randomized controlled trials for knee and hip osteoarthritis.
Dave Mackenzie is engaged as a research assistant and physiotherapist in the University of Melbourne's Centre for Health, Exercise and Sports Medicine (CHESM), in the Department of Physiotherapy.
Trevor Russell is a Professor in the Division of Physiotherapy within the School of Health and Rehabilitation Sciences at the University of Queensland. He has a PhD in Telerehabilitation and co-directs the Centre for Research in Telerehabilitation at the University of Queensland.
A/Professor van den Berg is a research physiotherapist and the Course Coordinator of the Clinical Rehabilitation programs at the College of Nursing and Health Sciences at Flinders University. Working collaboratively with health services and industry her research aims to understand how modern technology can support people undergoing rehabilitation and contribute to enhanced outcomes.
Karen Finnin is a Musculoskeletal Physiotherapist with over 20 years experience in the development of injury prevention and management programs within the sports, performance and occupational health industries.
Shelley Crowther, former APA senior advisor in the Policy and Government Relations
Jenny Aiken, APAM, is a Physiotherapist and current Chair of the Australian Physiotherapy Association after a career in private practice and more than 15 years in healthcare management.
Jenine Fleming, PRF Administration Officer.
Professor Rana Hinman is a physiotherapist and NHMRC Senior Research Fellow at the Centre for Health, Exercise and Sports Medicine at the University of Melbourne. Her research focuses on clinical trials of non-drug, non-surgical treatment strategies for osteoarthritis, in particular exercise, rehabilitation, and biomechanical interventions.