Physiotherapy management of COVID-19
In response to the emerging coronavirus disease 2019 (COVID-19) pandemic, there was an immediate need for guidance about physiotherapy management of COVID-19 patients in acute hospital settings around the world. Initial recommendations for physiotherapists working in acute hospital settings were produced in March 2020.  
Since then, COVID-19 cases have exceeded 258 million with over 5.1 million deaths world-wide. The experience of healthcare providers and policy-makers in responding to the pandemic has evolved as rapidly as the virus itself, alongside extensive research specific to the COVID population and the development of effective vaccines.
In their Journal of Physiotherapy Invited Topical Review, Dr Peter Thomas, FACP, APAM et al provide concise details to physiotherapists and key stakeholders about relevant changes in the management of COVID-19 and updated recommendations for physiotherapy practice and service delivery.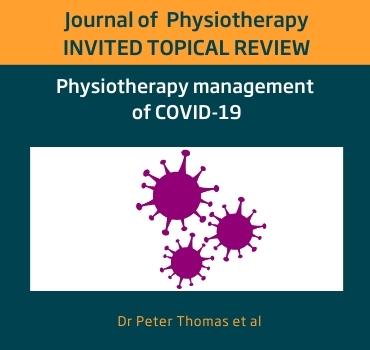 This comprehensive document includes 94 recommendations, all of which are focused on the adult population in acute hospital settings. The recommendations include:
physiotherapy workforce planning and preparation 
delivery of physiotherapy interventions, including personal protective equipment
whom should physiotherapists treat?
physiotherapy respiratory interventions
physiotherapy mobilisation, exercise and rehabilitation interventions
recovery after COVID-19. 
These recommendations will continue to be updated as necessitated by evidence indicating a change in physiotherapy practice for hospitalised adults with COVID-19.
For more information and to read the entire Invited Topical Review article, click here.
Dr Peter Thomas, FACP, APAM, is a Specialist Cardiorespiratory Physiotherapist. Peter leads the Physiotherapy Intensive Care and Surgical team as a Consultant Physiotherapist at the Royal Brisbane and Women's Hospital. Peter has embraced the use of eLearning and simulation for cardiorespiratory physiotherapy and intensive care education and contributes widely to multi-professional education at state and national levels. Peter's research interests include the fields of healthcare education, surgery, trauma and intensive care.
This blog is a Physiotherapy Research Foundation (PRF) initiative supported by Pain Away Australia, Australia's No. 1 joint & muscle spray, and cream topical pain relief brand containing arnica and naturally derived active ingredients, and partner of the PRF.