Physiotherapy management of incontinence in men
Although incontinence is generally considered a women's health issue, incontinence in men is a common condition that may lead to significant health consequences if left untreated.
In her Journal of Physiotherapy Invited Topical Review, Dr Irmina Nahon explores the prevalence and burden of male incontinence, including the differences between male and female incontinence, current management and future directions for research and practice.
While there have been improvements in the understanding and management of male incontinence in the last 20 years, with physiotherapists no longer adapting evidence based on female research and practice, there remains a pressing need for continued research into the assessment, diagnosis and management from the male perspective.
Greater understanding of male incontinence will lead to advances in effective physiotherapy-led treatment, which will ultimately improve the health and wellbeing of men around the world.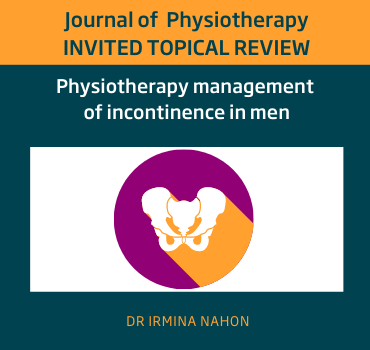 For more information and to read the entire Invited Topical Review article, click here.
Dr Irmina Nahon works as a pelvic health physiotherapist in a private practice and is a senior lecturer and professional practice coordinator at the University of Canberra. Irmina is passionate about continence promotion, as well as research into the assessment and management of incontinence.
This blog is a Physiotherapy Research Foundation (PRF) initiative supported by Pain Away Australia, Australia's No. 1 joint & muscle spray, and cream topical pain relief brand containing arnica and naturally derived active ingredients, and partner of the PRF.