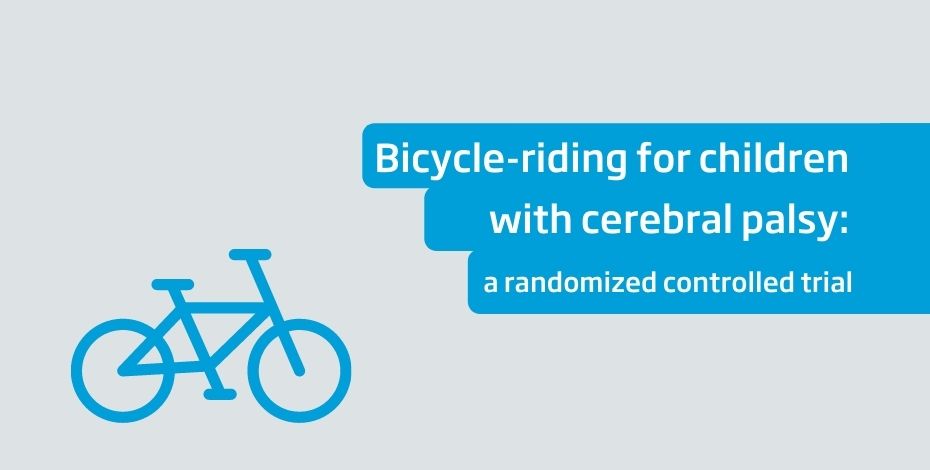 Bicycle-riding for children with cerebral palsy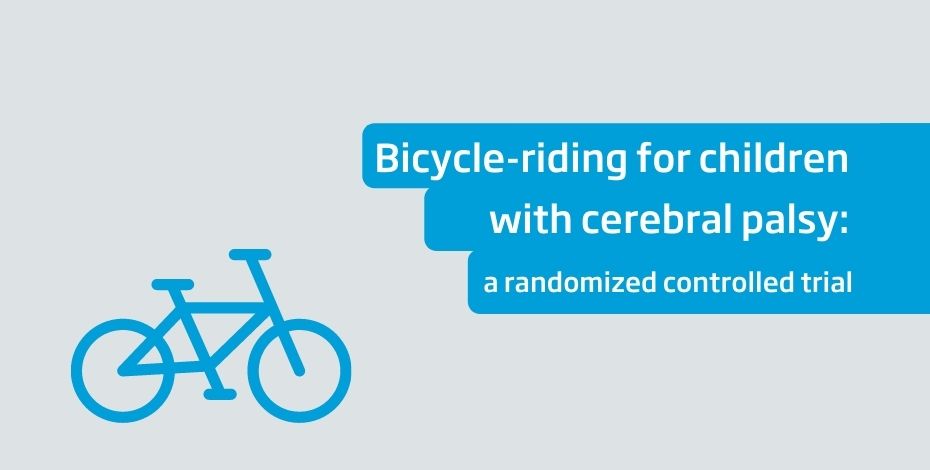 Cerebral palsy (CP) is the most common physical disability of childhood in Australia, with a rate of 1.5 cases per 1000 live births. Paediatric physiotherapists are trained in the development of infants with neurodevelopmental disorders and work with them to develop new motor skills and improve or maintain existing skills and abilities. Riding a bicycle is a popular activity for Australian children and can be a goal for children with CP.
Researchers Dr Rachel Toovey, APAM, Associate Professor Adrienne Harvey, APAM, Professor Jennifer McGinley, APAM, Professor Katherine J. Lee, Dr Sophy Shih, and Professor Alicia Spittle, APAM, aimed to determine whether a task-specific physiotherapist-led training approach is more effective than a non-specific parent-led home programme for attaining bicycle-riding goals in ambulant children with CP. This work was supported by a PRF Seeding Grant allocated to Dr Rachel Toovey in 2016, read more about the seeding grant here and in the December edition of Inmotion.
The findings of the research study have been summarised by the Physiotherapy Research Foundation (PRF) and transformed into this infographic. For more information and to read the research abstract click here. Click on the image below to access a printable A3 file.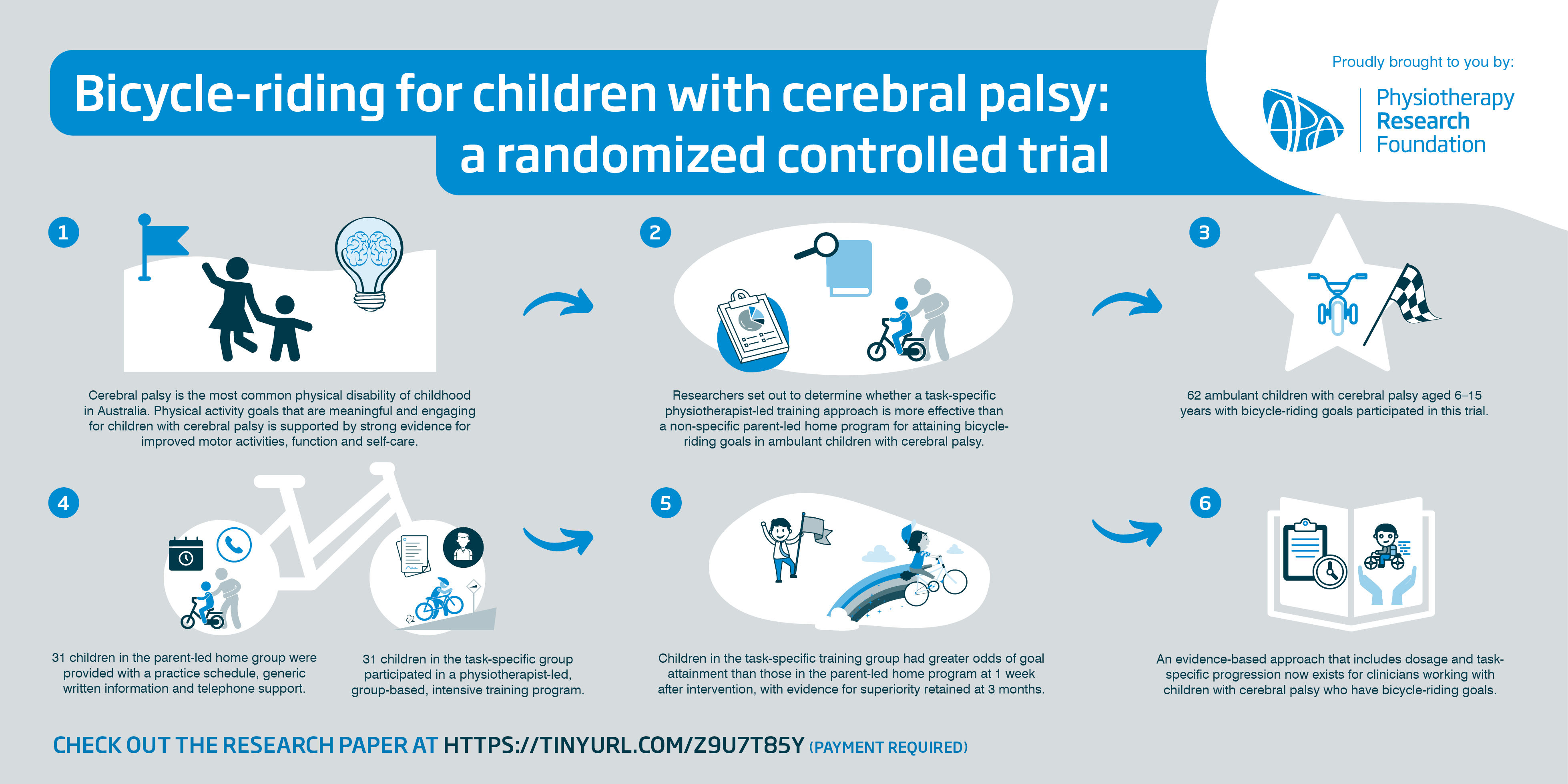 This #infographic is a PRF initiative supported by Pain Away Australia, Australia's No. 1 joint & muscle spray, and cream topical pain relief brand containing arnica and naturally derived active ingredients, and partner of the PRF.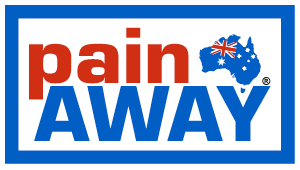 About the researchers:
Dr Rachel Toovey, APAM, from the University of Melbourne, was awarded a PRF Seeding Grant in 2016 to study the effectiveness of training bike skills in ambulant children with cerebral palsy. She has published in international peer-reviewed journals, has presented at international conferences and has been invited to deliver courses on her work in cerebral palsy and paediatric motor skills. Rachel is an elected Victorian Branch Councillor for the Australian Physiotherapy Association.
Associate Professor Adrienne Harvey, APAM,  is a Paediatric Physiotherapist with over 25 years of clinical research and education experience in the management of children with cerebral palsy, particularly following interventions and paediatric orthopaedics. Her research focus is on dyskinesia and pain in children with cerebral palsy and other developmental disabilities. 
Professor Jennifer McGinley, APAM, is a Physiotherapist and Head of the Physiotherapy Department at the University of Melbourne. Her research has focussed on the measurement and understanding of movement and function across the lifespan in healthy people and those with neurological conditions, including stroke, Parkinson's disease, cerebral palsy and autism spectrum disorder.
Professor Katherine J. Lee has a BSc in Mathematics and an MSc and PhD in Medical Statistics. She is a senior biostatistician at the Murdoch Children's Research Institute and is the Associate Director of Biostatistics in the Melbourne Children's Trials Centre at the Royal Children's hospital. She has extensive experience in clinical trials and epidemiological research and has been involved in numerous studies covering a range of aspects of medical disciplines.
Dr Sophy Shih, is a Senior Research Fellow at UNSW Sydney, Australia. Sophy was trained in health economics, public health and biomedical science. She has worked on a broad range of topics, including viral infection, rare genetic disease, cancer, diabetes, psycho-oncology, and disability, with a focus on intervention research of prevention and screening.
Professor Alicia Spittle, APAM, has an extensive background in physiotherapy, specialising in early detection and early intervention for children with cerebral palsy and/or who were born preterm. Her research to improve neurodevelopmental outcomes for premature and at-risk infants has earned her national and international recognition, alongside fellowships within the University of Melbourne Faculty of Medicine, Dentistry and Health Sciences and at the National Health and Medical Research Council