Sensorimotor, cognitive, and affective dysfunctions as predictors of falls
A key focus for the health of older Australians is the prevention of falls, the leading cause of deaths from injury for those aged 65 or over. But what if the risk of falls could be assessed and predicted?
A group of researchers lead by Kim van Schooten conducted an observational analysis among community/low-level care facilities across Australia, to determine whether impairments across cognitive and affective domains provide additional information to sensorimotor deficits for falls prediction among various populations.
The findings of the research study have been summarised by the Physiotherapy Research Foundation (PRF) and transformed into this infographic. For more information and to read the research abstract click here. Click on the image below to access a printable A3 file.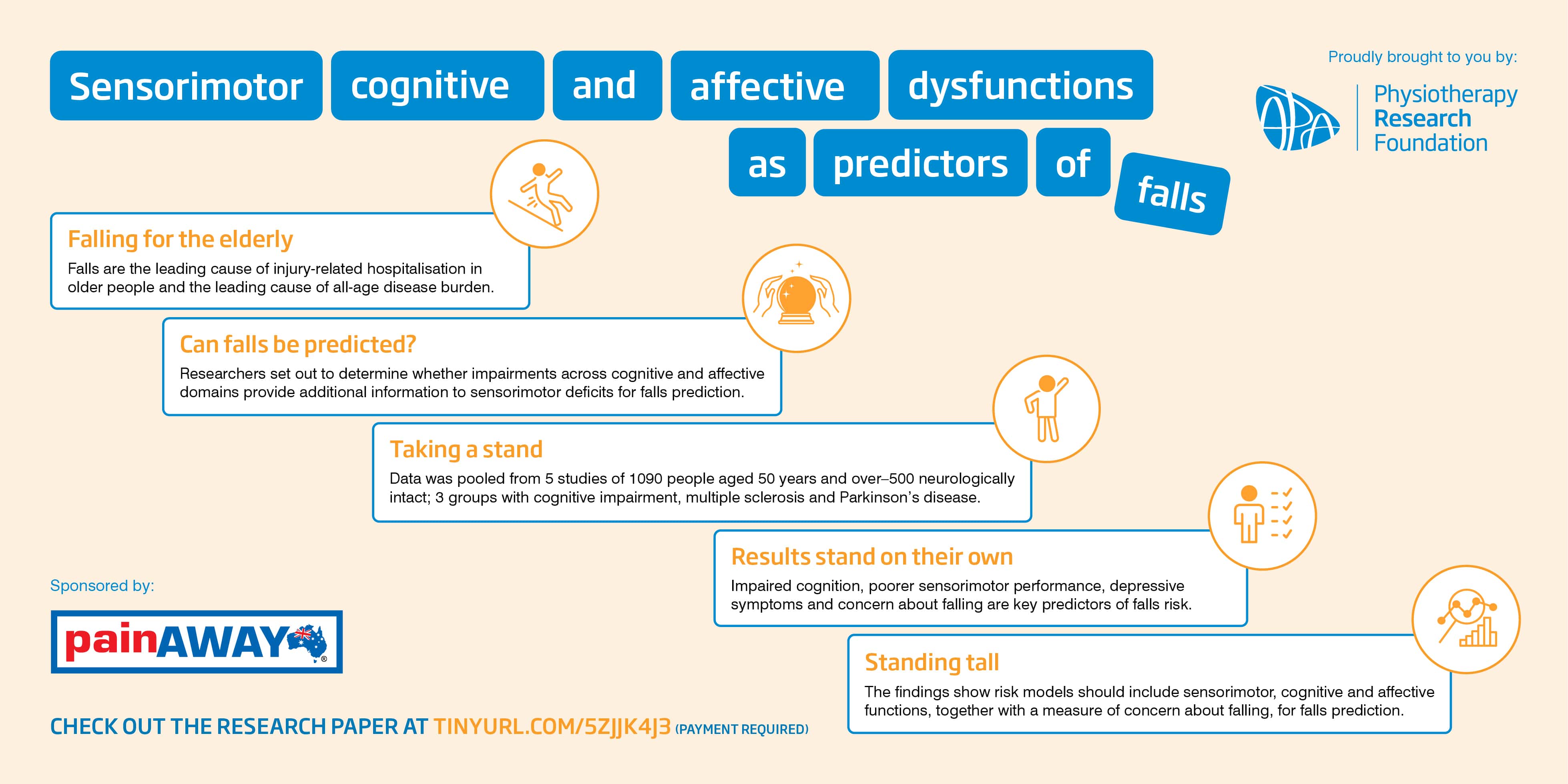 This #infographic is a PRF initiative supported by Pain Away Australia, Australia's No. 1 joint & muscle spray, and cream topical pain relief brand containing arnica and naturally derived active ingredients, and partner of the PRF.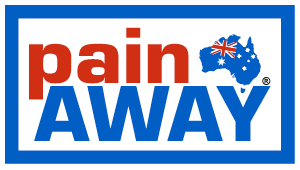 About the researchers:
Kim van Schooten is a postdoctoral fellow at NeuRA and conjoint senior lecturer at UNSW supported by the Human Frontier Science Program. She obtained her Ph.D. in 2014 from the faculty of Human Movement Sciences, Vrije Universiteit Amsterdam (the Netherlands).
Dr Morag Taylor is an NHMRC-ARC Dementia Research Fellow in the Falls, Balance and Injury Research Centre at Neuroscience Research Australia and is undertaking a suite of studies investigating disability and fall prevention in community-dwelling older people living with dementia.
Prof Jacqui Close is a consultant in Orthogeriatrics at the Prince of Wales Hospital in Sydney and Clinical Director of the Falls, Balance and Injury Research Centre at Neuroscience Research Australia. Her primary research area is falls in people with cognitive impairment and dementia and particularly the relationship of cognitive function to postural stability, falls and fractures.
Dr. Jennifer Davis is an Assistant Professor at UBC-O in the Faculty of Management. Jennifer's research focuses on conducting economic evaluations alongside randomized controlled trials (i.e., cost-effectiveness and cost-utility analyses) in a variety of clinical settings that include falls, fracture and cognition.
Dr Serene Paul is a teaching and research academic in the Discipline of Physiotherapy, Sydney School of Health Sciences, Faculty of Medicine and Health, The University of Sydney. Her background is as a clinical physiotherapist working primarily in neurological and aged care rehabilitation.
Professor Colleen Canning, APAM, leads the Parkinson's disease research team in the Faculty and collaborates nationally and internationally with researchers and clinicians in developing and testing innovative methods of reducing disability and falls in people with Parkinson's disease.
Mark Latt is a Clinical Assistant Professor at University of Sydney. Previously, Mark was a Staff Specialist at Royal Prince Alfred Hospital.
Dr Phu Hoang is a physiotherapist who has been working with people with multiple sclerosis since 2001. He was awarded PhD in Physiotherapy by the University of Sydney in 2008. Dr Hoang currently is a research Officer at the Prince of Wales Medical Research Institute and continues to work actively at the MS Society.
Dr Nicole Kochan is a Senior Research Fellow at the Centre for Healthy Brain Ageing (CHeBA), University of NSW and a Clinical Neuropsychologist. Her research interests include investigating methods to improve early detection of cognitive decline and dementia using traditional psychometric measures, sensitive normative data and new innovations in computerised cognitive testing.
Perminder Sachdev AM, MBBS, MD, PhD, FRANZCP, FAAHMS is Scientia Professor of Neuropsychiatry at UNSW Sydney (UNSW), Co-Director of the Centre for Healthy Brain Ageing (CHeBA), UNSW, and Clinical Director of the Neuropsychiatric Institute, Prince of Wales Hospital in Sydney, Australia.
Professor Henry Brodaty is a researcher, clinician, policy advisor and strong advocate for people with dementia and their carers. At UNSW Sydney, he is Scientia Professor of Ageing and Mental Health, Co-Director of the Centre for Healthy Brain Ageing, and Director, Dementia Centre for Research Collaboration
Professor Catherine Dean, APAM is a researcher and educator in physiotherapy. In May 2011 she joined Macquarie University as the inaugural Director and Head of the Physiotherapy Program. Previously, Professor Dean worked as an academic with teaching, administrative and research responsibilities at the University of Sydney. She has a wealth of experience in new curriculum development and learning and teaching innovation in Physiotherapy. She was the recipient of prestigious scholarships to undertake Masters, Doctoral and Post-doctoral studies.
Femke Hulzinga is a PhD Candidate and researcher whose interest areas include Parkinsons disease, Freezing of Gait, Split-belt, gait adaptability and rehabilitation.
Professor Stephen Lord is a Senior Principal Research Fellow at Neuroscience Research Australia, Sydney, Australia. He has published over 400 papers in the areas of balance, gait and falls in older people and is acknowledged as a leading international researcher in his field.
Kim Delbaere is a Senior Principal Research Scientist at NeuRA and Director of Innovation & Translation at the Falls, Balance & Injury Research Centre, supported by the Australian NHMRC, and Professor at University of New South Wales, Sydney. She graduated in 2001 as a master in Rehabilitation Sciences and Physiotherapy at the Ghent University (Belgium) and completed her PhD in 2005 on falls in older people.