Future of Physiotherapy in Australia
A 10-Year Vision Policy White Paper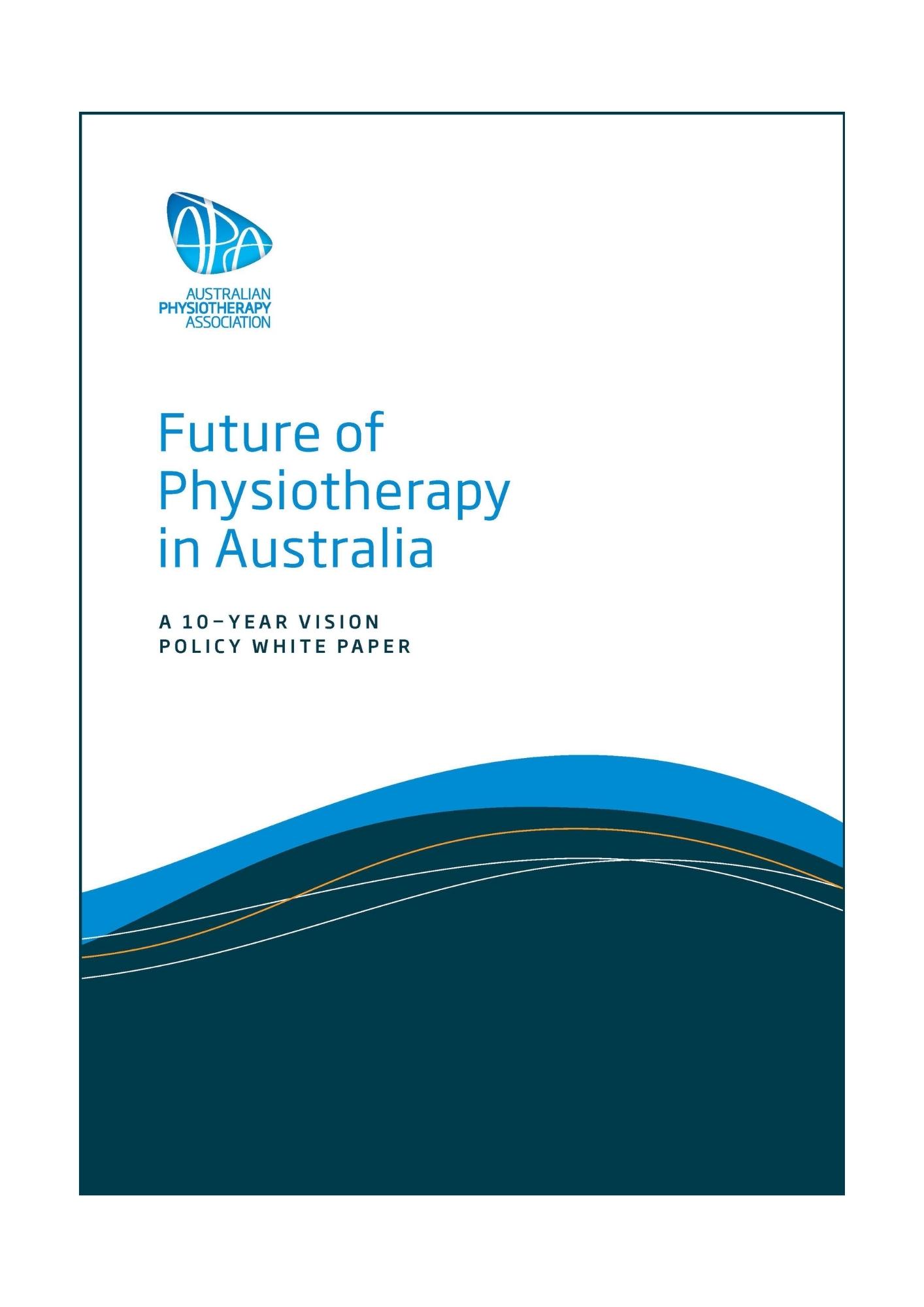 The APA's white paper sets out a transformative reform path. We outline new opportunities that leverage the physiotherapy workforce to support healthier lives and drive system-level change to advance health, improve care and increase value.
Launched at FOCUS2022, the white paper has already received the support of Minister for Health and Aged Care, the Hon. Mark Butler MP via a video recorded to open the conference, which can be viewed here. It outlines a clear vision on the reform of the health system and the vital role of physiotherapy.
Intro:
Welcome to the APA White Paper Podcast, the Future of Physiotherapy in Australia, a 10-year vision policy white paper fresh from the launch of the white paper and recorded during the APA Focus 2022 Conference held on the lands of the Wurundjeri, Woiwurrung People of the Kulin Nation, APA National President Scott Willis and APA General Manager Policy and Government Relations, Simon Tatz discuss the APA's 10-year vision for a health system in which physiotherapy and physiotherapists will thrive. And Australians will always have access to the physiotherapy services they need, wherever they are and whatever their personal circumstances.
Simon:
Hello, I'm Simon Tatz, General Manager of Policy and Government Relations at the Australian Physiotherapy Association. I'm joined here by Scott Willis, the National President of the Australian Physiotherapy Association, to talk about the Future of Physiotherapy in Australia, a 10-year vision policy white paper launched at the APA Focus Conference. I would like to start by acknowledging the Wurundjeri people of the Kulin Nation, the traditional owners of the land on which we meet, and I pay my respects to their elders past, present and emerging and any elders who might be listening to today's podcast. Welcome Scott.
Scott:
Welcome to you as well, Simon. Thank you for having me.
Simon:
At the National Conference, you launched the APA's first-ever white paper, a Future of Physiotherapy in Australia, which is a 10-year vision. Could you tell us a little bit about how this came about and what you said at the launch of the white paper?
Scott:
Yeah, I think this is part of our strategic plan when we're looking at reform in the complete health system. I think this was the missing piece in that. A couple of years ago, we released the economic value piece of physiotherapy. So it looked at over 11 different modalities that physiotherapists provide, and we looked at what the economic value of that was, and then we released the election statement as well, and we wanted that election statement to actually give the elected politicians and possibly incoming government a solutions base to some of the problems that we feel that the Physiotherapy Association and also the profession felt there were the issues with our health system around Australia.
So I think this white paper now goes to that next level and really looks forward to a future focus but really solutions based as well. I really am excited, proud, and honoured to actually release that because I think this is the missing piece that now we can really go forwards, and I can do my job to the most optimal way I can and sell this to the government and funders.
Simon:
Obviously, I'm biased because it's a pretty good white paper, but I think it's the first allied health group that's put out such a vision. Is this part of the sort of leadership in allied health that you're looking for from physiotherapy to sort of produce such landmark reports that kind of really set the physiotherapy profession as a bit of a leader in the sector?
Scott:
Yeah, definitely, and I think we've seen it from our GP friends. I think, you know, the RACGP and the AMA have always looked to the future and come up with some solutions but also identified where the problems were. And now, if you look at where the government is positioning themselves as well, they're looking at a 10-year vision as well in primary healthcare, but also preventative healthcare as well as mental health.
So I think this really on the back of that, and I think as us as leaders within the allied health profession, but also I think a leader within the health system, this is really imperative that we did that as well. We actually went on the back of these 10 plans in the primary healthcare and preventative health space. We needed to actually come up with some solutions for physiotherapy and where it fits into the 10-year plans of the primary healthcare and preventive healthcare systems as well.
Simon:
Yeah, I was going to say, your timing's pretty remarkable with this, a new government's come in, new health minister, they've got their 10-year primary care reform, we're seeing a lot of things timing-wise, it's perfect. I don't know if that was deliberate or accidental, but do you see not a crisis, but you know, what's going on in the health system and the economy at the moment, having a vision obviously and presenting to government couldn't be more critical at this stage. What are the challenges, do you think, with the current government in terms of reform but also where physio fits into that which is outlined in the paper?
Scott:
Yeah, look, I think like you're spot on, I think the timing is right, and I think the appetite is right as well for this newly elected government coming in. I get a sense that they are looking at true health reform. They're not just going to pump money into general practice or GPs. I think they are starting to look more widely. It might not take one or two years to do this. It might be a 10-year vision, but I think we need to be on that journey. I think because of COVID because COVID hit us, and it really made us look at how we deliver services within the health system, and I think it really gave us a huge opportunity, especially in physiotherapy, to go, hang on, we can help you in in these areas because we can be more efficient, we can improve the customer or the consumer journey.
We can improve the efficiencies, and we can actually save the health spending of the tax dollar money. So I think everything is aligning at the moment. We've got a new health minister, we've got a new government, we've got coming off the back of COVID. Money's going to be tight, and I think the government have got to start looking for efficiencies because if they don't, I think they're going to be in bigger trouble down the track. And if they want to have another term after this one, I think they really need to demonstrate that they're willing to actually look for efficiencies and save money so that it can be pumped into the areas that are required.
Simon:
Exactly. Because we know that just pouring more money into the same system is not necessarily going to work. There are quite a few things I want to talk to you about with the white paper. One of the things when you talked about this, I see, and I know that the APA has been building strong stakeholder alliances and relationships with psychologists, as an example, but I see the white paper, it talks about pathways referrals and reforms that are quite similar to one other allied health group and that is psychologists. Tell me a little bit about how you see the shared agenda between physios and psychologists. And I'll preamble that by saying it would be not unfair to say that the areas GP struggle most with are musculoskeletal and mental health. So do you want to sort of expand on that a bit?
Scott:
It's a really interesting point because I can remember seeing something on social media from the Psychologist. They put on a post about the consumer journey and why they need to have to go through GPs to come and get their mental health plans. And you're correct that we often hear that mental health and musculoskeletal diseases are the two areas that GPs just are a little bit underdone or don't understand fully. They know, you know, that a significant amount like they need to for a lot of different conditions, but these are two areas that there are other professions that could probably reduce the burden of GPs who are struggling at the moment with the reduction in workforce. So I think psychologists have got exactly the same issues and solutions for us. So we've reached out to the psychologists and had a discussion with them, and we see the vision completely on the same track.
I think reducing the barriers to referral, increasing access, and reducing the barriers of financial access as well. So I think psychologists and the physiotherapy profession have got two areas that we can really, really work together, and I think that's going to give a bit of a groundswell but also give us an opportunity to go to the government and say, these are the different models of care that have been proven to work in other countries. We can see that it should work here, and that's why we are looking at some studies to demonstrate the value, but also what processes will work in the Australian health system as well.
Simon:
Scott, we talked a little bit about the role of GPs and the way it relates to physiotherapy. The RACGP put out a State of the Nation document just recently, and you responded with a very good media release about it. Can you just talk a little bit about those pressure points and the opportunities you see for physiotherapy, given the sort of GP crisis that is dominating, I guess, the health news at the moment?
Scott:
Yeah, look, this white paper, the Future of Physiotherapy in Australia, came out two days after the State of the Nation report that the RACGP released, and I contacted Karen Price, the President of the RACGP immediately and said, look, physiotherapists are always behind them, in front of them and by their side and ready to assist in any way that we can. And that multidisciplinary care is one way that we can actually assist.
I've also spoken to her on numerous times and other medical peaks as well, and just discussing that customer journey, that patient journey and how we can reduce those barriers and multidisciplinary care is one of those ways. The barrier that we see as one of the highest of the barriers is just having to go through a GP, and you know that puts the burden onto GPs. They're in crisis at the moment that they're reporting their workforce shortages, and it's hard to get into a GP sometimes, you know, we're hearing even in a metropolitan area, six weeks to get in to a GP. In a rural area, it could be even longer. So we're looking at actually true opportunities where health reform can improve that customer journey, and it also adds to that efficiencies and accessibility, which is, you know, all part of the white paper that we want to try and highlight.
Simon:
One of the things in saying that I noticed the white paper does and that you've done in your term as president to date is talk a lot about the value of physiotherapy. It's been put to me across my time at the APA that the term allied health is not well understood and that sometimes allied health can not recognise the value of a highly skilled profession like physiotherapy is part of building the value of physiotherapy in the mind of governments and funders, and our role is that the type of advocacy you want to pursue through the white paper?
Scott:
If we want real true health reform, we need to demonstrate our value within the system. And I think what we are doing now is building a package around us so that I can go to our funders, to the health departments, to the ministers, and to the secretaries of the departments and actually demonstrate it. We haven't had that in the past. We've had all the research, and we've had, you know, multiple amounts of research that have come out, but we haven't really had a look at any economics together with it.
So I think our economic value started the journey, and then our election statement then added to that, now this Future of Physiotherapy white paper really is starting to demonstrate what models of care will actually save the money. We already know that physiotherapy is an essential part of the health system. We are an essential service, and I think in this white paper, and the economic value piece really demonstrates it significantly that it can't be refuted.
Simon:
Controversial question here, Scott. Do you think sometimes physiotherapy is taken a bit for granted? You know that people just know the physios are out there, they'll be there, and that part of having to unpack the value is by being so good and across the lifespan, it's just an accepted part of health and that the value isn't always recognised by governments and funders just, oh, the physio will be there. Is that, not a frustration, but is that part of the challenge that you face?
Scott:
Oh, definitely. I see it every day in the clinic. I hear about it every day from members, and I see it when I go and talk to these funders, government officials and ministers and departments that they do take us for granted a bit. I see it every day. The efficiencies that we add to the system, but also the outcomes that we get.
Simon:
The APA has always been an apolitical body just pursuing policy and those things. Perhaps that's part of the reason that we, not militant, would be the word I'd perhaps use, but certainly, I've seen in your presidency time a much more outspoken, much more willingness to engage across the sector. In saying that, do you think, as Australians, we've been talking with our international colleagues here who come from much different systems, do you think we are slow with multidisciplinary and integrated care? Do you think we are just a little bit behind in funding and recognising that sort of team-based collaborative care, which we see works so well overseas and also in models like AHCHOs and even emergency departments where you get multidisciplinary care?
Scott:
I think funding drives that. I think if you get the funding model right, the actual multidisciplinary care process follows it. I think we haven't got that model right yet here. I think if you look at AHCHOs in international countries, I think they have got the funding model right, and that's why it works so well. So I really urge and push the government to actually look at the model for interdisciplinary and multidisciplinary care because if we can get the funding model right, I think multidisciplinary care will follow - the patient journey will improve, the efficiencies will improve, and then we'll get better outcomes as well. So I always say if you have A poor funding model, you're going to get poor health outcomes as well.
Simon:
There's a line you've used in some of your public commentary, which I really like, which is that the Medicare fee for service has kind of reached its use-by date, and the key areas are musculoskeletal, or areas physios work in and also in psychology. Do you think that's kind of where we're at, that the Medicare model has now reached a point where we've hit the brick wall in some areas? And the whole thing that's set out in the whitepaper, referral pathways, patient journeys, we're now, you know, Australia used to always say every health is we've got the best health system in the world, but my sense is that we risk not having the best health system in the world unless we bring that reform quickly to the table. Is that how you see where we're headed both for physio and in the wider health system?
Scott:
Yeah, look, there are currently quite a few different models of care out there and how it's funded. We're always going to have a, you know, some fee for service because I think there are some conditions that are optimal if they are funded that way. But I think there are significant amounts of other models of care that can reduce the fragmentation of the system that can actually gel the system together and make it one health system. I think that multidisciplinary care is going to be pushing where the reform needs to go, but the funding needs to follow.
Simon:
And it's what patients want. You talk to any patient, and we're all patients of the health system. You want linked up services, you want collaborative care across your practitioners. Which leads me to another point of the white paper and a really big thing that I've heard you speak a lot about, which is about digital platforms for secure safe health information. And we know currently we are talking about the Optus data breach, which is obviously a major issue at the moment. It's quite frustrating that years after the digital health agency, years after MyGov and My Health Record and others, we still are very slow in this country to actually even have confidence in digital health. In your ideal world, Scott, where would you want to see digital health records as a practitioner and what would be the kind of information or the kind of things you'd want to be able to share with your other colleagues in the health sector?
Scott:
Great question. As part of my release of the Future of Physiotherapy in Australia white paper at the opening session that I gave at the conference, I always say that I have a dream, and one of those points was that we have secure messaging between all sectors because I think that's where the fragmentation really is evident, and it's quite a quick fix. If we can securely talk to each other and have the quality information that we require, one, you can make the diagnosis quicker. Two, it reduces the chances of inefficiency but also the wrong diagnosis. Three, the patient journey is so much more beneficial. They're happier. It's less money, less time away from work, family, and friends and the productivity of the session, but also the patient journey is so much better as well.
So I think for us if we can actually communicate securely and it's got to be efficiently as well. So currently, physiotherapists have a huge problem in accessing the My Health record. We can do it, but it takes us quite a significant amount of time to get through to the portal if that's the case. If you've got to do that for a significant amount of patients during a day, clinicians aren't going to do it. So it's got to be fast, it's got to be reliable, it's got to be secured, and it's got to be in a way that all clinicians can use it easily and it's accessibly easy.
Simon:
And also, the time I noted when the NDIS came in, there was a push by some doctors to have a Medicare item number for the paperwork for the NDIS, and my question was, why just for GPs? You know, the amount of time physiotherapists or other allied health practitioners would need to spend on paperwork for the NDIS, no MBS item for them.
I want to move on to a few things, and this relates to something that's in the white paper on private health insurance, and I guess the schemes we've got the NDIS and DVA. Two questions in that, one of which is we've seen a bit of a push to lower costs from the big schemes, and that seems to be at the service level. I would assume that part of the value of the Future of Physio white paper is to lift the value of physio as part of those funded schemes so that we're not seeing services reduced for our most vulnerable veterans and people with disability and insurance schemes. Do you think the new government has signalled that they understand the need to provide high-value care? Because it's certainly throughout the white paper and the other things you've put out, is the need to lift the care we're providing rather than reducing it?
Scott:
Yeah, no, definitely. And it's a great question because I think, you know, our outcomes are quite positive in the NDIS scheme, but also the private health insurance and DVA. The problem with this is that there are so many other things that physiotherapists have got to do, to actually access that fee. So there's a lot of red tape, there's a lot of administrative costs, there's a lot of regulatory requirements for physiotherapists to go through to actually just then treat the patient.
So I think, you know, we've spoken to the government numerous times, but this government I think has got an appetite to actually look at it. I've spoken to the secretary of the Department of Social Services, and he gets it. He actually gets that there is so much regulatory process and due diligence that clinicians have got to go through across all schemes. So what they're trying to look at is actually how to only have the clinician go through it once and once only, so it'll reduce the administrative burden, but also, I think, improve health outcomes as well, which I think will then demonstrate our true value.
Simon:
Because if physios walk away from those schemes, you're going to see lower-value care.
Scott:
Yep.
Simon:
Scott, another aspect of the white paper that is unpacked in quite detail is about private health insurance, and I know in speaking to some of the insurers in Australia about the Economic Value of Physio paper, they get it, and one of the things is the osteoarthritis intervention talking about the number of ACL operations, which I think Australia leads the world.
Scott:
That's correct.
Simon:
But their issue is that they don't want to go down the path of managed care that the medicos have really set that fear campaign of the Americanisation of the health system. To me, this is the hardest one to unpack that we've got an Economic Value Physio report the APA did with the Nous Group. It sets out the value of the physiotherapy interventions, it gives their strong economic argument and the insurers like it, but it's then difficult for them to say to a patient, no, you should see a physiotherapist, not have an operation even though the evidence is there. To me, this seems like the hardest part of the white paper to achieve. The white paper sets out medium, short, medium and long-term goals. Where do you see private health insurance in that whole Australian system of when can you direct care and when you can't for a physiotherapist? Can you give a bit of an insight into where you see that going?
Scott:
Yeah, I think if we really want to look at true health reform in the private health insurance scheme, I think we need to look at the legislative barriers that are up against them. They can't really fund some of the preventative measures that they really want to. And there's been a couple of the larger health insurance companies that have come out and said that we want to be able to do this because we can see the long-term value of that to their system, but also to their consumers as well.
So we call on the government especially to allow all private health insurers to actually invest in preventative care and be part and be a normal part of their physiotherapy coverage of their private health insurance. And then if you look at, you know, trying to get people out of the hospital and into the community to do their rehabilitation as well, it's so much cheaper. The problem of it is that if they're in hospital, they get it pretty much covered for free. When they're out in the community, it's going to cost them. So, you know, again, there's a barrier there to actually improve the efficiencies and improve the customer journey.
Simon:
And we spend so little on preventive health in Australia. We were talking here at the conference about aged care and falls prevention, and there's very little investment in preventive health in aged care and a whole range of areas that physiotherapy plays, birth trauma, a whole range of that we play a vital role in, and Australia I think spends something like two and a half percent of the health budget on prevention way lower than most other OECD countries. And it's a little bit like that analogy where you fund the ambulances at the bottom of the cliff, but you don't prevent people from falling. And I think the white paper unpacks a lot of the preventive health messages and solutions.
Scott:
Yeah, and I think, you know, if we're not going to invest into prevention, then we're going to see the health system burden increase to a point where you think it's a crisis now. I think if we don't start doing some more in prevention, you'll see a lot, a lot more now. I read a report from the Consumer health forum that said that if we keep doing the same things as we are doing now, we're going to have to build 375 hospital beds per month for the next 15 years. So again, I think in the preventative health space, the 10-year preventative health plan actually said we need to spend 5% of our health spend on preventative health. And that's what we call on the government to do now.
Simon:
And it's interesting. I read a couple of years ago, Denmark reduced its number of hospital beds by 25%. Now Denmark is a small country, the smaller population high taxing, but they moved to home-based care outreach, they changed the health system and reduced the number of beds. Where in Australia, the argument always is to give us more beds rather than prevention. But I want to move on to something as we get to the end of this.
The white paper unpacks a whole range of things, which is really great, including climate change, Aboriginal and Torres Strait Islander health, and rural health that does all of these things. But the major message I get from the white paper is about workforce, that everything at the moment in Australia because of COVID and just because of the international demand for health services is about workforce. Could you give us a little bit of an insight into the workforce situation at the moment for physiotherapy and where you see, where would you like to see 10 years' time the physiotherapy workforce be positioned?
Scott:
I think the workforce is a huge, complex area. I think there are so many multiple areas that are contributing to our workforce demand issue and supply issue. So one is getting physiotherapists into the program. So at university level, we've just currently been told that universities don't want to take any more students on what they have at the moment because their funding's been cut. The funding for physiotherapy programs has reduced compared to other programs. That's one.
Two is getting students from those programs into having some clinical components, some clinical areas to go out into, say private practice and actually having some type of clinical experience in a private practice, and at the moment, there are some regulatory issues that prevent that. So again, the APA is really focused on trying to change that, which we're in the process of doing. And then, if you look at our workforce going through their career pathway, we're hearing stories of people dropping out around that 7-to-10-year mark. And it might be that they haven't got an aspiration to what pathway they want to go through.
So the APA is investing significant resources and energy, and time into actually mapping out the pathway for every different discipline and ensuring that physiotherapists, new grads and mid-level have got access to the PD they require, the support, the mentoring that they require, and if they do want to go through to a specialisation that it's easy, seamless, and the barriers are as low as possible.
Simon:
And that resonates all through the white paper, building the value of physiotherapy because we see with the nursing profession where nurses also leave the profession after a certain time, but it's also, I think, an undervaluing of the skills.
Scott:
Yeah.
Simon:
Everything that nurses do. So I get the impression with the white paper that it sets an agenda to build the value for the profession so that new graduates will be able to, people coming in, will be able to see their value within the health system. So in wrapping up, I guess the real challenge, as I see it, is for governments, the big insurance schemes, the funders to really understand the value of physiotherapy into that, in the health sector and to recognise, and I guess that comes into remuneration, into pathways, into where we're going so that the worth of physio to the community is better understood and better valued.
Scott:
Oh, definitely. And I think this white paper really sets out, it's a large document, and we're not sorry that it is a large document because I think it really encompasses everything that we've been talking about over the last 10 to 20 years, and it really gives us a pathway now. I think before, we had a bit over here, a bit there, but this actually gives us a huge pathway and looks at every aspect of the health spend and the consumer journey and the accessibility and some of the barriers and the solutions now to it.
So I think you're so right that the value is the underpinning of everything. If we can't then demonstrate our value, everything that we've got on the table at the moment in terms of the Economic Value, the Election Statement, the Future of Physiotherapy in Australia, if we can't then demonstrate the value encompassing all that, then we're in a bit of trouble then I think that's our job.
Simon:
And I think if anyone picks up the paper who's not a physiotherapist, I think what's startling about it is some of the data, not just the size of the profession, the second fastest growing allied health profession, but the scope of practice and the incredibly high qualifications you need both as a university entrant, the training you get, the diagnostic qualifications. I think perhaps the public would be quite surprised, many of them, to actually read the data in the white paper and probably be a bit unaware of just really the scope and the qualifications you need to become a physiotherapist.
Scott:
I hear it every day. I get asked, what were your qualifications? I said it's a four-year university degree. They all go, oh, so it's not a TAFE or a weekend course. So I think, again, that demonstrates that we've got a bit of work to do.
Simon:
And a high score to get into university, too.
Scott:
A very high score. Yeah, it's probably higher now than any other medical degree going around. So I think it really shows the high regard that the community has. But again, we still need to demonstrate that value so that the funding encompasses that as well.
Simon:
Scott Willis, thank you very much for joining us today.
Scott:
Thank you very much. And I commend the APA on releasing this Future of Physiotherapy in Australia 10-Year Plan because I think it's a pathway to solutions. And if the government don't take notice of this, I can't see that they're going to do true health reform at all. They need to take note of this because it's a fantastic document that will truly add value to not just the health system but also the lives of all Australians.
Outro:
You've been listening to the APA White Paper Podcast, the Future of Physiotherapy in Australia 10 Year Vision Policy White Paper with APA National President Scott Willis and APA General Manager Policy and Government Relations, Simon Tatz. Further information and a copy of the white paper are available at australian.physio.
From vision to action
Physiotherapy will be key to putting high-value care to action in Australia.
In forging a realistic path to healthcare reform in Australia, we have set solutions to connect and integrate care to deliver the four outcomes governments and patients want—high-value care, reduced costs, improved efficiency and giving patients enhanced ownership of their own healthcare.
We encourage all members to get behind our vision and participate in the policy discussion to ensure a strong voice for physiotherapy in reform.
The APA's solution for reform is presented in seven detailed actions.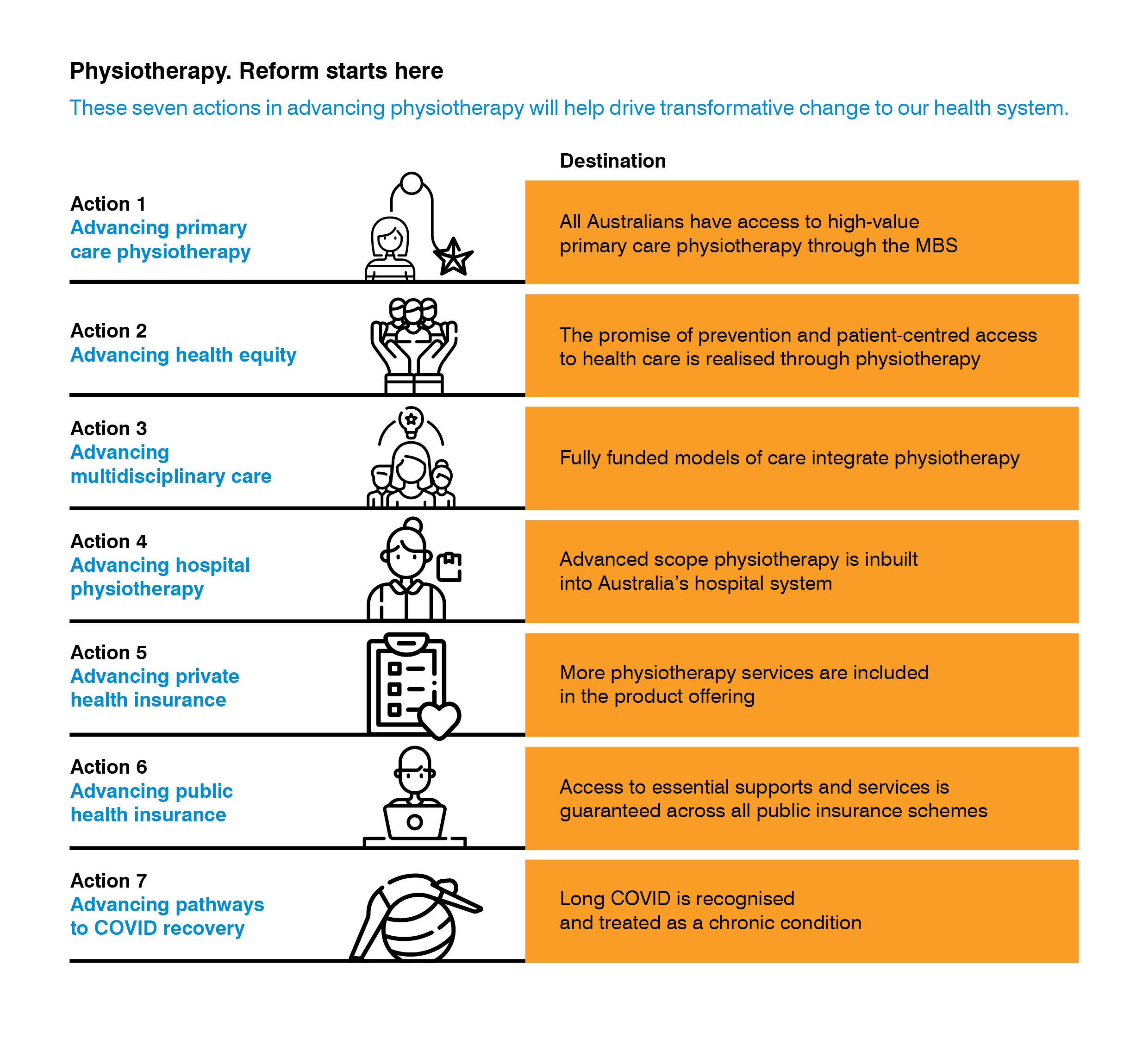 The paper, written for a funder audience, envisions a policy roadmap that, if implemented, would advance health, strengthen care and increase value. This comes at a critical moment in the reform process which provides a new policy window to ensure an expanded role for physiotherapy in the healthcare system.
We offer fresh solutions to healthcare reform and outline physiotherapy-led models to strengthen care and health outcomes, reduce disparities across priority populations, and bring efficiencies to the health system.
A framework for action