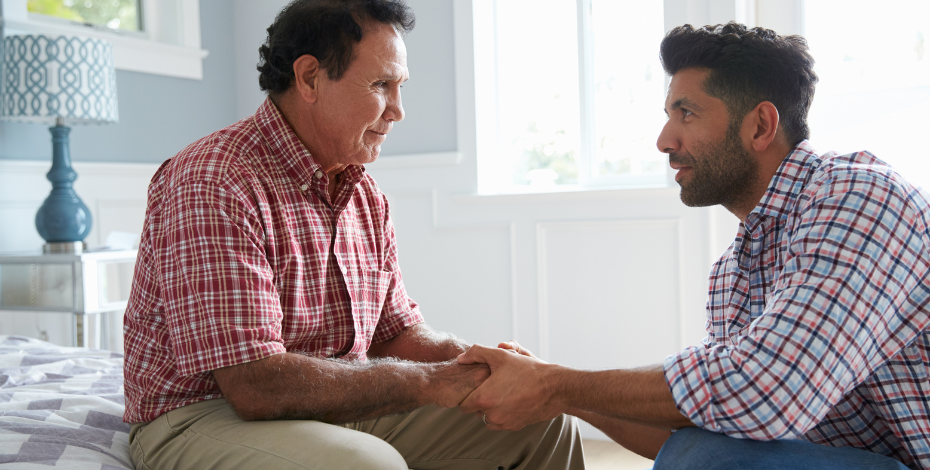 The Australian Physiotherapy Association (APA) and Dementia Australia are calling for timely and ongoing access to appropriately funded physiotherapy for people living with dementia.
Through a joint statement Physiotherapy and Dementia launched today, the health peak bodies united to draw attention to the critical importance of maintaining physical health, and its impact on improving mental health and wellbeing of people living with dementia.
Dementia Advocate Phil Hazell was diagnosed with younger onset dementia at 55 years old. Now 63 years of age, he has regularly visited a physiotherapist since his diagnosis to assist with the varying symptoms of dementia.
"My balance and knee joint pain were two major factors affecting my ability to do basic things, like walking up and down stairs, which significantly affected my day-to-day life," Phil said.
"One of my biggest motivators for seeing a physiotherapist was to help manage that pain and prevent another fall. I now feel more confident using stairs and I am better at judging distance one step to the next.
"I have also not fallen since last seeing the physiotherapist, so I encourage anyone living with dementia that needs help with pain management and mobility, to talk to your health care provider about physiotherapy."
The position statement explores the early intervention measures available through physiotherapy in assessing, treating and achieving positive outcomes. 
APA National President Scott Willis said that in many cases access to physiotherapy is not offered in a timely manner to people living with dementia.
"Too often the physical health of people living with dementia is neglected, as the focus traditionally has tended to be on cognition," Mr Willis said.
"Physiotherapy improves physical health and plays a significant role in improving mental health and mood.
"Physiotherapists can work individually or as part of a comprehensive, inter-disciplinary team to support the physical and cognitive needs of people living with dementia, including to help diagnose pain and other symptoms for those who with communication difficulties."
Dementia Australia COO Anthony Boffa said dementia is the second leading cause of death of Australians[1] with an estimated 487,500 Australians living with dementia in 2022[2].
"Maintaining your independence is something everyone deserves and improving access to physical rehabilitative services is critical for those living with dementia," said Mr Boffa.
"Dementia Australia affirms the rights of people living with dementia to receive timely and ongoing access to physiotherapy services and the need for appropriate funding to support those services."
Research has shown that physiotherapy can help improve the quality of life and independence of older Australians, including those living with dementia, by:
improving motor skills such as gait and balance
reducing frailty
reducing the number of falls and fractures
slowing cognitive decline
improving cognition, agitation, mood[3].
The joint statement is available for download at Dementia Australia's and the APA's website.
Dementia is the second leading cause of death in Australia[4]. In 2022, there are an estimated 487,500 Australians living with dementia. Without a medical breakthrough, the number of people with dementia is expected to increase to almost 1.1 million by 2058[5]. Dementia is a life-limiting condition that can have a significant impact on all aspects of a person's physical or mental health. People living with dementia in Australia need comprehensive health care, including allied health services, but access to these services is limited.
-ENDS-
Phil Hazell, Scott Willis and Dementia Australia spokespeople are all available for comment.
[1] Australian Bureau of Statistics (2020) Causes of Death, Australia, 2019 (cat. No. 3303.0)
[2] Dementia Australia (2018) Dementia Prevalence Data 2018-2058, commissioned research undertaken by NATSEM, University of Canberra
[3] 'Physiotherapy and Dementia' position statement, 2022 https://australian.physio/sites/default/files/DEMENTIA_AND_PHYSIO_A4_F.pdf
[4] Australian Bureau of Statistics (2020) Causes of Death, Australia, 2019 (cat. No. 3303.0)
[5] Dementia Australia (2018) Dementia Prevalence Data 2018-2058, commissioned research undertaken by NATSEM, University of Canberra
For further information, please contact:
Senior Media and Communications Advisor
Tel: 03 9092 0838
Email: media@australian.physio
Related tags